Writing a Diploma Thesis is Easy and Hard at the Same Time
<strong>Writing a Diploma Thesis is Easy and Hard at the Same Time</strong>
Hearing the Aida March during the end of the school year makes every student excited to step on the stage, receive his diploma and humbly face the people to show his success. It is a time when he will start to feel that another stage of life is yet to come. But before finally getting the evidence of long finished race, college students are required to pass a complete thesis paper. Graduating college students may not be able to paint the town red if they fail to submit a comprehensive thesis paper.


Writing a thesis paper is far different than making own fictional stories with fictitious characters or posting ideas on FB statuses, tweets or blogs. Technically, a thesis paper should write in a formal and informative way. You need to gather a lot of researches from books, magazines, journals, internet and other information resources. A questionnaire survey can be also used depending on the type of thesis you are writing.
A diploma thesis has usually five chapters. First Chapter includes the introduction, statement of the problem, hypothesis, assumption, scope and delimitation and conceptual framework. In this chapter, you will be presenting the problem raise in your research through introductory paragraph. The font type should be either Times New Roman or Arial, black font with font size of 12. Sentences should be in doubled-space and aligned justify. You also have to hypothesize probable answers to the problems and test those assumptions to find out the results. Hypothesis and assumptions should always be arranged by numbering. The conceptual framework which gives you the idea how the research will flow requires graphical presentation. The second chapter is the study of related literature and related theory. Writing this chapter is quite sensitive because you have to be extra careful when quoting a paragraph or sentences, acknowledging the sources and paraphrasing. The quoted paragraph or the paraphrased paragraph must always be followed by a footnote. A footnote comprises the name of author, the title of the his article or book, the publisher, the date when it was published, the place where it was published and the exact page of the quoted phrase, sentences or paragraph. In this chapter, a researcher will present the article, books or studies relevant to the thesis paper. He will choose related theories to support the assumption created in the first chapter. Chapter three is the methodology of the research paper. Formulas, calculations, computations are present in this chapter. It gives the idea how the researchers start and end the study. This is also in paragraph form with the same format done in the first chapter. Chapter four, the presentation and result of the study, as the title implies, discusses the result of the tests, massive research, questionnaires and other methods of gathering information. The results are presented with tables. The analysis and interpretation constructed in paragraph form are placed just below the table figure. The last chapter is the summary and recommendation. If the study is a feasibility study, you should tell the readers how and why the study becomes feasible. You make conclusions out of the researches, experiments or results of the survey test. It is also important to develop suggestions and recommendations to improve the research. If for example the study is not feasible, put reliable and effective recommendations as an alternative. This may be a guide for the future researchers who will be interested to continue the study and explore beyond the limitations.
Of course you cannot start your thesis without a thesis title. The thesis title has an independent and dependent variable. It must state the problem of the study as clear as possible. It is always placed on the cover page of the thesis paper.
Writing a comprehensive thesis successfully is not easy. It requires a lot of effort, time and commitment to meet the demands of satisfaction. But these requirements will lead you to the road of success and help you open the door for the next stage of your life. You just have to make right motivation for you to hear the Aida march while marching on the aisle.  Good luck!
Get Up And Be Creative at Writing
To fill an empty white space with mere words is not even easy, how much more to paint it with words that could play up one's imagination?
There are a lot of How-to's about writing that are splattered on the web. There are procedures and recipes on how to write a formal letter, how to make a feature article, how to make an essay, how to make an article on other how-to's, and how to write creatively. There are plenty of which we can use and learn from that involves writing. And this is no different than any other that are already posted in the pile of words circling the Internet. For this we will look into the latter example given above, which is how to write creatively. However, let us tilt on the subject a little bit and focus more on the creative rather than the writing.
Creativity is not something that can be bought on stores— no, not even in your high-end malls around the block. Others may be born with colorful thumbs, or with color palette at hand. But most of us are at lost when asked how creative we can get. Here are some suggestions when gearing up your creative prowess:
Get Up and Get Old-School – Creativity is not something that comes to you while you just wait in vain watching Art Attack. The first thing to do to be creative is to get up and decide whether you are really in it or not. After you get up and let loose the uncreative and boring in you, get old school—those advices on strolling down the park, watching the sunset, breathing in fresh air, visiting the museum nearby—those kinds of old school. It may sound boring to you but hey! It juices out the creative in you without you knowing. Plus, you get to relax while doing so.
Get Up and Get Lost – Take a new route as you try to get to (or from) your school or your office, or wherever you do your usual walk. Having to find your way out from those unfamiliar streets to wherever you desired to be exercises your brain to find out creative solutions and shortcuts that leads to your desired results. It does not only do that, it also allows you to meet people and be a spectator of a new surroundings. This would likely to help find the creative you as you start to square one, at least for a day, in an unfamiliar place with unfamiliar people. It will be appreciated if you try to do this. However, do not compromise an important schedule for the sake of getting creative.
Get Up and Get Dirty – Whatever you are thinking about getting dirty, just wait a second. To get dirty, I mean, is to do things outside your comfort zone. You remember when you were young, you tend to play with mud and do cooking show with variety of leaves from your mother's garden? That kind of dirty. Well, that depends whether you have experienced those things when you were young. Those were the ways children get out of their comfort zone. Now that you are your age, you are not expected to do that. I suggest that you make a list of things you want to do but never find the courage to do. How does it bring out creativity? It puts you to a position where all you want to do is hide (or run, depending on you) but you opted to do the other way and stay. If you want to be creative, you have to do things the other way. You have to think out of the box. You have to do things that nobody would dare think or do.
What does these all have to do with writing? At the moment you may not appreciate doing these things but eventually you will learn that those suggestions are but normal, a way of life to people who find it easy to bring out their creativity and boost it up higher than others. Writing is not easy, but storing up inspirations, scenarios, and places that were results of you "getting up" may help the free flow of creative wordings from you. So go ahead, get up and get going.
How to Be Creative in Writing
This is usually asked by many aspiring writers or those who are just curious to write. Creativity is a very natural skill to every human. However, every human has a different expression and action on showing and dealing with his creativity.
Creativity occurs not only writing. This kind of skill usually shows up when time you need this. Example? Imagine yourself you are stranded in an island. Fortunately, you are alone and no one can help you on everything. Since no one can help you to get some foods, create your own shelter, and kill the boredom, your only friend is only yourself!
You have the freedom to do anything in order to survive being alone in an island and your time is unlimited. If you want to survive, you'll make actions! But if you want to die, do nothing. Even you swear that you are an emo and you love death, for sure, when death comes and try to kiss you, you will do anything to escape it and even the least of things that you don't want to do in your life, you will do it in order to survive.
Now, going back to the topic where you are stranded in an island, the things that you can use to survive are the things available in that island. There trees, fruits, stones, and figs. These things are pieces of junks. But now, these things are great tools to fill in your needs. Remember the reality show 'Survivor'? Contestants in that show had used everything they saw in that island. They created such tools and even ate some plants in order to fill their hunger.
So what's the lesson? In time that you are in need, your creativity will show up, especially when your adrenalin is rushing. This is very natural reaction of human as it is very natural to them to find way to survive. So when it comes to writing, do you need to pressure yourself just to be creative? No! All you need to do is to relax and take your time imagining. Ideas always come out without putting pressure. If you are not pressure and you are just relaxed, the flow of ideas will go on. In that way, you are worry-free and it will be easier for you to write.
When writing an article or blog, the imagination is your friend. You are creating a new character. So as an author or story teller, think that you are the God of your own article or blog. You are the one who will choose the ending and the only who can create the starting point of your story. If you are aiming to get the attention of your audience, your story must be unique even though it came from the experience. Now, you need tons of creativity but how can you do that if there are millions of ideas popping out in your head and you are confused on how to organize them?
It is very simple to produce a creative article if you know how to relax and handle pressure. Well, pressure is everywhere. So live with it! Take time to take some rests before you write. As much as possible, don't write if you feel hungry. Because seriously, you brain is too tired to entertain new task. Don't be an abusive owner.
If you got the rest that you want, start jotting down all the ideas that popping out in your head. Once you've jotted them down, read them and check what are the best ones. When you begin writing, always put your passion and focus. You can ask the opinion of other people so you can enhance your writing more.
Writing could be simple. But writing new ideas and stories is very challenging. So when you begin writing, always remember, passion is indeed.
Being a writer is a choice
According to Haruki Murakami, a Japanese author I am very fond of, there are two types of writers. One is the in-born talented writer who does not need any effort in writing and producing something creative and the other is the diligent/hardworking writer who despite not having the talent is very determined in producing a work of art such as essays, novels, poems and other written output.
I consider myself as the latter. In fact, I am an amateur writer. My interest in writing began in high school when I joined our campus publication. Since then, I am striving so hard to write anything under the sun sometimes to please an audience and sometimes to just please myself.
Being creative in writing takes a lot of time and practice. You have to have peers to whom you will write and consult your output with. You have to have friends who are also passionate about writing and who will criticize your work. You don't have any excuse in not starting to write because all media for writing are available. You can either write on your journal about the feelings you feel today or you can start a blog and discuss anything be it a political, social, or cultural thought or anything actually. With my experience in writing, sometimes the things we are emotional writing about are nice to read and to look back to. Writing about someone's emotion or feeling releases the aspiring writer's artistic side.
When I was in college, I became a head writer of a musical-comedy variety show and stage production. The experience was tough since we had to write something that will make a particular audience laugh. My writing buddy then was our director. There were nights that we were left by ourselves and are obliged to finish something (a sketch, a monologue, a spoof, a bit, etc.). Thankfully, we were able to mount the show. We were able to finish the full program a few days before the event itself. My point here is sometimes, you can squeeze the creative juices of a writer under time pressure.
It will also help bring out the creative side of the writer if he or she exposes him/herself in different forms of art and literature. I believe in the rule that to be able to write something, you need to read about that something. A good writer is an avid reader because the things he or she reads help him/her generate new ideas (although there are no original ideas). It at least help the writer create something out of the different literatures he/she has read.
Watching TV, watching films, watching soap operas (but I highly suggest you try foreign TV series not that I look down on our local TV shows) also help a writer develop his or her creative side. Even watching the news helps because it gives you ideas in developing a plot especially if you are an aspiring writer for TV or film.
What to Consider for Outlining of an Essay?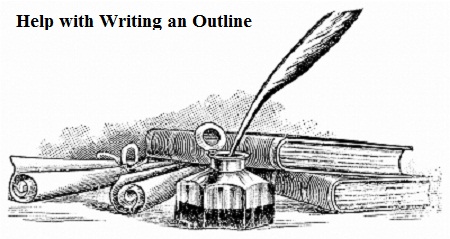 When we decide to write an essay first of all we have to make an outline of it and plan it according to academic basic generalization. In fact, an outline is the "frame" through which exposure of write's thoughts is given to a reader.