Business Writing Basics

I was able to conquer one of my greatest fears today: writing business e-mail. I've been working at a law firm for two years. Initially, my job was only supposed to be administrative—you know the drill: set appointments, schedule meetings, file papers. I was good with that: I play for a rock band on the side so I kind of like clerical work because it's a world away from the action of the music scene. It's nice to have down time. I told my boss all this upon entry and she's been really cool about it. For the past years I've basically been her secretary's assistant.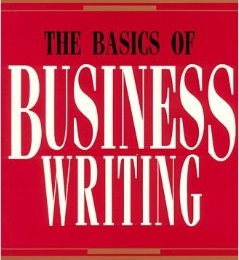 However, my boss's secretary(my second boss, in a sense) recently had a miscarriage and she had to resign for her health's sake. Very, very unfortunately (although I understand she needs to take a break), this (gulp) left little old me in charge. Despite my protests, my boss insisted on promoting me (I think because she didn't have a choice, really) and I am now her official secretary.
For the most part, the job isn't so bad: (also because for the most part, it's the same) I basically manage my boss's life. I list down her cases on the tracker, I answer her office phone, take her messages, etc. Also, despite my building anxiety and fear it's also great because it definitely pays a lot more than my old job (Junior Executive Assistant) plus I get more perks—like a free cappuccino at Starbucks whenever my boss tells me to get her a cup.
However, about a month or two ago, my boss decided to put me in charge of responding to her e-mails as well because she didn't have time to get to it herself. And just like that: boom, there we were, me and the business e-mail—my old nemesis; the thing I've been dreading my entire professional life (which admittedly isn't that long; I graduated from college around 3 years ago).
My problem with this began my senior year of college. I'm a business graduate and so for our final thesis, we were split into groups of three. My group was okay and all that in the sense that they were all people I got along with, but they weren't exactly a very responsible bunch—plus, there was a lot of conflict within the group. I'd sort of thought that bringing a bunch of my friends together would be fun but as it turns out friends you mix with don't necessarily mix with each other.
As a result, we had around two meetings throughout the final semester we were working on our thesis: the first one was to exchange e-mail addresses and the second one was to defend and bind our thesis. Because I was the common denominator, I was the one who was always in charge of e-mailing everyone. Our thesis was the most complex kind—a combination of an analytical study on the infrastructure of a business as well as a proposition for our own business model. Needless to say, this involved a lot of sleepless nights and sacrifice (I had to quit playing in my band for a while, even) on my end. Because we were very petty college students, a lot of the time some of the e-mails from my one group mate would include something harsh or mean about another group mate and/or something funny but very mean about our thesis adviser, who was the department head at the time.
Typically, in my normal, 7-hours-of-sleep state, I would delete the mean things on the thread when shuttling e-mails back and forth—at least the mean things about the other person. I would, however, leave the mean things about our mentor because a) they were funny and b) it was the only thing that seemed to bring my other group mates together.
The night before our final defense, right as I was about to log off and turn in for another delightful 4 hours of sleep, my thesis mentor e-mailed me. He said that he would need us to send him a soft copy of all our progress so far—he'd need a copy of all the drafts that we went to; the ones with his comments. I sifted through my computer and found that I didn't have these files because we edited the same file as we went along, deleting his comments as we made corrections. Then I thought—ah, it's in the thesis e-mail thread! Like I said, on a normal day I would probably have thought to delete it but I was high on sleep deprivation and was just about to crawl into my bed, so I hit the "Forward" button and sent my professor the entire thread with everything that we'd said. I didn't even think to write a short cover letter or anything (if I had, maybe I would've remembered to delete those things), I just sent him garbled attachments that were probably indecipherable except for all those mean, hurtful things that my group mates and I passed back and forth (I won't repeat them here of course, for fear of both revealing my mentor's identity and you know, incriminating myself as a terrible person).
As a result, we entered the defense room the next day and there were no panelists. The only people who were there were my mentor, the Vice Chair of our Department and two Discipline Officers. We were informed that we would be transferred under the care of another mentor, that we would fail the term for Thesis and that our graduation would be deferred. We would also be disqualified for the Best Thesis Award, which we were supposed to be told that we'd been nominated for. Even worse, we were told that if we wanted to avoid community service, expulsion or any disciplinary sanctions, we would have to write a detailed confession for defamation of character. We had to turn these in within the day.
We spent most of the day crying and writing our letters which we had to hand over to our professor in person. I couldn't look him (or any of my group mates) in the eye. Our group split up and we all ended up re-doing our theses individually. We graduated a year later than we were supposed to and none of us remained friends.
Because of this, I get really nasty panic attacks in the face of a business e-mail—especially if it's with someone who I haven't met face-to-face or if I'm just being asked to send something to someone without knowing the context of the online conversation. Unfortunately, part of being employed means that if your boss tells you to do something like e-mail a client, you do it.
So I decided not to let all that trauma (which  was terrible, yes but which I suppose I also learned a lot from) get the better of me—I was going to not just learn but master  how to write business documents. I was going to expunge this memory of the control that it had over me. So began my quest for the perfect business writing class.
This ended when I found this particular class: I was looking for something that I could read on my iPad on the way to work or at the office during lunch—something that I could finish within the month as well as something that would explain things in detail. This class had 15 lessons—pretty short for an online class, let me tell you—but I read synopsis on the site and thought hey, this sounds pretty neat. The class was way more helpful than I could've initially predicted. This is not to say that I don't still feel a creeping sense of fear whenever I need to write a business e-mail but that the fear is significantly less. The concrete tips about what to do in this or that instant really helped. I'm not sure where I would be if not for this class. I'm sharing this on here for any of you who might have some similar problems; I hope you guys find the remedy you're looking for. Try this class, though; it'll probably help!
Looking for an exceptional company to do some custom writing for you? Look no further than ProfEssays.com! You simply place an order with the writing instructions you have been given, and before you know it, your essay or term paper, completely finished and unique, will be completed and sent back to you. At ProfEssays.com, we have over 500 highly educated, professional writers standing by waiting to help you with any writing needs you may have! We understand students have plenty on their plates, which is why we love to help them out. Let us do the work for you, so you have time to do what you want to do!