Creative Writing For Beginners Like Me

Guess who just finished a Creative Writing class for Beginners? You got it, that would be me! I can't explain how proud I am of myself for having finished this class and having taken it in the first place. This course is super cool! It's easy to understand and it's super educational.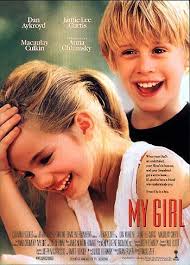 Hold up. Before I get carried away, let's go back to how this whole shenanigan started: I have been wanting to learn to write for as long as I can remember (years and years now, let me tell you). I've always been interested in stories and I read a lot of magazines. Plus, My Girl is one of my favorite movies of all time and it in, Veda (she's the main character) learns how to write poetry. I've always wanted to do that, too—not necessarily poetry but you catch my drift.

This is going to sound a little silly (or not—maybe those of you just starting middle school will understand) but one of the things that kept me away from taking courses like this in the past is that I'm pretty young. I thought about attending a workshop in my neighborhood library last summer but I got intimidated because a lot of the kids that signed up were way older than me (I'm talking like, 10th graders). I was afraid to join something like that because I was afraid I wouldn't know any of the basics and everyone would think that I was a dull girl for not knowing. Like I said, it sounds silly but everyone's afraid of being embarrassed, right?
I found this class because I looking up episodes of my favorite show As Told By Ginger —it's about a girl who writes in her diary a lot. And sometimes I think I could maybe be like Ginger and write things that other people are interested in, too. Anyway—I don't mean to stray—while I was looking through links which lead to these episodes, I noticed the link to this class was there in the results too because it had to do with lots of the same things that As Told By Ginger  has to do with: creative writing!
It was the perfect solution to everything that I'd been worrying about! I could learn about the basics and do it somewhere I'm comfortable (the internet is my life). Plus, I wouldn't have to worry about not knowing a whole lot about the topic. I really enjoyed the class because it was able to tell things to me in a really direct way. It also taught me a lot about what options I might have in the future if I decide to become a writer when I grow up—people are always saying "there's no money in writing" but the class taught me that there are certain jobs which involve technical writing! I also really enjoyed that some of the lessons had a lot of lists. This made it really easy for me. My favorite thing about the whole thing though is that there were different parts about the different kinds of creative writing. It was so interesting to learn about how there are so many different ways to tell stories!
While I still love Veda and My Girl, I don't think I'm going to become a poet. After reading about the different kinds of writing, I think that I'll do my best writing essays ! I love reading magazines and I love telling my friends stories so I think it's the perfect fit. Now for the biggest part of this whole thing: I landed a spot in the school gazette! I've been stressing about it all week and when the announcements came out this afternoon (needless to say) I was through the roof with joy! So I thought I'd post it on here and tell those of you who like me, are just starting out to go take this class! It'll be super worth it!
Looking for an exceptional company to do some custom writing for you? Look no further than ProfEssays.com! You simply place an order with the writing instructions you have been given, and before you know it, your essay or term paper, completely finished and unique, will be completed and sent back to you. At ProfEssays.com, we have over 500 highly educated, professional writers standing by waiting to help you with any writing needs you may have! We understand students have plenty on their plates, which is why we love to help them out. Let us do the work for you, so you have time to do what you want to do!