5 Steps to Writing An Outline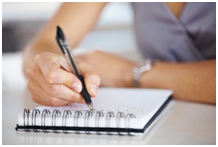 Outlines are very important—they help you stay organized and make sure that you come up with written work that is cohesive and that will make sense to your reader. Well-written outlines serve as great guides and can save you a lot of trouble in the long run, especially when your essay is long. In this blog post you'll find 5 tips that are easy to follow and that will help you write essays that are engaging, informative and research-propelled.
1. Study your material thoroughly
Before you can come up with your outline, you need to research: study whatever material you're going to be writing about thoroughly. To make it easier for you, take notes as you go along so that it is easier for you to synthesize the information and come up with specific points that you want to discuss. You can also take a look at other outline template to help you know what it looks like. This makes your essay easier for you to write and more fun for your audience to read!
2. Filter!
Once you've done all that research, it can be tempting to just dump all the information you gathered into your outline. Curb the urge to do this: it makes your paper messy and might unnecessarily clutter the flow of your essay. Organize your information into three main parts—the introduction, body and conclusion. Also begin to think about your thesis statement or main topic and whether or not certain information contributes to that statement. In the process of essay writing, filtering information properly is crucial!
3. Determine your purpose
The success or failure of an outline and the subsequent work depends on whether or not it fulfills its purpose. In this step, you should determine what you want to achieve through your written work: are you hoping it informs people? Do you want to tell a story? Are you convincing people to buy something? Once you answer this, you can formulate your outline accordingly for maximum effectiveness.
4. Come up with categories
This applies to the body of your essay. Take your relevant points and turn them into short phrases which contain the vital information you need—these should be categorized accordingly. Under each category, add a sub-header which enumerates the different topics you want to discuss. Make sure that you have at least two sub-headers per category—otherwise, see if your header fits into any other categories or consider removing it from your outline.
5. Be straightforward
Since the main goal of using an outline is to help you come up with a clear and concise body of written work that is a breeze to write and even more fun to read, it doesn't make sense to write an outline that is going to beat around the bush. Get to what you mean to say immediately—make sure that your outline only contains what is necessary but also be careful that you didn't leave anything essential out of the mix.
This wraps up our blog post for this week. Was this post helpful? Let us know if it was and watch out for more informative posts on writing soon!
Looking for an exceptional company to do some custom writing for you? Look no further than ProfEssays.com! You simply place an order with the writing instructions you have been given, and before you know it, your essay or term paper, completely finished and unique, will be completed and sent back to you. At ProfEssays.com, we have over 500 highly educated, professional writers standing by waiting to help you with any writing needs you may have! We understand students have plenty on their plates, which is why we love to help them out. Let us do the work for you, so you have time to do what you want to do!