Parts of Research Paper: Definition and Guidelines
What are the Main Parts of a Research Paper? How do they join together?
There are several parts that should be included in a research paper: title page, abstract, introduction, methodology chapter, body and conclusion. However, some of these parts may be optional, depending on the type and level of your paper. For example, you most likely will not be asked to write a methodology chapter for a small college paper, and the usage of a title page depends on the style of the paper, for example, APA or MLA.
The parts of a research paper should be clearly connected with each other, that is to say, they should be arranged in the logical order and the paper should be structured in such a way that a reader could easily find all the necessary information there. In fact, the basic outline of a paper is a gradual description of your topic and its illustration by the examples.
This article is created to show you the excellent outline of a research paper and how to implement it in writing. Should you still have any difficulties writing research paper, you can order your research paper in the on-line custom system of ProfEssays.com.
Quick Navigation through the Parts of Research Paper Page
Download Free Sample of the Research Paper Structure
General Guidelines to a Research Paper Writing:
All sources, such as printed books, book chapters, newspaper articles and websites should be properly cited in the research paper writing.

Focus on your research paper topic.

Except for an abstract, the main points must be written using different paragraphs.

Colloquial language must be avoided, do not address readers directly, and do not use informal words in writing research papers.

Key points must be written in logical order.

Make sure that you start each new paragraph with an indent.

Facts must be set out in present tense.

When you are given a research title be sure to identify the level of difficulties before forging ahead with your writing.

Define and declare the significance of a research paper before embarking on any research writing.

Understand the type of essay to use it in writing your research paper. For instance you could be given a research paper title that requires you to persuade, or argue. How would you do this?

Detailed information gathering is requested in writing a good research paper.
How we can help
Are you experiencing any difficulties in writing a research paper? Order a research paper from ProfEssays.com at the reduced price. We offer only plagiarism-free papers and provide direct contact with experienced US and UK graduates. Our professional authors write only from scratch, and you can be fully confident that your paper will not be resold or published in the open Internet sources. We are in access 24/7 and guarantee full client and card security.

Writing is an academic activity that induces fear and trepidation in students because the failure to express their opinion and to present good writing skills will lead to the dire consequences among which there are low grades and eventual failure if this tendency is not ceased immediately. Which therefore means that the segments that make up a research paper must be complete and well presented to result in a well written research paper, so a writer ought to learn how to identify, define and apply the parts that make up a research paper.
Research Paper Title Page
One of the parts of a research paper is the title page. You should also take into account the style of your research paper. For example, in the MLA format research style a title page is essential only if it is required by your teacher; in other case you are to write your name, your research topic, the name of your teacher and the number of your course on the first page of your paper. The APA format research style always requests the title page to be the first page of a paper. It should include the running head, the topic of your research, your name and the name of your school or teacher, all centered and double-spaced.
Research Paper Abstract
An abstract is another important part of a research paper. It contains the objective, the summary, and the goal of a research paper and it should consist of 100 to 500 words. Usually an abstract should summarize the whole research, including its key themes and problems and providing the major conclusions. It should not contain figures and references.
Research Paper Introduction
In the introduction, a writer gives a brief explanation to his/her objective in their paper by listing the key points. The explanation must be brief and interesting enough to arise in a reader of your paper a desire to read further. An introduction should include a thesis statement: it comes to inform of a declaration of a writer's opinion, which forms the basis of the research paper.
Methodology and Framework Chapter
A methodology and framework chapter is a chapter that is included in a large research paper to provide the complete and detailed report of a research process. The methodology should not include the comments of an author not to influence the objectivity of the presentation, as the main aim of this chapter to enable other researches to repeat the procedure of your research step by step and to compare the results. The methodology and framework chapter normally deals with the description of the research subject, methods and tools of the study and methods and tools of the analysis that was used to summarize the final results of the research. However, the results should not be reported in the methodology section as this is the subject of the following chapters.
Body Chapters (click image to enlarge)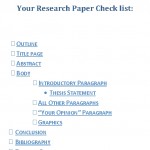 This is the main part of the research that contains detailed explanation of the key points written in the separate paragraphs. In this part of the research, there is the discussion on the methodology of the study, the detailed examples, tables and figures must be included and properly cited if necessary. In addition, to attract good marks, it is essential for the research writers to showcase their grammar and sentence structuring skills in this chapter.
Research Paper Conclusion
A conclusion is a short summary of a paper. Any new information should not be introduced here. Just reaffirm the thesis and bring research paper to a very dramatic close. This is a strategy used by such genuine writing companies as ProfEssays.com.
To achieve a successful research paper writing there is a need to define, recognize and apply the parts of research paper expertly to obtain the best out of your writing assignment.
Note:ProfEssays.com is an outstanding custom writing company. We have over 500 expert writers with PhD and Masters level educations who are all ready to fulfill your writing needs, regardless of the academic level or research topic. Just imagine, you place the order before you go to sleep and in the morning an excellent, 100% unique essay! or term paper, written in strict accordance with your instructions by a professional writer is already in your email box! We understand the pressure students are under to achieve high academic goals and we are ready help you because we love writing. By choosing us as your partner, you can achieve more academically and gain valuable time for your other interests.
Looking for an exceptional company to do some custom writing for you? Look no further than ProfEssays.com! You simply place an order with the writing instructions you have been given, and before you know it, your essay or term paper, completely finished and unique, will be completed and sent back to you. At ProfEssays.com, we have over 500 highly educated, professional writers standing by waiting to help you with any writing needs you may have! We understand students have plenty on their plates, which is why we love to help them out. Let us do the work for you, so you have time to do what you want to do!