Tips on Choosing Winning Essay Prompts
Essay Prompt: What is it?
When teachers assign an essay they normally give writing prompts. Writing prompts are given as a command rather than a statement or question. If the teacher were to ask "what role Martin Luther King Jr. had in the civil rights movement" you would simply give a list of roles he played in the civil rights movement. This would be a great short answer question, but not an essay prompt. Though this question can be easily turned to an essay prompt: "compare and contrast Martin Luther King Jr.'s role in the civil rights movement to Malcolm X's role in the civil rights movement". This prompt will allow you to elaborate both of the men's roles in the civil rights movement, and compare them.
In this example the words "compare and contrast" are the prompt and the "roles of Martin Luther King Jr. and Malcolm X in the civil rights movement" is the subject. The essay prompt gives you the prompt and the subject of the essay. The "prompt part" tells you about the work you will need to complete, i.e.: discuss, analyze the topic, examine its constituent parts, evaluate, argue, persuade… After you understand what prompt you will need to complete, you will also need to understand the statement which contains the subject of the research. Read more to learn more on writing prompts and how to interpret them.
Quick Navigation through the Essay Prompts Page
Download Free Sample of High School Essay Prompts
How to Develop an Essay Prompt?
First you will need to understand what the writing prompt is asking you to do. In upper level classes the teachers often not spell out what they want you to do: they leave an essay prompt open for interpretation. If you have received an essay prompt that you are unsure of, it is important for you to figure out what the topic is requiring you to do and how the subjects and commands relate to one another. To do it, you may need to divide the essay prompt into task words, subject, and limitation words (or additional requirements).
You may talk with your teacher to ensure you are completing the right work and researching the right topic.
Once you fully understand the essay prompt you will need to divide the essay prompts into smaller parts, that can be researched separately. In our example it can be the history of the civil rights movement, biographies of Martin Luther King Jr., and Malcolm X's topic, task, and words.
After all of the preliminary steps are taken care of, you will need to do your research on the subject and collect the data on your topic.
Now that all of the research and data have been collected, think how all of the information and prompt will come together into one connected essay. Develop a thesis statement, that will address your essay prompt and encompass all of the pieces of the essay. This process might take a few rewrites, but it is important to have a well written thesis statement.
Outline your essay. Once you have written the outline look it over to ensure you have not missed anything and have connected all of your thoughts, prompts, and research in a cohesive way.
Finally, you can write your essay that will follow the essay prompt given to you.
Types of Essay Prompts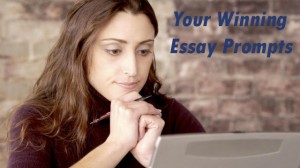 When teachers create essay prompts they often have a specific idea of what they would really like you to cover in your essay. These prompts will be the ones that are spelled out for you rather then asking you to interpret them. Thus, there are many different types of writing prompts that you will see throughout high school and college:
Essay prompts that start  with a quotation, i.e. "Martin Luther King JR was raised in a middle class home where education was stressed, while Malcolm X was from an underprivileged home who had few years in public education. Please compare and contrast both men's role in the civil rights movements emphasizing how their backgrounds could have caused their differences."
This example gives a quote from an online source, but then asks you to complete the assignment based on the thoughts in the quote. The quote helps you understand exactly what the teacher would like you to write about.
Essay prompts that are based on class readings. These examples will also reference or quote material read in class that relate to the topic.
Sometimes an essay prompt will include a brief overview of the history or background of the topic in which they are asking you to write about.
Many times the teacher will reference certain issues they might want you to cover. Continuing with the comparison of Martin Luther King JR and Malcolm X; "Although both Martin Luther King JR and Malcolm X grew up very differently they both strongly believed in their religions and fighting for their civil right. Please elaborate and compare the two men' differences and similarities in their religious backgrounds and how this might have influenced their differences in leadership during the civil rights movement."
How We Can Help
When trying to understand a confusing writing prompt, remember that ProfEssays.com is always there to help you. All of our writing staff are qualified writers that have earned their Masters' Degrees, and even PH.D.'s, and they are always ready to write you one-of–a-kind essay based on your essay prompt,  or proofread and edit the essay you've written. They can relieve the uneasiness of not knowing if you interpreted your writing prompt correctly.

We can even help with the research needed to develop an essay prompt you were assigned.  Our writers know and understand how to connect all the components of the prompt in a clear and concise way. So take the guess work out of a great essay and allow our professionals to help with all of your writing needs.
Our staff of writers will develop a line of communication to ensure all of your writing needs are met. Our company will continue to work with you until you are satisfied with the final product. We guarantee that your essay will be delivered to you on time, one-of-a-kind, and written to you requirements and expectations. Please click on the link to bring you to the order page, and  order an essay, based on your writing prompt, now.
Contrast and Compare Essay Prompts
Compare and contrast essay prompts can be straight forward or they may need to be interpreted. The example used throughout the article has been a compare and contrast essay prompt that is spelled out. Here are a few examples of both straight forward compare and contrast essay prompts and more interpretive compare and contrast essay prompts.
How is impressionism different from abstract art?
Compare George Bush Seniors presidency to his son, George W. Bush's, presidency. What decisions were the same and what decisions were different?
The great depression during President Hoover's presidency has many similarities to the recession during George W. Bush's Presidency. Please use the text to try and determine what might have been the cause of history repeating itself and how recession and depression are different or one in the same.
Please consider William Shakespeare's universal truths. It has been said that there cannot be a story written without at least one universal truth. Consider two poems read in class and connect it to one or more of Shakespeare's universal truths.
Persuasive Essay Prompts
A persuasive essay prompt will ask you to use facts and refutable evidence to try and convince someone to see events or opinions your way. Teachers have been prompting us to do it almost all of our school experiences. These examples will include, but are not limited to, a few persuasive essay prompts:
Think of a person you know that smokes and then think of all the facts learned in our health unit, about how unhealthy it is. Write an essay to convince this person to quit smoking.
Now that you are getting older you would like to ask for a later curfew. Create an essay in which you convince your parents you are mature enough to have a later curfew.
Think of one thing you would change about your English class. Now create an essay explaining what this aspect is  and how you would change it.
Your friend has just invited you to go on her family trip to the Grand Canyon. You will need to write a letter, to your friend and her family, of acceptance. Be sure to include all of the history and facts that you know about the Grand Canyon and make sure to connect them to why you would love to go.
Note:ProfEssays.com is an outstanding custom writing company. We have over 500 expert writers with PhD and Masters level educations who are all ready to fulfill your writing needs, regardless of the academic level or research topic. Just imagine, you place the order before you go to sleep and in the morning an excellent, 100% unique essay! or term paper, written in strict accordance with your instructions by a professional writer is already in your email box! We understand the pressure students are under to achieve high academic goals and we are ready help you because we love writing. By choosing us as your partner, you can achieve more academically and gain valuable time for your other interests. Place your order now!"
Looking for an exceptional company to do some custom writing for you? Look no further than ProfEssays.com! You simply place an order with the writing instructions you have been given, and before you know it, your essay or term paper, completely finished and unique, will be completed and sent back to you. At ProfEssays.com, we have over 500 highly educated, professional writers standing by waiting to help you with any writing needs you may have! We understand students have plenty on their plates, which is why we love to help them out. Let us do the work for you, so you have time to do what you want to do!
Tags: APA style essay paper writing, Essay paper writing, essay writing examples, essay writing prompts, MLA essay paper writing