How to Write a DBQ Essay
What is a DBQ Essay, and What Does it Test?
A DBQ or Document Based Question essay is a test of your knowledge of a time period through the analysis of historical documents. You will be asked to answer short questions based on each historical document in part A and then to write a DBQ essay in part B using the documents from part A. DBQ essays are normally assigned to students in the 8th grade.  The DBQ will test your knowledge of a certain event in history through your ability to analyze and discuss historical documents. There are two parts to the DBQ on the exam or essay assignment. First there is part A where you will look at various documents to analyze and answer questions. Next is part B, which is a DBQ essay question that must be answered in a very specific format.  To correctly answer the DBQ essay question you will need to ensure you use the documents in part A of the DBQ. Keep reading for more information on DBQ essays.
Quick Navigation through the DBQ Essays Page
Download Free DBQ Essay Outline Sample
How Should you Start Writing a DBQ?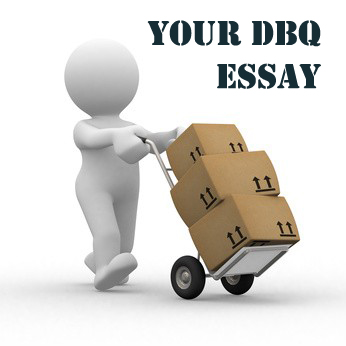 When thinking of how to write a DBQ essay you need to start by understanding the DBQ essay question. An essay example might be, how successful was organized labor in improving the position of workers in the period from 1875 to 1900? Analyze the factors that contribute to the level of success achieved. Use the documents in part A and your understanding of the time period 1875 to 1900 to construct your response. As you can see the essay question is very specific and very detailed. To ensure a great DBQ essay you need to start with these steps…
It is very important that you directly answer the DBQ essay question. If you fail to answer the question you may fail the DBQ test.
Read the rubric carefully to understand what is needed for a passing DBQ essay. A rubric will explain the grading scale used to correct your essay. Normally the rubric will specifically write what is needed for a perfect grade  all the way to a failing grade.
Remember to format the essay with an introduction, two body paragraphs, and a conclusion.
Begin to format a strong thesis statement that will encompass all of the thoughts and documents being discussed in the DBQ essay.
As always you will need to outline the essay while paying close attention to when and where you will discuss the historical documents in part A of your DBQ essay.
How We Can Help
When stressed about creating a great DBQ essay, understanding how to format the DBQ essay, and/or looking to have a fresh pair of eyes proofread your essay you need not look any further for a solution. Our team of qualified writers is ready to create your one-of–a-kind essay. All custom essays are guaranteed to be delivered on time and tailored to the needs you specified. Let our qualified writers create your one-of-a-kind DBQ essay, thesis statement, term paper, thesis, and dissertations by allowing our professionals to help with all of your writing needs.

Our professionals are looking forward to creating a partnership with you to relieve some of the stresses caused by essay writing and research. Please contact us with all of your online essay needs including proofreading and answers to all of your "how to write…" questions. Our team of fully staffed professionals is standing by. Order your DBQ essay now.
Steps to writing a perfect DBQ Essay
DBQ Essay Free Sample

(click image to enlarge)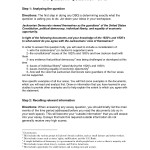 Step one: Fully look over the rubric attached with the DBQ essay question. Knowing the rubric and what is needed will help you understand how to write the perfect DBQ essay.
Step two: You will need to outline your essay. To format the document based essay you will need to have an introduction, two body paragraphs, and a conclusion. Make sure to add how and when you will use each of the documents in Part A of the DBQ.
Step three: You will need to formulate a thesis statement that encompasses all of the historical documents presented in part A of the DBQ essay.
Step four: Take a look at some of the DBQ examples from your teacher and/or your peers. You can also ask our professionals standing by to help you with your writing needs.
Step five: begin writing a DBQ essay by following all of the steps stated previously. A well prepared writer will write the perfect essay every time.
Step six: Proofread. You cannot have a perfect essay if it is filled with mistakes and typos. We can help you with your proofreading needs. Just click on how we can help to get started.
Step seven: rewrite anything deemed necessary through your proofreading.
How to Correctly structure a DBQ essay
The most important rule to follow, when writing a DBQ essay, is the rule of formatting. All DBQ essays are to be structured with an introduction, two body paragraphs, and a conclusion. The introduction will restate the Document Based Question and will state your thesis. It is very important to have a strong thesis statement to get a great grade. Remember the thesis statement will tell the reader what the essay is all about and what points will be proven. In the two body paragraphs you will elaborate your points and prove them with the historical documents stated in Part A of the DBQ. Finally, you will finish writing your DBQ essay with the conclusion. The conclusion will summarize all of your points and documents.
Looking for an exceptional company to do some custom writing for you? Look no further than ProfEssays.com! You simply place an order with the writing instructions you have been given, and before you know it, your essay or term paper, completely finished and unique, will be completed and sent back to you. At ProfEssays.com, we have over 500 highly educated, professional writers standing by waiting to help you with any writing needs you may have! We understand students have plenty on their plates, which is why we love to help them out. Let us do the work for you, so you have time to do what you want to do!