News
National Informal Science Learning Initiative Launched

This week, Wellcome Trust and the US National Science Foundation (NSF) in collaboration with the Economic and Social Research Council (ESRC) officially launched the Informal Learning Initiative, a 9-million pound project that aims to revolutionize the way that science is taught throughout England.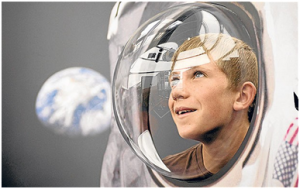 The program's main goal is to teach science through out-of-classroom activities—a far cry from England's current "safety"-regulated science courses. The program aims to encourage young people to get their hands dirty and participate in different scientific experiments outside the classroom. The informal initiative is going to revolve around off-campus trips and field exposure to practical science. Beginning this coming September, most schools in England are going to be implementing the program, both in younger year levels (beginning with receptions) and in post-GSCE levels.
Dennis Schatz, the program director of NSF's Learning Division says that the project is going to be pooling together the resources of more than a hundred institutions nationwide with the addition of a couple of hook-ups with US-based science institutions. Among these are various science cafes and learning centers that up until recently have been viewed as "alternative learning" stations.
Mr. Schatz says that pulling these resources together is going to help integrate theoretical science and practical science: he says the only way to keep students interested in science is to show them how its done and how it impacts the world around us for the better. While he doesn't deny the fact that classroom learning is important, he says that most science careers don't take place within the classroom—instead they take place in an area (whether laboratory or not) where possibilities can be explored.
Adrian Alsop, the Director for Research at the ESRC says that he is backing the program, a hundred percent. Mr. Alsop says that the coming five years are going to be very interesting for young people in England—the new program is going to bring back a certain life to England's science courses that has recently been lost in the attempt to "sterilize" the sciences. Mr. Alsop says that they've designed the informal learning initiative for specific year-levels (e.g. reserving more complex, mind-boggling field trips for the older students and more visceral, "shocking" trips for the younger kids). He also says that they want to reverse the certain "science isn't for me" notions that a lot of older teenagers might have—he stresses that it's never too late to start learning about science.
Mr. Schatz says that it's about time the practical sciences were inculcated into formal education. Both the NSF and the ESRC stress that the time has come for the academe to begin actually teaching its students things that they can use in the future. Both parties have also expressed annoyance at government attempts to "raise the bar" of the sciences simply by adding more tests and giving more exams to "study for". They say that a good education in the sciences doesn't come from studying about tests (although they also see its importance)—it comes from interest, motivation and satisfying suppressed innate curiosity.
Also helping with the informal initiative is the learning center Science Learning+, a transformational science institute that focuses on teaching science by demonstration. The program has been booked to run for the next five years, throughout most of England. A similar start-up in the US is also set to begin in 2015; all resources between the two countries will be shared, in the hopes of raising the bar for science education everywhere.
Nottinghamshire Top High School Goes Co-Ed

Nottingham High School, one of the nation's top schools which has become famous for being able to count along its alumni great names such as D.H. Lawrence (esteemed author of Lady Chatterly's Lover), Ken Clarke (the former Chancellor) , Ed Balls (the current Labour Shadow Secretary), Ed Davey (the current Lib Dem Energy secretary) and Geof Hoon (the Labour Defence Secretary), has decided to officially open its doors to female students beginning September 2015 in an attempt to further its progress and growth in the 21st century.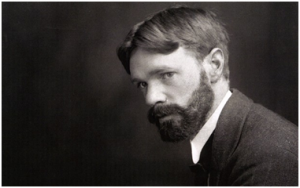 The high school, which has been running since 1513, will begin female admissions at reception and in the sixth-form before eventually co-educating all of its year levels.
This move is one that is made in response to the steadily falling demand for gender-exclusive schools which has been trending throughout the past 30 years. The Good Schools Guide reports that boys schools are now going into extinction—and those that remain either have to abolish their gender-exclusive status lest they fail to remain in business.
Kevin Fear, the headmaster of Nottingham High School (formerly Nottingham Boys' High School) says that the move widens the potential for the school as an educational facility and also as a stepping stone for talented individuals to pursue higher education. He also says that he doesn't deny the fact that opening the school up to more students will also help secure its financial future—although by no means is the move one which was made out of a need for extra funding.
Furthermore, Mr. Fear states that teaching boys and girls separately simply no longer helps them prepare for their future careers—in fact, he says that it could be detrimental to their future professional success as it may keep them from learning important social knowhow about how to co-work with members of the opposite sex. He says that men and women need to work side-by-side in the workplace and training them to do otherwise is a useless endeavor. In a more short-term sense, the headmaster adds that all universities are co-educational, anyway—he goes on to explain that the heads of the elite High School had simply come to the conclusion that the system of gender-exclusive education has become defunct and archaic.
One of the biggest challenges that the school faces is the existence of the Nottingham Girls' High School which is a completely separate institution founded by the Girls' Day School Trust. Prior to this change, the girls' high school has been one of the top choices is Nottinghamshire. They will be competing with the girls' school for the exact same demographic of students—young women living in the Nottingham area. However, Headmaster Fear says that the school is confident that it will be the top choice for female students come 2015 because of its progressive curriculum, notable alumni and security with regard to educational quality. He further says that this move is one that is sure to benefit both Nottingham High and their pupils. He further stresses that these are exciting times for their school and that in an institution that is 500 years old, a change such as this is a welcome breath of fresh air. Mr. Fear does not deny that there may be more changes to come—Nottingham High prioritizes progressiveness of its systems, education and curriculum without compromising its core values, vision and mission. Constant change is the one way in which the school has been able to remain consistently at the top of the education charts throughout the centuries.
A School Uses "Casual Friday" As A Reward For Achieving Students

Jeff Conquest, the headteacher of the Woodland Middleschool in Flitwick, Bedfordshire recently implemented a new rule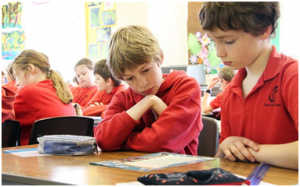 which aimed to reward students who met the accelerated reading target. The said rule allowed high-achieving students to come to school in casual clothes—those who didn't meet their academic targets were made to wear their uniforms; Mr. Conquest informed teachers and parents of this rule via text message a few days before the rule was put into effect, asking them to prepare accordingly.
The policy has been met with many different reactions from parents, teachers and education officials alike. Some parents of the students with high scores were very proud of their children and say that they agree with Mr. Conquest's line of thinking: they say that the casual Friday approach is something which children enjoy and which they feel is an appropriate reward.
However, certain parents feel otherwise—a parent who wishes to remain unnamed stated that the whole thing felt like it was implemented not to reward the achievers but to shame those who underperformed. The said parent says that the whole thing reeks of humiliation: she mentions The Scarlett Letter and references the Victorian Dunce Hat—later, she says that she did not feel at all disappointed with her son who didn't make the target because he was good at other things.
Mr. Chris McGovern, the former head teacher and foreman for the Campaign for Real Education states that he thinks the entire strategy is very discriminatory. He says that it is one thing to reward students and quite another to isolate underachievers. He says that one of his biggest fears is that the policy sparks fighting within the campus—not just for those who didn't meet the targets but also for those who did.
He said that a review of the Woodland Middleschool's results shows that only the top 5-10% of students made their targets, significantly less than the rest of the people who came to class in their uniforms. He says that this could result in the "rewarded" kids being bullied: he goes on to say that Mr. Conquest may have forgotten how children in Middle School tend to behave.
The school's deputy head, Ms. Sharon Hardachre was quick to defend Mr. Conquest saying that it is exactly because they know their children so well that the policy was implemented. She goes on to say that perhaps in a different place or context, Mr. McGovern and some of the very skeptical parents might be right: however, Woodland Middleschool is a relatively safe environment and there aren't a lot of bullying cases which occur.
Furthermore, Ms. Hardachre says that they make sure to set very reasonable goals when it comes to their subjects: again, she calls for the critics to look at context. One of the main things they took into consideration when they were thinking up a reward to give the kids was that the reward should be something fun but shouldn't cost a lot of money. They also said that the reward was primarily given because the target was not easy to achieve but so few of the students were able to attain it. She further says that Mr. Conquest had hoped that seeing their classmates in casual attire would inspire other kids to do better during the coming term.
So far, no parents or other teachers have pressed charges. Students who were asked about the casual dress reward also say that they didn't mind it very much. Woodland Middleschool has not issued any further comments, alterations or clarifications about the policy.
Online Summer Semester Offered by Different Countries All Over the World

This year, as online classes grow more and more popular, numerous colleges and universities all over the world have decided to open up their own online classes for summer 2014. From France to Indonesia, these classes have become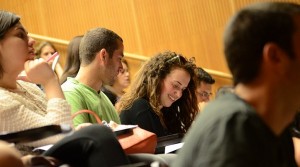 increasingly popular because of their low-cost (no need for transportation or for food) and relatively flexible scheduling. An emergence of diversity in these classes which were originally seen as "vocational" or which were used primarily to self-study or learn soft skills have now progressed into being full-blown classes with curriculum, quizzes and visual aids. They've also gone on to become credible educational avenues through which one can earn certification. More than the geographical diversity of these different schools, the interesting thing about the emergence of these online classes is the diversity of the audiences of the classes as well as the variation in different courses and tracks which they offer.
In the United States, 11 of the top universities have teamed up with 2U, an online education provider that will help them offer summer classes for undergraduate students. A couple of universities in Europe, including Trinity College, Dublin in Ireland and the University of Notre Dame in France have also signed on for this program. The program begins June 9th and ends on August 8th. Most of the classes will be online but there will be one meet-up class which will happen once every two weeks. These classes will have a limit of 20 students per online classroom—the choices for courses ranging from forensics at Boston College to history at Trinity to advanced calculus at the University of Notre Dame. These classes will cost $2,250 per course.
A similar change is occurring in the east—last week, Indonesia's president, Susilo Bambang Yudyohono launched a scholarship program which aims to send Indonesian undergraduates to pursue their graduate studies abroad. The acceptance into the scholarship will be determined by two things: the first is the acceptance to one of Indonesia's top universities and the second is an online course that is going to run for the better part of two months and is going to both test and prepare students' aptitudes for studying abroad. The applications for this scholarship (fittingly entitled The President's Scholarship) are currently ongoing and will be close on April 20th. Mr. Yudyohono says that they aim to send at least 100 Indonesian students abroad. He also adds that this mesh of online and traditional education is going to be (if he can help it) a trend for Indonesia in the coming 10-20 years.
Great Britain has done something similar but for a different market of students—a study issued by Lantra, a skills development and testing body, showed that the UK has an enormous shortage in one of (if not the )most important sectors, ever: agriculture and environmental science. The study showed that the UK would need to educate, train and employ 595,000 new people by the year 2020 to be able to address the shortage in a lot of key areas of these industries. The Lantra publication also mentioned that the problem owes greatly to the retirement of the leaders in these sectors and the lack of any viable successors. This largely owes to the fact that not a lot of students from the more developed, urban areas who have access to a college or university education are very interested in agriculture or more rural industries.
In response to this, colleges and universities throughout the UK have decided to make their environmental science and agricultural courses available to more people, possibly by employing an online course kind of scheme for certification which will require planned field trips at regular but large intervals. The courses are going to be designed to be low-cost and accessible. The curriculums of these classes are still in the planning stages.
New Privately Funded College Courses for Inmates to be Implemented

A few months ago, Governor Andrew M. Cuomo proposed that college courses for inmates be provided by the government. He went on to say that this move would offer inmates a chance at restoration and rehabilitation, as opposed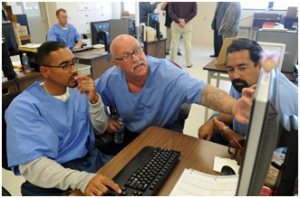 to decay and stagnation. He said that this would be a new step forward for America—currently the nation with the highest rate of incarceration per year. He also said that one of the biggest issues last year was that a lot of inmates are intelligent people who'd gone astray due to their environments: people who arguably deserve the kind of education that will develop their talents. The same goes, he says, for those whose crimes have landed them in prison for life: Cuomo said that the humane thing to do would be to ensure, at least, that should they desire it, they could do something productive while in prison. At the time, it seemed that a lot of people empathized with the governor's cause.
Six weeks later, however, when the state budget was being approved, the proposed bill was met with a lot of questions and oppositions. These came particularly from the Senate—senators argued that it didn't seem right to make law-abiding citizens pay for the education of inmates when they were struggling to pay for their own children's educations.
Mr. Cuomo said that he understood this sentiment—and especially how it would look to the public or to people who hadn't reviewed his full proposal—but that he didn't agree with it; the potential to do wrong lies in every person but the power to correct that wrong and replace it with something for the better (as opposed to simply quarantining it) should like with a governing body.
The College Courses for Inmates proposal would cost $1 million in its first year and less afterwards—miniscule when the state's budget per prison is around $2.8 million a year. Mr. Cuomo goes on to say that implementing his plan would be bettering the lives of everyone without necessarily costing extra for anyone: he proposed 10 majors which the inmates could choose from, there being classes a couple of times a week as incorporated into the inmates' usual routine within the prison. Mr. Cuomo is a democrat and so it is hardly any surprise that the Republican members of the government have stood against him on this. The previous provision for publicly funded college courses given to inmates was revoked two decades ago by Governor George E. Pataki, who made prisoners ineligible for state funding. Former President Bill Clinton also signed a bill which made inmates ineligible for the Pell grant.
This bill has had some extraordinary backlash over the past few months: Governor Cuomo has been met with rallies and campaigns like Kids Before Cons and Hell No to Attica University. In the past few months, the governor has received threats of impeachment from a couple of English teachers and a reporter recently asked him for a message to Yoko Ono should Mark David Chapman, the man who shot John Lennon (who is imprisoned in Western New York) suddenly want a college degree. The governor did not respond to any of these comments except to say that he has decided it would be best if this course were privately funded by individuals whose thoughts and concerns were much more progressive than most politicians'.
Robert Gangi, former executive of the Correctional Association of New York, says that the public's obsession with "vengeance" and "severe punishment" is primitive—along with claims that correctional facilities are soft on the criminals. Mr. Gangi says that prison is no joke and providing an education for these people would definitely make the world a better place; the absence of education in prisons isn't helping anyone.
Oddly enough, in a survey taken last month by the Siena College found that most students (53%) were for the governor's proposed bill. The problem seems to be that the other 47% are simply more outspoken. Assemblyman Daniel J. O'Donnell says that Governor Cuomo's proposition is fail-safe: it makes prisons, streets and ultimately, the nation a safer place. A lot of educators and Universities (whose names must be omitted here for the sake of discretion) have also gotten on board to help teach these classes and formulate curriculum that would best suit the inmates and the degrees they want to pursue.
Why, he asks, are the majority of America so opposed to progress? Mr. O'Donnell emphasizes that "correctional facilities" aren't called correctional for nothing.
Earlier this week, Governor Cuomo decided to pull the bill out of the running, saying that there are other more effective ways to go about this—a way that is less messy and that involves people with valid opinions really making the effort to help out. A study by RAND (the leading body on correctional facilities in the United States) showed that a significant amount of inmates educated within the prison (pre-Clinton) made it back into society and now live crime-free, productive lives. It also showed that suicides were highest in prisons that didn't offer any classes or means of education whatsoever for their inmates. New York currently has the most number of correctional facilities which are privately funded and which provide classes to their inmates on a regular basis. They also have the highest rate of rehabilitation. The governor and those who are in support of this program are enthusiastic that the public campaign will do very well.
Universities Teach Climate Change Through the Arts

A new class at the University of Oregon in Eugene, Oregon has revolutionized the way that climate change is being taught and prepared for. Instead of the scientific, documentary type of take on the issue which was popularized by Al Gore's The Inconvenient Truth, this class pioneered by Professor Stephanie LeMenager takes a more artistic, humane approach—the class discusses climate change and global warming (rising oceans, displaced populations, political conflict) through the eye of speculative fiction, photography, essays, films, poetry and art. More than focusing on what caused the problem or how it affects statistical data, the class aims to engage students by emphasizing its effects on their individual lives, something that is definitely more relatable than population figures. It also allows a complete imagining of the dangers that climate change (which is, ultimately, upon us) may bring and how to prepare for them. Professor LeMenager says that looking at spec-fic (or as people are now calling it, cli-fi or climate-fiction) allows a fuller imagining of what might happen than just the scientific facts—she says that this isn't the time to contemplate the possible end of the world as we know it but the time to think about how to meet it.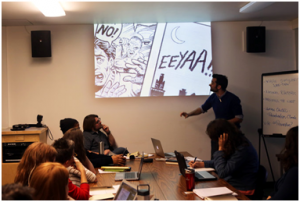 The University of Oregon has taken it upon itself to be one of the first universities to meld together seemingly separate disciplines. Professor LeMenager joined the University's faculty both under the Humanities and the (Environmental) Sciences. She says that she is glad that she can do something like this for a living—although, she admits that this is relatively easier to do in Eugene than in other cities: Eugene is a place perhaps most well-known for its acceptance of climate change as inevitable. It's one of the most environment-friendly cities in all of the United States—there are city laws to enforce the protection of environmental resources such as the forests and most motorists use their bicycles instead of cars. Using re-usable containers is also a must in Eugene: most coffee shops charge extra for disposable paper cups and even then, customers are highly discouraged from using those cups by most of the coffee shop populace (either by being told so or by being given reproachful looks). Professor LeMenager says that it might be extreme but that it's these small things that will save us a world of hell in the coming years.
Furthermore, she says that merging information given to us by science and the possible scenarios provided by fiction was no doubt, the most logical way to meet the issue of global warming. She says that she's lucky because the boom of cli-fi in the past few years with books like The Wind Up Girl by Paolo Bacigalupi, The Carbon Diaries 2015 by Saci Lloyd, Odds Against Tomorrow by Nathaniel Rich and Flight Behavior by Barbara Kingsolver. Professor LeMenager says that the extremely astounding thing is that despite their recent publication dates, these books have been allowed onto the to-read lists of Universities—something which she was worried would not be approved when beginning her planning for the course. She also adds that she isn't the only one who is making an effort to educate people about the state of the environment differently than it has been done before.
The University of Wisconsin in Milwaukee also recently began a similar but broader course called The Political Ecology of Imagination. This class uses novels like Margaret Atwood's The Year of the Flood and Oryx & Crake as well as numerous essays by Susan Sontag to enrich the students' understanding of the importance of taking care of the environment. Nathaniel Rich and Ian McEwan are both supporters of the said course. Mr. Rich says that he's glad something like this is getting traction although he is rather surprised that it's all happening this late—these developments make him both happy and anxious about how seriously global warming is being taken.
The plan for now is to begin expansion of these courses—Professor LeMenager encourages all Colleges and Universities to come up with similar courses: of course, she says, each course must adapt to its student population and location. However, she stresses that these classes are best taught intimately, with a few students per class rather than in a symposium set up where the students are simply given handouts or fliers. The key to environmental education—or any kind of education for that matter—is making it deeply personal.
British Teenagers Have Advanced Creative Problem-Solving Skills

Recent tests have shown that British teenagers (ages 15-17) have superior creative problem-solving skills as compared to their other European peers. However, they are still lagging behind their Asian counterparts. The results of this test were backed up by a study conducted by the Organization for Economic Cooperation and Development (OECD).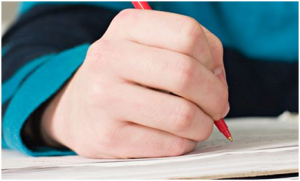 The pupils who took the international exams scored better on problem-solving problems that had practical applications like complex math involving prices, taxes and depreciation/appreciation of assets. This is compared to the other parts of the exams such as reading/comprehension and algebraic computation which were administered in the Programme for International Student Assessment (PISA) earlier this year.
The results of these tests are paving the way for change in the British school curriculum. It suggests that young people throughout England are better at solving tricky equations which are related to practical situations and which are phrased in a manner that is different and more complex rather than simpler but more contextually abstract traditional math problems which test retained knowledge as opposed to skill sets.
The OECD's head of early childhood education and school divisions, Mr. Michael Davidson says that this was definitely good news because it shows that British youth have a good shot at getting good employed. He says that in general, employers value skills which have practical applications such as being able to compute for financial assets or liabilities much more than being able to figure out a quadratic equation.
The results of the study place English in 11th place, out of all the 28 countries which were reviewed. Finland was the only other European country which scored above Britain—the United States came in at 18th place. All of the study's top countries were from Asia—these being Japan, South Korea and Singapore. Canada was 9th place, a place below Australia. Germany, the closest European country on the ranks, garnered 17th place. China, which was in a top spot in the 2012 first run of the study, ranked surprisingly low in this round, falling from first to 20th.
The Director for the Centre of Education and Employment Research at the University of Buckingham, Mr. Alan Smithers says that while the impressive performance of Britain in the 2014 study is definitely commendable, it should be taken into account that the study is very specific: they're tackling practical math. He says that it makes sense that China didn't do very well in this aspect because they topped the portion of the tests for traditional math.
The spokesperson for the Department of Education also spoke out, congratulating the British kids who took the test. However, he says that he doesn't quite agree that traditional math and practical math need to be contra-indicatory: he points to Japan, South Korea and Singapore which topped on both of these counts.
Some criticism for the study and the OECD tests is that a lot of the practical tests were built around fairly western concepts—one of the tests for instance, had the students purchase a train ticket; the amount on the ticket was deficient. They were then made to calculate and pay for the difference in a short amount of time. The OECD said that while this might be true, they are sure that there are trains everywhere: they also point out that the countries which topped the exams weren't, in fact, western nations.
Mr. Brian Lightman, the General Secretary of the Association of School and College Leaders, says that it's great that OECD is able to make unpredictable, real-life reminiscent problems. He says that this is definitely a step forward for education in the world—both inside and outside of England.
New Autism-Friendly Classrooms Put Into Action

Autism Spectrum Disorder (commonly called autism or ASD), a condition which affects one's social functioning and usually in one way or another compounds one's ability to learn, affects more than 700,000 students across the nation (and millions, worldwide). In time for World Autism Day on the 2nd of April, the non-profit organization Humans Not Robots have launched the world's first Autism-Friendly classroom which aims to help extend quality education to children who have autism.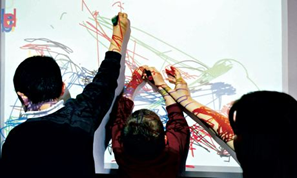 The classrooms, which have been auctioned off to different schools are both literally and metaphysically designed to help kids with autism learn. One characteristic of ASD is an extremely short attention span. In the brochure which comes with the classrooms, the members of Humans Not Robots have included a couple of tips and tricks for the educators who are going to make use of the classrooms to help get the message across to kids with autism, despite their shorter attention spans. These include introducing lessons in short, fun intervals and alternating between different subjects throughout the day (e.g. 30 minutes for Science in the morning followed by 30 minutes of English—to be repeated again later in the day). They also suggest that awards be given to students at shorter intervals—it would be best, for example to reward kids on a weekly basis rather than a quarterly or semestral basis so that they don't forget that they always have to study well.
As for the physical layout of the classrooms, they hope to increase learning via using natural daylight, limiting background noise while also installing fun features which will encourage the kids with autism to participate in their lessons. These fun features include a fun wall where students can draw and experiment with shapes and colors.
The classrooms and learning programs which Humans Not Robots developed was also in part put into action by the National Autistic Society and the Autism Education Trust. Together, they developed the SPELL education framework which was developed especially for kids with autism. The framework concentrates on creating a safe and secure environment for kids with ASD—the factors which play into this environment are empathy, low agitation, regular reinforcement and displays of kindness; they're also working closely with the students' parents—the studies have shown that for any educational treatment to work, the program must be linked to the kids' home environment. The main goal of the SPELL framework is to help kids with ASD feel secure: ASD in itself is not a learning disability and most of the learning difficulties come from an unstable environment and/or a distracted state of mind.
The organization Woodfer's World also contributed to the classrooms and their implementation by giving out guides from their Ambitious About Autism program which gives teachers guidelines to follow to reduce (if not completely annihilate) bullying of kids with autism. Studies have shown that 70% of kids with ASD go to regular schools and that 40% of them are bullied.
Humans Not Robots along with their partners will, in an effort to promote these classrooms further, be giving a presentation on World Autism Day which features the room, how it can be used as well as a thorough explanation of the SPELL framework and the anti-bullying campaign. In conjunction with this, the World Autism Day website has also launched a free 100 Day Kit which aims to help parents whose kids have ASD deal with their diagnosis and provide a good, nurturing environment for their children.
English Taught Differently at the Leeds School

Georgiana Sale, the headteacher at the City of Leeds School has been the subject of a lot of opinions regarding a misquote in an article where she was reported to have said that her school would be giving all of its students the English as a Second Language (ESL) program: including those who had English as their first language.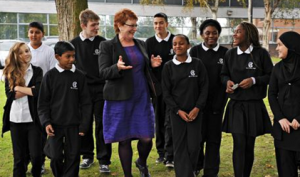 The shocking thing, says Ms. Sale is the violence of the reaction to this misquote. Her phone was ringing off the hook, with critics on the other end berating her for spending British money on educating foreigners. Ms. Sale says that she scoffs at most of the criticism which has been directed toward her—most commonly, she's been told that she should be sacked for accepting a good number of foreign kids into the school (quite far-fetched from the original issue at hand). She goes onto say that in one instance she was told by a parent to just send the kids away. She says that this is not going to happen because more than anything, she believes in equal opportunities for everyone. She says that all of her school children are like family to her and she will not be turning any of them—British-born or otherwise—away.
The City of Leeds School is unique in that the city of Leeds is one of the biggest melting pots in Britain so that its small population of just-over 300 is peppered with immigrant kids who speak around 50 languages between them. Ms. Sales says that people who have been criticizing her because of what she said about focusing on the school's ESL program definitely did not evaluate the context of what she said; the policy she was talking about was and is applicable to the school's needs—not necessarily to anyone else's.
Ms. Sale goes on to clarify the misquoted statement: she did not say that all of the students would be taught in the ESL manner. She said that they would be separating English classes depending on the students' skill levels in order to boost both their proficiency and their scores. What she said to the newspapers was that for the students who were having difficulty with English—regardless of whether or not they were British-born—will be put in a class where they're taught the basics of the language. She says that this seems much more fair than assuming that all children born in Britain must know how to properly speak the language. Kids who are more advanced on the other hand, will be put in a class to develop their writing skills, grammar proficiency and their vocabularies.
The City of Leeds School has been evaluated by Ofsted as needing improvement—something which Georgiana Sale readily admits: the school recently applied for Academy status because they want the improvement and they need the government's financial help. She says that she isn't quite sure what people are angry at her for. One of the most frequent complaints of people about schools is the shoebox one-size-fits-all type of education and now that she's gone and tried to tailor-fit one of the most important subjects in the curriculum, she is criticized for it simply because a lot of the students in question are foreign.
Finally, Ms. Sale calls on all of the parents, students and education officials to be more open-minded and to think about the context of the things they read as well as their attitudes toward other people. Although she knows that she has done her best (she was hailed by Ofsted as a woman with "boundless energy"), she says that she can't help but feel terribly sad about the way that her statements have been misconstrued: she'd thought that people would be less xenophobic in the 21st century. Misunderstandings and all kinds of criticism aside, Georgiana Sale says that she knows she is first and foremost, an educator and that she and all her 300 + students stand united in their plea for academy status and for education which caters to everyone—no matter where they were born.
Schools to Implement Pre-school Testing in 2016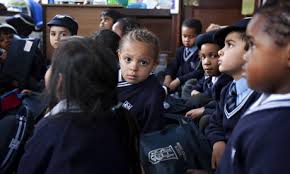 Starting 2016, schools nation-wide will begin entry-level tests for four and five-year olds. This test allows schools to have a "baseline check" which will provide them with adequate information about the student's learning patterns and abilities. The next half of the test will be conducted upon leaving primary school during which a unique statistic will be set up for them that the primary school can forward to the middle school (or in the case of K-8 schools, high schools) which they'll be attending. This'll allow the educational system to monitor and track the students' abilities across the board—from primary school to secondary school, right until they reach university. The education officials also say that this will allow them to create an accurate measure for the grade targets to be implemented in school.
A couple of elite primary schools will be allowed an exemption from the tests if they're confident that they can reach the 85% floor target at the end of primary school in 2023, when the next test will be conducted. This 85% target is ways above the current floor target of 65% which currently only 10% of primary schools all over England are able to achieve. Schools which don't take the test but fail to meet their targets in the later years will be tried for quality and may possibly be demoted in status.
Russell Hobby, who heads the National Association of Head Teachers encourages schools everywhere to participate in the baseline tests. He says that while he knows that the decision to begin testing so early on in one's educational exposure is controversial, he also believes that it's for the best. It not only helps them tailor-fit their curriculum to the students' need, it takes the pressure off of the schools to over-achieve—something which may force the teachers into making rash decisions, thus compromising the students' education.
Mr. Hobby goes on to say that he understands why educators are concerned: no doubt, it is going to be challenging and the first run is by no means going to be a walk in the park. Since attending a conference with the DfE last year, Mr. Hobby confirms that a lot of the details are still in the works; while there is still time before the due date, he expresses his hopes that the DfE is doing all it can to ensure that the test goes well. He also notes that overall, he is pleased because this issue of being able to gather information at the crucial age of 4-6 years old has long been ignored by the professionals of early education. He's glad that this is finally getting traction and hopes that, despite the controversy and the plan's birthing pains, this will mean great things for teachers and students in the long run.
Neil Leitch, chief executive of Pre-School Learning Alliance said that he and his colleagues have serious concerns about the implementation of the baseline tests. Mr. Leitch goes on to say that this test is a reflection of the educational official's misunderstanding of what education should be like. He says that this "schoolification" of the learning process is exactly what discourages students from learning. Mr. Leitch concludes that the test is a reflection of the disrespect of most educators for the playfulness and freedom to explore which are characteristic of childhood. PSLA is one of the top charity-funded pre-schools in England.
David Laws, the minister of schools, says that in addition to having the test implemented, schools which will participate are going to be required to publish a paper documenting all their findings and all the significant things which happened (will happen, for now) in the years between. They'll also be publishing these studies in regular intervals, documenting the progress of their students even after university—they'll need to provide proof of acceptances into esteemed employment, apprenticeships and/or the receiving of awards.
In response to Mr. Leitch and other critics of the new test, Mr. Laws says that the new system will be fastidious. Its utmost fidelity will be to the students' success and to the quality of education. Mr. Laws says they will ensure that underachieving and coasting schools will either be improved or removed.