High School Graduate Does the Most Inspiring Thing
Austin Coppola, a recent high school graduate just earned his diploma from the Fairport High School (FHS) in Fairport, New York. The really unique thing about Austin Coppola isn't just his big heart, there's also the fact that he has a twin brother named Ty who has Down syndrome. Before his ceremony, he said that he would not be marching unless he was allowed to take Ty with him. His brother, Ty, did not graduate from Fairport. But Austin insisted that his brother, who'd faced a whole lot of challenges, was even more deserving of the respect and recognition that he would be getting. Austin says that while yes, he does deserve his diploma, Ty has worked hard in a way that most people won't be able to handle.
In the ceremony last week, both brothers went up on stage, dressed in a cap and gown to receive Austin's diploma. When the brothers went up on stage, the entire audience stood up and started clapping. Austin was brought to tears, tweeting that the entire ordeal was wonderful and had him at the brink of tears. In an interview with WHAM-TV, Austin says that it's very important to him that Ty is able to share all of life's important moments—as his twin brother, he feels like it's his duty to share a lot of opportunities with Ty that, given his condition, he isn't able to witness on his own.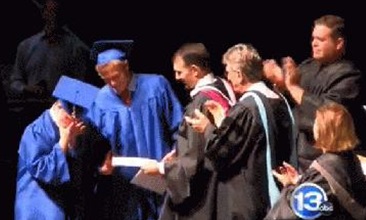 Cheryl Coppola, the twins' mother says that she's grateful to have such great sons. She says that more than anything, she is grateful for Austin's compassion for his brother. Despite the fact that their age gap is only a few seconds apart, they have for the last 17 years, lived very different lives. She admits that when Austin first approached her with the idea of asking the school to let Ty march with him, she was hesitant—she was unsure whether or not the school would allow it and also felt that Austin would miss out on having his own shining moment to himself—but Austin really stuck with the idea and put his foot down, refusing to participate otherwise. She says that she is always taken aback at the close relationship that the boys have, despite Ty's condition. Cheryl Coppola goes onto say that Austin's empathy and Ty's resilience makes them an incredible pair.
In an interview with a local newspaper, Austin said that the most special thing about the entire ceremony was hearing his brother's name called. More than 550 people were present at the Blue Cross Arena for FHS's commencement exercises last week. FHS school officials say that they were really happy with their decision to allow Ty to march. They go onto say that they are very proud of Austin and that everything he's achieved—both intellectually and emotionally—is a testament to the human ability to empathize and persevere against adversity. Cheryl Coppola says that when the boys were marching, she thought back to what Austin told her: that in a way, Ty had worked much harder than himself.
Looking for an exceptional company to do some custom writing for you? Look no further than ProfEssays.com! You simply place an order with the writing instructions you have been given, and before you know it, your essay or term paper, completely finished and unique, will be completed and sent back to you. At ProfEssays.com, we have over 500 highly educated, professional writers standing by waiting to help you with any writing needs you may have! We understand students have plenty on their plates, which is why we love to help them out. Let us do the work for you, so you have time to do what you want to do!