Most Recent Graduates Now Have Jobs
A government study released last Tuesday shows that most of the graduates who entered the labor force within the past few years (2008 being the earliest graduation date included as a point of study) have found jobs. According to the study, most recent college graduates (85%) have a full-time job, 8% work multiple part-time jobs and only 6.7% are unemployed or looking for work. These numbers are very encouraging for educators everywhere, showing that past changes in the curriculum from the years 2004 onward have been very good for students. The report included 17,000 recent graduates.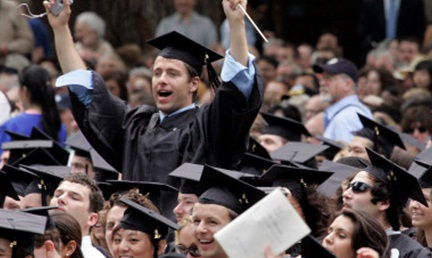 New research now suggests that attaining higher education (college and post-grad degrees) usually pays off for graduates. This debunks the more popular notion that gaining an education has little or no bearing on whether or not an individual is able to attain a job. This previous conception stemmed from Census and Labor Data released in 2012 by the Associated Press saying that half of recent college graduates under 25 were unemployed. This study was released by the AP, citing researchers at Northeastern University, Drexel University and the Economy Policy Institute.
The recent study also took this data into consideration, saying that the previous study may have failed to mention that in general, recent college graduates always have a 2% lower employment rate than other graduates because they are still inexperienced. Considering this base variable allows researchers to see the truth behind fresh graduate employment statistics.
In a 2014 analysis for the New York Federal Reserve, Jaison R. Abel, Richard Deitz and Yaqin Su say that the data released which sensationalizes unemployment rates is over-hyped. They report that the phenomena of there being a certain part of the market that is unemployed is one that cannot be ascribed to a single recession or event: sometimes, the individual plays a very big role in whether or not he/she is able to land a good job.
For example, no visible pattern was seen with regard to the income and course correlation of the individuals. This shows that student initiative, grades and performance have more to do with landing a job than a broad general truth as suggested by the study released by the AP.
Furthermore, the study stresses that most of the graduates who were interviewed and who participated in the research effort didn't mention whether or not their current jobs were linked to what major they took up. This further supports the evidence which questions whether or not the STEM course classifications are as important as most education officials suggest. Instead, researchers stress that the attainment of a college degree seems to have bearing on employment because it's able to ensure employers of something that is beyond just what or how much the graduates know: it also shows them that the individual is able to follow through with tasks and finish what they started.
Researchers as that this study be considered when coming up with possible new policies and programs to help supplement the current educational system. Throughout the years 2004 to 2011, a lot of changes were made to the college education curriculum which supported holistic development: teaching students from across different majors classes in other disciplines while focusing on their major subjects.
Critics site that one of the weaknesses of the recently conducted study was that it only studied employment and not how long students were able to keep their jobs, the effects of student loan debts and whether or not they were satisfied with their income—moreso, whether or not they had additional help from family members.
Looking for an exceptional company to do some custom writing for you? Look no further than ProfEssays.com! You simply place an order with the writing instructions you have been given, and before you know it, your essay or term paper, completely finished and unique, will be completed and sent back to you. At ProfEssays.com, we have over 500 highly educated, professional writers standing by waiting to help you with any writing needs you may have! We understand students have plenty on their plates, which is why we love to help them out. Let us do the work for you, so you have time to do what you want to do!