Lesson 4: Points of View

In this lesson, we'll be reviewing the different types of points of view that we can utilize when writing.
Objectives:
To define and discuss the different types of point of view
To clearly define when each point of view should be used
To discuss the advantages and limitations of each point of view
To provide examples of each type of point of view
Quick Navigation through the Lesson 4: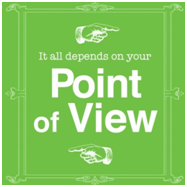 In this lesson, we'll be discussing the different points of view that we can use. This gives us a good idea as to the different ways in which we can express ourselves through writing. Here we'll be tackling each point of view and listing down examples that will help us understand these perspectives more easily.
First Person Point of View
The first person point of view uses the pronoun "I". This is usually used to convey a narrative or story that also contains the narrator—in the case of articles or non-fiction, this would mean you, the author. You can use this for writing letters, e-mails, blog entries and features articles.
The upside of using this point of view is that it allows you to directly convey your thoughts, emotions and insights to the reader. However, it limits the story in terms of the points of view and angles that you can explore.
Below is an example of a paragraph that is in first person:
I have to admit—I am a coffee addict. I love coffee: it wakes you up, it sets the pace for your day and it's chuck full of antioxidants. This is an indisputable part of my morning routine—I get up, work out, eat breakfast and have coffee. In fact, I think it might be years since I've skipped coffee in the morning. That is, until today: because I'm inordinately forgetful (at least when it comes to useful things), I brewed myself a nice cup of joe (Viennese blend) and allowed it to drip while I was getting dressed. On my way to the car, I poured the beautiful black goodness into my heat-proof tumbler and left it open to air for a little before snapping the lid on. I went on to do my make-up, grab my keys and run out the door—of course, leaving my lovely cup of happiness on the kitchen counter for no one to enjoy.
[WpProQuiz 198]
Second Person Point of View
The second person point of view uses the pronoun "you". This is usually employed when writing ads or sales pitches—bodies of work that require you to talk to a direct audience. You can also use this for educational articles, informative work and instructional manuals.
The main advantage of this point of view is that it allows you to address your audience; it allows them to immediately relate with you and gives them the ability to empathize with what you're telling them. In the case of instructional work, it allows them to better carry out the actions required by imagining themselves performing the instructions (e.g. "now, turn off the modem and wait for your computer to re-boot"). The major drawback of this point of view is that it has very limited uses (for example, it's very difficult to use second person when telling a story because you won't be able to convey any of your own emotions or insights).
Below is an example of a paragraph written in second person:
                 Are you sick and tired of your low-performing gas stove? Is the hassle of lugging around a metal tank of LPG getting extremely taxing? Make the switch to Electroven, the new stove technology from Cooking, Inc. It's affordable, easy to use and gives you the option of switching to gas reserves during power outages. With the new Electroven, you'll never have to worry about gas leaks or anything of the sort ever again. Plus, we ensure that all your favorite dishes—pot roast, omelets, fried chicken—cook evenly or else you get your money back! The Electroven is available in three different shades to suit all kinds of aesthetics—cobalt blue, wonderful white and playful pink. If you want to get a 30% off discount on your purchase, make sure to go get your Electroven within the next 15 days! This promo is available at all leading department stores in the United States.
Third Person Point of View
The third person point of view utilizes all pronouns (he, she, it, they, we, her, him) except "I" and "you". It is the most widely used point of view because it can be used for a number of types of work—essays, scientific papers, reports and critiques.
One of the biggest advantages of this point of view is that it allows one to freely describe events, people, things and places from a variety of angles. You can talk about something from the point of view of a priest or of a teacher or of a scientist—this is mostly utilized in fiction or in news articles. This is great for objective fields like news or science because it allows the author or narrator to distance himself from what is happening.
Below is an example of a paragraph written in third person:
                Dr. Levi is a local drugstore chain that was established in the early 70s. One of the pioneers of selling beauty products at the drugstore, Dr. Levi has fallen quite far from its successors such as CVS and Walgreens. When Mr. Leopold Banks, the CEO and great-grandson of the founder, Dr. Levi Walter Banks, was asked about the decline in the Dr. Levi brand, he replied that before his recent coming into the corporation, the business had been taken out of family hands. Mr. Banks's father, Lemuel Banks had "abdicated" the drugstore throne to pursue his passion—vintage cars. Being the only child, Mr. Levi Walter Banks had no choice but to leave the company in the hands of his then-bestfriend and right hand, a Mr. Zedd Smith.
[WpProQuiz 199]
In this lesson, we were able to take up the different kinds of point of view. We were also able to look at the different ways in which these different perspectives are utilized. To be able to better understand these uses, we were also able to show examples that allowed us to see clearly the pros and cons of every point of view.
Next we'll be moving onto the most substantial part of our class: advanced techniques that will allow you to gain a competitive edge either in school or at the workplace. In particular, we'll be discussing how to flesh out your ideas and show your audience what you mean.  Keep reading and you'll be on your way to leveling up your writing advantage!
Looking for an exceptional company to do some custom writing for you? Look no further than ProfEssays.com! You simply place an order with the writing instructions you have been given, and before you know it, your essay or term paper, completely finished and unique, will be completed and sent back to you. At ProfEssays.com, we have over 500 highly educated, professional writers standing by waiting to help you with any writing needs you may have! We understand students have plenty on their plates, which is why we love to help them out. Let us do the work for you, so you have time to do what you want to do!