Lesson 8: Table of Contents

In this first part of our class, we discuss how to properly format our Table of Contents.
 Objectives:
To establish the importance of properly formatting our Table of Contents.
To learn the different conventions which go into formatting the Table of Contents.
Quick Navigation through the Lesson 8:
One of the most important but commonly overlooked parts of the thesis paper is the Table of Contents. This typically appears after the title page and before abstract—it serves as a guide to the rest of your paper by listing down the different parts of your thesis and their corresponding page numbers. It sounds simple but because a thesis paper is used for academic purposes, it has to be formatted in a uniform way. In this lesson, we're going to be looking at how to format the Table of Contents for our thesis paper.
Table of Contents
Sample Table of Contents (Click to download an editable Sample)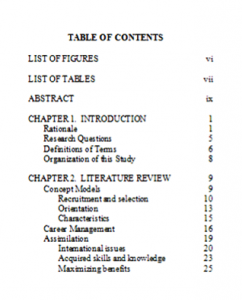 The Table of Contents pertains to the list of a publication's content which appears in the earlier pages. It contains all the subheadings of the paper and across from them, usually utilizing Hindu-Arabic numerals (1,2,3,4…) for all the main sub-parts, beginning with the Introduction. By convention, all of the other parts before the Introduction (such as the List of Figures and List of Tables) are denoted by small roman numeral numbers (i., ii., iii., iv…); this convention is made to avoid confusion as to when the meat of the paper proper begins.
It is very important to properly format your table of contents when writing your thesis paper because of the intensive nature of thesis paper grading. When comments are given to you by your mentor, for instance he or she may not point to the particular passage but instead might cite what age and paragraph number he/she means so that if you made a mistake in numbering, you might edit or change a different paragraph. Furthermore, your panelists will be reviewing your paper thoroughly and so your paper may be disqualified for certain awards or distinctions because of the wrong format or may attain demerits. Below is a sample of the correct way to format your Table of Contents:
List of Figures
The List of Figures along with the List of Tables is usually placed before the Abstract and is labeled using small roman numerals. They're also listed down (as you can see above) in all-capital letters. This is to denote that this part is for reference and not an actual part of the thesis part. In this section, you should list down all the figures which appear in  the paper according to their order (related tables are usually placed under the same main label—i.e. 1.1, 1.2, 1.3, etc.) with their corresponding page numbers listed across them. This helps the reader locate specific figures which he or she wants to reference.
[WpProQuiz 165]
Below is an example of the proper format of the List of Figures: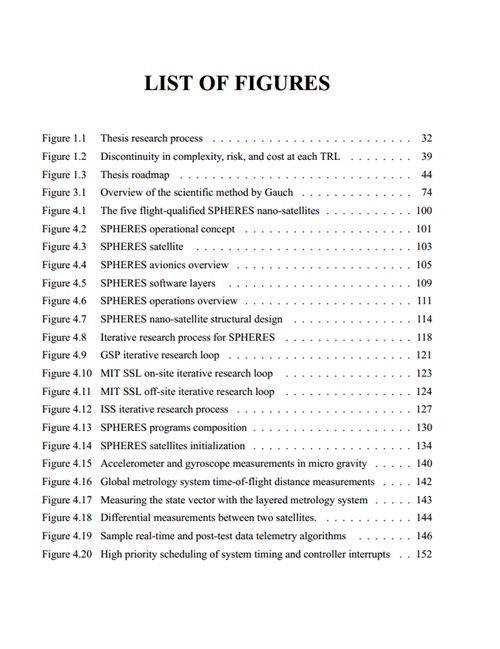 List of Tables
This list is similar to the List of Figures and usually comes after the aforementioned list. The same principle applies: here, we list down all the tables present in the paper like we did for the figures. Except when labeling, we replace "Figure" with "Table"—for example, Table 1.1 or Table 3.7. This helps guide our reader through the different summaries of information available throughout the thesis.
In this lesson, we were able to take up the importance of formatting the Table of Contents properly. We were also able to study different conventions when it comes to numbering and capitalization. These lessons will come in handy when we write our thesis paper. It'll also help our mentor and our panelists sift through the paper.
Next up we'll be talking about the Introduction. We'll discuss what makes a good introduction—what information should and shouldn't be included in the next portion of your paper. Keep reading and take one step closer to writing an excellent thesis!
Looking for an exceptional company to do some custom writing for you? Look no further than ProfEssays.com! You simply place an order with the writing instructions you have been given, and before you know it, your essay or term paper, completely finished and unique, will be completed and sent back to you. At ProfEssays.com, we have over 500 highly educated, professional writers standing by waiting to help you with any writing needs you may have! We understand students have plenty on their plates, which is why we love to help them out. Let us do the work for you, so you have time to do what you want to do!