Lesson 11: Methods

In this first part of our class, we'll discuss the importance of writing a good methodology and how it can be done.
 Objectives:
To establish the importance of writing a good methodology.
To determine how we can go about writing a good methodology.
To establish what constitutes a good methodology.
Quick Navigation through the Lesson 11:
The methodology is the part of your paper which ensures that your study is able to contribute something to the field which you're studying because it contains the procedures, materials and different experimental designs which you used in your thesis. In this class, we're going to be discussing a couple of guidelines which will help you write a good methodology.
Write in past tense
It's very important to write in past tense when it comes to writing your methodology. This establishes that it was something which you did and not something which you're going to do or are thinking about doing—this gives your paper a lot more credibility because it implies that the methods your reporting were experienced first-hand. This also gives your paper consistency.
Write in chronological sequence
Click the image to download the editable Methodology Sample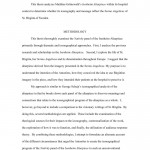 This is crucial to writing a good methodology—the methodology is the only means through which future experimenters will be able to replicate and improve your study. This portion of the paper should be informative but direct and straight-to-the-point.
It's good to write in semi-outline form, highlighting the steps in bullet form and proceeding to explain other things in a short paragraph bellow the bullet-points. This helps provide a structure for your methodology without scrimping on the details. Avoid writing in full blocks of text because this can be confusing for the reader and this might result in errors should they attempt to reconstruct your methods. Your panelists might also misunderstand the way you carried out your methods which may be taken as a point against your paper.
[WpProQuiz 171]
For example:
Samples were placed in freezer at 0◦C
This ensured that the bacterial culture would be preserved until we were ready to inculcate it into the tissue samples which we gathered from the subjects.
Be specific
Make sure to include specifics when writing about the methods which you employed—this is key to understanding, replicating and improving your study. Don't forget to mention specific temperatures, proportions, specifications and other things which are relevant to your methodology. Also don't forget to mention which standards of measurement you used (if applicable) and which machines or programs you used to help you (again, if applicable). It's also good to mention the conditions (weather, time) in which the methods were carried out—for example, if you're studying the behavior of mice: did you conduct the experiments at night or during the day? Had the mouse just woken up? Was it tired? Had it been fed? Or perhaps you're studying learning patterns in 7-year-olds—what subject in particular did you study? How did you gather data about their performance? Did they know that they were being observed?
Be honest
No study is perfect—while all studies begin with perfect, solid methodologies a lot of things are usually altered to accommodate the lack of resources, unforeseen events or the unavailability of certain materials. Be sure to note all of these down in your methodology—this helps back up your results as well as offers new options to people who might want to replicate your study in the future. If you substituted certain materials (for example, NaCl with a different kind of salt), note it down when you talk about that step. Also talk about why you made the substitution so that future researchers know whether or not this was a good idea.
Furthermore, not being honest in a thesis paper (especially where your results and methodology are concerned) is a disciplinary offense.
[WpProQuiz 172]
In this lesson, we were able to tackle the best way to write a methodology. We were able to look at the purpose of a methodology and how it contributes to our thesis paper. Furthermore, we were able to lay out concrete guidelines to follow so that our thesis methodologies are well-written and easy to understand.
Next up we'll be talking about results and how to present your gathered data. We'll also be talking about how this next section differs from the discussion part of the thesis and how they work to complement each other. Keep reading and take another jump closer to being the best thesis writer you can be!
Looking for an exceptional company to do some custom writing for you? Look no further than ProfEssays.com! You simply place an order with the writing instructions you have been given, and before you know it, your essay or term paper, completely finished and unique, will be completed and sent back to you. At ProfEssays.com, we have over 500 highly educated, professional writers standing by waiting to help you with any writing needs you may have! We understand students have plenty on their plates, which is why we love to help them out. Let us do the work for you, so you have time to do what you want to do!