Lesson 1: Why Learn to Proofread & Copyedit?

In this world that hinges heavily on communication—especially written, online communication—learning to proofread and copyedit can make the difference between becoming successful and failing to achieve your dreams. If you have a goal at work or a professional objective, learning how to be detail-oriented when it comes to reading work could be your stepping stone toward your success.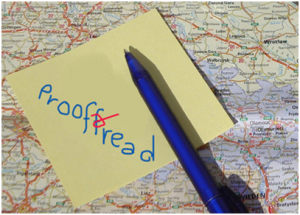 Whether you're hoping to get a freelance gig online or to write full-time and copyedit on the side or simply looking to ace your English and Grammar classes in school, learning how to proofread and copyedit can make your life easier and can help you maximize the way that you read and write. Knowing how to go through written work and evaluate what needs to be corrected and how to correct it can lead to various different opportunities—you could be promoted or given a new designation, you could get a scholarship because of your good grades, you could land a freelance job, you could being treading the path to a better and brighter future. All-in-all, acquiring these new skills can help you raise your professional and personal credentials.
In this short and easy-to-understand class, we will be going through everything that you need to know about proofreading and copyediting. We'll be looking at everything from the basic techniques of proofreading and copyediting to different ways in which you can practice applying these techniques to your own work: a skill that is unique and in demand.
Clear, concise and jam-packed with information, this series of lessons helps you gain all the skills you need to be able to efficiently and effectively read, evaluate and improve written work as well as come up with good writing of your own.
Furthermore, we'll also be looking at what exactly, becoming a professional proofreader and copyeditor entails. This lesson will help you become job-savvy: you'll know your rights and responsibilities as a professional proofreader and copyeditor, should you decide to go down that path. Even if you don't decide to do this professionally, learning about these things can still be useful in day-to-day life: you can help your friends, apply good work ethic to your other endeavors and grow as a professional.
In this unique class, you'll find different professional tips, tricks and techniques that you can use on your way to becoming a top-grade proofreader and copyeditor. In addition to learning these different dos and don'ts in the world of evaluating written work, we'll also be providing an avenue for practice with fun exercises and short quizzes. These will help you gauge your skill levels and track your progress—you'll be able to see how far you've come and how much further you can go!
Keep reading and we'll get right to our first lesson: Proofreader's Marks. Here we'll begin our lesson by taking a look at the basic marks and symbols that proofreaders use when correcting papers. These will make the succeeding lessons and proofreading in general much easier.
Looking for an exceptional company to do some custom writing for you? Look no further than ProfEssays.com! You simply place an order with the writing instructions you have been given, and before you know it, your essay or term paper, completely finished and unique, will be completed and sent back to you. At ProfEssays.com, we have over 500 highly educated, professional writers standing by waiting to help you with any writing needs you may have! We understand students have plenty on their plates, which is why we love to help them out. Let us do the work for you, so you have time to do what you want to do!