More On Topic: Draconian Rules Imposed to Combat Cheating!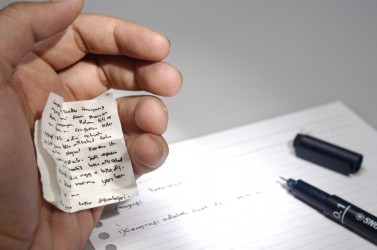 As technology advances and everyone tries to profit from it, new ethic and legal issues imminently arise. The University of Central Florida (Orlando) has recently introduced the brand-new techno measures in a decisive move to put an end to cheating among the students.
As the eternal temptation of students to cheat has gone high-tech — not just on exams, but also by plagiarising to their term papers and coursework from the Internet and sharing of homework online like music files — educators have responded with their own efforts to crack down.
No gum is allowed during an exam: chewing could disguise a student's communication by a hands-free cell-phone to an accomplice outside.
The 228 computers that students use, are recessed into desk tops so that anyone trying to photograph the screen — using, say, a pen with a hidden camera, in order to help a friend who will take the test later — is easy to spot.
Scratch paper is allowed — but it is stamped with the date and must be turned in later.
When a proctor sees something suspicious, he records the student's real-time work at the computer and directs an overhead camera to zoom in, and both sets of images are burned onto a CD for evidence.
However, now fewer concerns and protests are heard from students to the aforementioned measures. Thus, Rose Calixte, a senior, was once told during an exam to turn her cap backward, a rule meant to prevent students from writing notes under the brim. Ms. Calixte disapproved of the fashion statement but didn't knock the reason: "This is college. There is the possibility for people to cheat."
A first-year M.B.A. student, Ashley Haumann, said that when she was an undergraduate at the University of Florida, "everyone cheated" in her accounting class of 300 by comparing answers during quizzes. She preferred the highly monitored testing center because it "encourages you to be ready for the test because you can't turn and ask, 'What'd you get?' "

Another turn of this constantly downward spiral is the anti-plagiarism services. Requiring students to submit papers to be vetted for copying is a booming business. 55% of colleges and universities now use such a service, according to the Campus Computing Survey.
The best-known service, Turnitin.com, is engaged in an endless cat-and-mouse game with technologically savvy students who try to outsmart it. "The Turnitin algorithms are updated on an on-going basis," the company warned last month in a blog post titled "Can Students 'Trick' Turnitin?"
Among the rest, it says it is now used by 9,500 high schools and colleges. Students submit written assignments to be compared with billions of archived Web pages and millions of other student papers, before they are sent to instructors. The company says that schools using the service for several years experience a decline in plagiarism.
Besides, several online essay writing services, such as ProfEssays.com and hqessays.com, have been successfully using Turnitin.com as a reliable tool against plagiarism. ProfEssays.com as a powerful essay outline generating center often posts guides and manuals on how to write an essay on  a specific topic. "However", – as Steven Brubeck, ProfEssays.com manager, says, – "there is no such guarantee that materials posted on our site are not reposted elsewhere; we often see such practice take place, but we often appear to be powerless against human dishonesty".
Cheaters trying to outfox Turnitin have tried many tricks, some described in blogs and videos. One is to replace every "e" in plagiarized text with a foreign letter that looks like it, such as a Cyrillic "e," meant to fool Turnitin's scanners. Another is to use the Macros tool in Microsoft Word to hide copied text. Turnitin says neither scheme works.
Some educators have rejected the service and other anti-cheating technologies on the grounds that they presume students are guilty, undermining the trust that instructors seek with students.
The extent of student cheating, difficult to measure precisely, appears widespread at colleges. In surveys of 14,000 undergraduates over the last four years, an average of 61 percent admitted to cheating on assignments and exams.
In any case, at least with ProfEssays.com you may rest assured you are NEVER caught with turning in a plagiarized essay! We do not invent ways to fool plagiarism detection services, but generate the original ideas instead. And remember: ordering the high-quality custom essay is not cheating at all. Will you say it is cheating to address the car service if you have a bad head for cars? No, certainly. Thus, custom essays are merely a paid service that our highly-experienced team of professionals delivers to you with great pleasure!
Looking for an exceptional company to do some custom writing for you? Look no further than ProfEssays.com! You simply place an order with the writing instructions you have been given, and before you know it, your essay or term paper, completely finished and unique, will be completed and sent back to you. At ProfEssays.com, we have over 500 highly educated, professional writers standing by waiting to help you with any writing needs you may have! We understand students have plenty on their plates, which is why we love to help them out. Let us do the work for you, so you have time to do what you want to do!