Compare and Contrast Essay Writing Help
Between all of the academic essays, the compare and contrast essay writing requires a thorough understanding of your subject the most. In writing these essays, besides knowing the similarities and differences of the objects compared, you should be able to gauge how similar or different they are. There are some signal words that can be seen in this essay, setting it apart from others and can include as if, as though, alike/unlike, comparable to, incomparable and many others. The validity of the arguments that you include in your essay are even more important than the keywords. Therefore the following information on compare and contrast essay topics, compare and contrast essay format, compare and contrast thesis, compare and contrast paragraph will give you an idea on high quality compare and contrast essay writing.
Quick Navigation through Compare and Contrast Essay
Download A Compare and Contrast Essay Sample
A Sample Compare and Contrast Essay (Click the Image to Enlarge)
---
Using a sample compare and contrast essay as a reference
The thought that an essay is very difficult is a myth; an essay can be very simple to write once you know how to do it. Many students skimp out on the research, but researching and finding many useful references can make the whole process of compare and contrast essay writing much easier. If you have a compare/contrast essay, it is useful to look at sample compare and contrast essay with a similar compare and contrast topic as your own.
The Structures for Compare and Contrast Essay
When you are in process of compare and contrast essay writing, there are two structures that can be used. Let's take a look at the first one.

The opening paragraph should contain a thesis statement, as well as introduce what will be compared and contrasted.

The next two parts of the essay should identify what is different about the two objects and expand on those differences..
The following section takes the objects and brings about details on similiarities, which is also a great time further elaborate on the differences.
Finally, the conclusion is the writers final statements on the comparision, and the last chance to really get any main points across.
The second structure that can be used switches when the similarities and differences are written about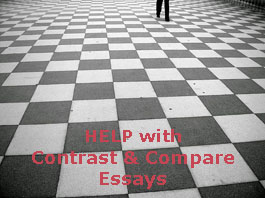 within the essay.
An introduction again introduces the writer's thesis and brings the topics which will be discussed to light.
After the introduction, the next section speaks towards the similarities between the objects.
The next section focuses on the differences between the two.
Lastly, the conlusion again is the closing statements where the writer can fortify his/her thoughts.
Whether doing a compare/contrast essay, or any other type of paper or essay, correctly referencing sources is a necessity. The sources you use must be authentic to your topic, also known as authoritative, and must be logical to the message you are trying to get across, or pertinent.
How Can We Help You
ProfEssays.com is a leader in the custom research paper writing industry. We are a company that is recognized for the quality of our custom essays, research papers and dissertations. We are also known for our adherence to our client's prerequisites, the promptness of our response to the client's needs and our delivery punctuality. We value and protect the confidentiality of our clients and, with an eye to convenience, provide a highly interactive support arm for queries. With the help of its professional associates in the fields of academic and technical writing, ProfEssays.com, a company dedicated to providing people with professional academic content, has produced excellent compare and contrast essays for many satisfied clients with variety of compare and contrast essay topics.
ProfEssays.com seeks to promote literary awareness and talent in everyone. Along this line, we have been publishing writing guides on diverse writing styles. The following structural tip for compare and contrast essays is one such guide.
.

Custom Written Compare and Contrast Essays
From the multitude of services that ProfEssays.com is ready to provide its clients, our capability for research enables authoritative and pertinent sourcing. Having many competent and professional partners, we have access to prestigious internet libraries and resources that enable us to produce articles that are maximized for accuracy as well as style. Moreover, we also maintain a high standard against copyright violation, and as a result have implemented an anti-plagiarism module that all custom essays are validated through prior to delivery. Our products are guaranteed start-from-scratch originals, turning both ProfEssays.com and our clients into winners. Please feel free to read more about scholarship essays and process essay writing assistance.
How to Choose your Compare and Contrast Essay Topics
Browse through a variety of interesting research topics available at ProfEssays.com. There are many factors that must be considered if you want to choose a workable and interesting essay topic. If you need to come up with compare and contrast essay topics, aside from taking note of the usual rubrics and your interests. ProfEssays.com suggests that you make sure that the topic you have chosen has valid points that will allow you to discuss its similarities and differences.
Use a Compare and Contrast Essay Outline to Organize your Thoughts
While researching, an essay writer will be exposed to varied types of information on his essay topic. One of the critical steps of writing is to sift through the information and decide what must be included in the essay itself. One of the easiest ways in identifying the key points that you should incorporate in your paper is to use a compare and contrast essay outline. The basic parts of compare and contrast essay outline include introduction, body and conclusion. For all your essay writing needs, do not hesitate to contact the professionals of ProfEssays.com.
The Basic Elements of Writing a Compare and Contrast Paragraph
When writing any type of academic paper, one must be able to get acquainted with the fundamentals of writing. In writing a compare and contrast essay, one must be able to identify the essay topic's different and similar points. These arguments are usually included in the body of the essay which is also the compare and contrast paragraph. Furthermore, an essay writer must also be able to provide valid references on the arguments that he would want to include in the paragraph. ProfEssays.com says that doing this will add to the credibility of your academic paper.
Use the Right Compare and Contrast Essay Format
To make sure that you relate all of the information you have researched in a comprehensive manner, you must follow the prescribed compare and contrast essay format by your professor or the academe. As a general rule, any essay format follows the introduction-body-conclusion outline. Both the introduction and conclusion are comprised of one paragraph, while the body is at least two paragraphs, however, this can vary depending on the requirements set by your professor. In the body, you must be able to identify the comparative and contrasting points of your essay topic. For more information on compare and contrast essay format or essay writing in general, call ProfEssays.com's 24/7 hotline.
Compare and Contrast Thesis, and Effective Essay Writing
Once you have chosen an essay topic for your compare and contrast essay, and came up with compare and contrast essay outline, it is now time for you to write a compare and contrast thesis. Your thesis is the basic argument that your whole essay will revolve around. A valid thesis does not only state the topic, but it also provides the author's take on its importance in the academic discipline. A thesis takes an important role in the whole essay writing process because it essentially sets the mood for the whole essay. If you need any kind of assistance in writing all types of academic papers, call ProfEssays.com now.
Learn how to Write a Compare and Contrast Essay from the Pros
Writing is a skill that one can learn. With continuous practice, that dreaded task of essay writing may turn out to be one of your favorite academic requirements. For a novice writer, this may seem an impossible feat, but with ProfEssays.com, nothing is impossible. Our highly skilled academic writers can assist you in any way possible including a compare and contrast essay writing. Learn how to write a compare and contrast essay from us to make sure that you come up with a great academic paper, or better yet, call us to learn more about buying one of our reasonably priced essays.
Note: ProfEssays.com is an outstanding custom writing company. We have over 500 expert writers with PhD and Masters level educations who are all ready to fulfill your writing needs, regardless of the academic level or research topic. Just imagine, you place the order before you go to sleep and in the morning an excellent, 100% unique essay! or term paper, written in strict accordance with your instructions by a professional writer is already in your email box! We understand the pressure students are under to achieve high academic goals and we are ready help you because we love writing. By choosing us as your partner, you can achieve more academically and gain valuable time for your other interests. Place your order now!"
Looking for an exceptional company to do some custom writing for you? Look no further than ProfEssays.com! You simply place an order with the writing instructions you have been given, and before you know it, your essay or term paper, completely finished and unique, will be completed and sent back to you. At ProfEssays.com, we have over 500 highly educated, professional writers standing by waiting to help you with any writing needs you may have! We understand students have plenty on their plates, which is why we love to help them out. Let us do the work for you, so you have time to do what you want to do!