Lesson 8: Curation

In this lesson, we'll be offering you different tips on how to properly curate information for your writing.
Objectives:
To define and discuss how to select information that should be included in your writing
To enumerate concrete methods for selecting what should and shouldn't be included in your writing
Quick Navigation through the Lesson 8: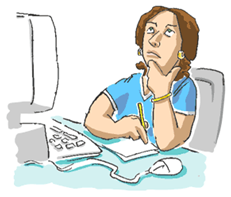 In this lesson, we're going to be learning about how we can properly curate or select information for your body of writing. This helps your work become more cohesive and makes sure that you deliver the right kind of content for the work you're attempting to write. In whatever scenario, whether in school, at work or for your personal endeavors, this allows you to avoid making mistakes and increases your productivity. Below are a couple of steps that you can follow to make sure you have the right substance for your written work.
Think about your topic
One of the biggest and most common mistakes that people make is that once they become immersed in their writing, they forget what the topic is about. People's minds work in a semantic manner—meaning thoughts are connected to one another and so we often have the tendency to deviate from what we were originally writing about. While sometimes, this can work because it helps us address information that we wouldn't have originally considered, this can also be detrimental if it makes our work too long or if it keeps us from addressing the topic that we need to be writing about. Write with your goal in mind.
Think about the big picture
When writing, always keep the structure of your work in mind. What does every part contribute to the bigger message that your work is trying to convey? If, for example, you're writing a letter to your boss about a need for better chairs in the office ask yourself what it says about your plea if you mention that the other day someone had to sit on a cardboard box; if you're writing an essay for school about poverty, it might be best to leave out talking about how you won money in the lottery with your lunch money. Remember that when people are reading your work, they will assume that all of the little facts you bring up contribute to or are at least related to what your work is trying to say, in general.
[WpProQuiz 206]
Ask yourself about the audience
Another very important factor to keep in mind is your audience—ask yourself: who is going to be reading your paper? This allows you to decide how to go about writing the paper itself. If, for example you're writing a technical paper that is going to be read by experts in your field, then it's unnecessary to go about defining all the basic concepts. But if, let's say, you're writing a beginner's manual on automation, then you definitely have to write a section that covers a definition of terms. Remember that you need to select the information you include in your essay based on how well this information will supplement the readers' understanding: it's always best to include content that is relevant to your readers.
[WpProQuiz 207]
In this lesson, we were able to take a look at the different steps we can take to ensure that we've considered all factors before selecting what information goes into our writing and which information can be done away with. This helps us polish our writing and deliver clearer, more concise bodies of work.
Next up we'll be taking a look at the different techniques that we can follow to be able to write in a sophisticated manner. Now that we've mastered the basics and learned more advanced techniques, how do we write in a manner that shows off this knowledge? What makes the difference between a good piece of writing and a great one? Keep reading and have all these questions answered!

Looking for an exceptional company to do some custom writing for you? Look no further than ProfEssays.com! You simply place an order with the writing instructions you have been given, and before you know it, your essay or term paper, completely finished and unique, will be completed and sent back to you. At ProfEssays.com, we have over 500 highly educated, professional writers standing by waiting to help you with any writing needs you may have! We understand students have plenty on their plates, which is why we love to help them out. Let us do the work for you, so you have time to do what you want to do!