Lesson 10: Proofreading

In this lesson, we'll be talking about how you can effectively proofread your work
Objectives:
To define and discuss how you can proofread your work well
To enumerate different techniques you can employ which make proofreading your work easier
Quick Navigation through the Lesson 10: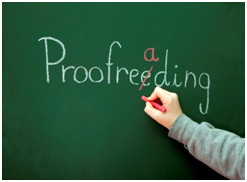 In this last lesson, we're going to be discussing the final skill that you have to acquire before you can fully upgrade your writing chops—proofreading. This is the part of writing that mostly involves reading: this is the phase during which you double-check your writing for spelling and grammar errors. While the content is your main concern, the technicalities of writing are also important because they can also alter how your message gets across. Grammatical and spelling errors, for example, take away from the sophistication of your paper and they can change the meanings of words—for example, the words desert and dessert mean completely different things.
Outlined below are different tips which will help you make sure that your work has little to no errors:
Give it time
Give your work time to breathe—and also allow yourself rest from the rigors of writing. When we spend a lot of time writing a piece of work, we tend to become immune to the nuances of the piece. Resting and allowing the work to sit for at least 30 minutes allows you to refresh your eyes and makes it easier for you to spot errors. This allows for a more thorough screening of your work before you submit it or put it out for your audience to read.
Re-read!
This is one of the most important things to do when proofreading your work. It's important to read and re-read your piece so that you're sure no errors have escaped your scrutiny. It's best to read the paper before and after you've made changes—in keeping with our first point, it's also important to give yourself time in between revisions so that every read-through is substantial. Don't forget to give the work a final read-through at least an hour before you finalize it so that you can make changes if they're needed.
[WpProQuiz 210]
Note your ideas
One of the most common and practical tips is to print a hard copy. While this might seem old-fashioned, it's also good to have a physical copy that you can write your ideas on. This also allows you to scan your work thoroughly because it keeps you from skipping over words due to the computer screen's often harsh glare. It's also best to write your ideas down as you go along so that you don't forget anything—it can be really difficult to recover an idea once your train of thought has been interrupted. Failing to note down things you could improve can make the difference between getting commended at work and doing a mediocre job. When it comes to proofreading your work, a little can go a long way.
Cross-check with your outline
One of the tips that we discussed in our previous lesson is to always work side by side with your outline. This gives you a way to quickly check the organization of your piece—you can see if there's anything that you left out or if there are points in your work where you strayed from your original topic. This also allows you to see how your flow of ideas can be changed by the alteration of one particular point, thus giving you the opportunity to create cohesion throughout your paper despite different revisions that you might go through until you arrive at your final draft.
[WpProQuiz 211]
In this final lesson, we were able to tackle proofreading and different ways in which you can master this skill to be able to produce written work to the best of your abilities. We were able to provide concrete steps that you can follow to help you along your journey toward becoming the best writer you can be.
Now that we've finished our discussion on the final step toward turning out good output, we can move onto our last and final lesson. Keep reading and we'll finally be at the culmination of this class: the last step on our journey to improve our writing skills!
Looking for an exceptional company to do some custom writing for you? Look no further than ProfEssays.com! You simply place an order with the writing instructions you have been given, and before you know it, your essay or term paper, completely finished and unique, will be completed and sent back to you. At ProfEssays.com, we have over 500 highly educated, professional writers standing by waiting to help you with any writing needs you may have! We understand students have plenty on their plates, which is why we love to help them out. Let us do the work for you, so you have time to do what you want to do!