Writing a Thesis Statement
What is Thesis Statement?
Thesis Statement is a central organizing idea of your essay supported by reliable reasoning or evidence. It is usually written at the beginning of your work and thus, it sets the direction of scientific research. However, thesis statement may be changed in any way in the process of writing. A thesis statement is written in the first paragraph of your essay and is developed throughout the essay.

While creating a thesis statement you should mention some factors. First of all, be sure that your thesis statement is contestable enough, i.e. is presented in the form of a claim and have a sufficient argumentation and contradiction. Secondly, you have to remember that thesis statement plays a key role in drawing the reader's attention, so it has to be interesting both for you and for the reader.
Navigation through the Thesis Statement Page
Download Free Thesis Statement Worksheet
How to Write a Thesis Statement?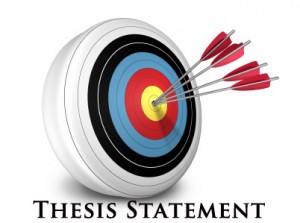 A strong thesis statement is the surest way to get the highest grade. It is easier to develop a strong thesis statement in cases when the topic of your essay is assigned by professor, but even if it is not so, do not despair. Find an interesting topic and present your own attitude to this topic and you will get a thesis statement. Since a thesis is your personal opinion supported by arguments on a certain issue of the subject matter of the dissertation, a thesis statement is a one or two sentence summary of your position on the issue being tackled. This is generally a controversial stand that you are supposed to prove in your thesis. Your thesis statement should be constructed skillfully enough to provide a preview to the reader of what he should expect to find in your discussion. Obviously, in order to be able to state your opinion on anything, you should study the matter you are discussing sufficiently. Your thesis statement should be a knowledgeable opinion on the essay topic.
Thesis Statement Generator
Thesis Statement Sample (click the image to enlarge)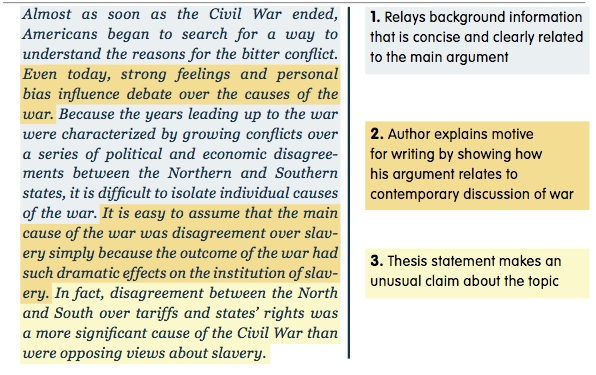 Thesis statement generator is a special tool which may be useful for those who write a thesis statement for the first time. It helps you to gather your thoughts and to work more efficiently. You need just to provide the essential information on the topic of your essay and thesis statement generator will produce the most appropriate thesis statement. However, thesis statement generators do not create any new information and only reformulate the ideas of writer. It is very important to submit information very accurately; since otherwise the thesis statement generator may give the wrong result. Thesis statement generator cannot be completely relied upon when writing a thesis statement. It is much better to use the results of thesis statement generator as a prompt.
How Can We Help
If you need to get started with your thesis statement and with writing your thesis and you can't, or if for some reason you may be unable to cope with your deadline, ProfEssays.com can give you the technical assistance you need for speeding up the process of writing the final version of your dissertation. Our professional writers only need to have your draft, or idea, your preferences, as well as the date you will need to submit the paper and they can take care of it. Order your paper now and shake free of all the worries. Whatever the subject matter you may want to discuss, whatever type of essay you want to use, the expert writers of ProfEssays.com can deliver high-quality content in exceptional academic and professional language and style. Everything, from the first word to the final punctuation, will be checked rigorously for accidental similarities with other articles that may be misconstrued as plagiarism. The dissertation will be perfectly unique, and fresh from your own head. Your information will be kept strictly confidential.



ProfEssays.com. We are proud of our record of producing masterfully done analysis essays and research papers for the benefit and purposes of our many returning customers. In order to make certain all our products are perfectly compliant with the highest standards of professionalism in literary work, our writers are selected on the basis of outstanding academic competence and exceptional forte in custom essay writing. Being holders of master's and doctorate degrees in their special fields, these providers are able to speak about theories and concrete practices with equal fluency. ProfEssays.com website offers an archive of article samples, including theses, which can provide you with exemplary thesis statements.
Thesis Statement Worksheet
Thesis statement worksheet is used for developing your skills of writing thesis statements. It provides the most vivid examples of strong thesis statements as well as weak ones for comparison. Moreover, thesis statement worksheet contains a number of grammar and vocabulary exercises that are aimed at developing your creating abilities and potential. It is rather difficult to write a strong thesis statement, but the thesis statement worksheet may teach you to do it easily and successfully. Thesis statement worksheet is helpful for gaining the necessary experience in writing a strong thesis statement.
Thesis Statement Sample
Thesis statement sample may be used as a guideline in the process of writing your own thesis statements. Analyzing the sample, you are able to see the main principles on which they are developed and understand how to write a strong thesis statement. You have the possibility to evaluate the thesis statements presented in the sample and, taking into account the basic rules of developing strong thesis statements, you may write an excellent thesis statement.
Is Thesis Statement Different From Topic Sentence?
Topic sentence and thesis statement are different notions, but they have much in common. Thesis statement presents the main idea of the whole essay, while topic sentence formulates the key information of a single paragraph. Each paragraph should have a topic sentence. Frequently, topic sentence is placed at the beginning of the paragraph. It is very important to remember that each topic sentence has to be written in accordance with the general thesis statement of the essay and thus to support and develop the main idea of writing.
Tips for a Strong Thesis Statement
In order to write a strong thesis statement you should remember the main goals of it. In detail, a strong thesis statement should have the following impact on your essay:
A thesis statement should show your position or reveal your opinion regarding a controversial aspect of the subject matter absolutely clear to the reader. At the same time, it should rely on your logic and methodology in arriving at your peculiar perspective. It should present a bird's eye view of your content, ideas and methods to the reader.

It should also provoke a discussion and be argumentative and interesting enough to stimulate the thoughts of your readers.
A strong thesis statement cannot be presented in the form of a simple affirmative sentence. It should be a claim or an argument that will be developed in your essay. Thesis statement has not state the fact, it has to present the position of writer proved by sufficient argumentation and evidence. Thus, be attentive and make sure that your thesis statement is strong and arguable.
Looking for an exceptional company to do some custom writing for you? Look no further than ProfEssays.com! You simply place an order with the writing instructions you have been given, and before you know it, your essay or term paper, completely finished and unique, will be completed and sent back to you. At ProfEssays.com, we have over 500 highly educated, professional writers standing by waiting to help you with any writing needs you may have! We understand students have plenty on their plates, which is why we love to help them out. Let us do the work for you, so you have time to do what you want to do!