Lesson 20: Proofreading

In this lesson we'll discuss how to proofread your thesis so that there are minimal errors.
Objectives:
To discuss how to proofread a finished thesis paper
To discuss how editing/trimming and proofreading relate to one another
To emphasize the importance of submitting a cohesive paper
Quick Navigation through the Lesson 20:
In this lesson, we'll be discussing how to proofread. We'll also be looking at how this relates to the two processes which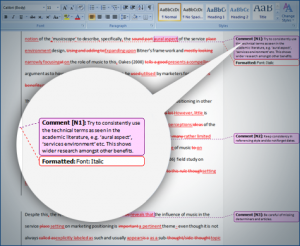 we previously discussed—editing and trimming your final thesis paper.
Proofreading pertains to the process of re-reading your paper to be able to sort out different errors regarding spelling, grammar and punctuation. This is always the final step—you get to the proofreading process after you're sure about the structure of your paper along with the organization of your ideas. This way, you can pay attention to the more technical aspects of language like grammar, spelling, punctuation and sentence construction.
Below are a few tips to help you out when you proofread.
1. Look at the text with a fresh eye
Because proofreading, unlike editing/trimming, is concerned with smaller, more specific details it's good to read the text with a fresh eye—don't go straight from editing into proofreading. Chances are you'll be tired and will tend to skip over some of the spelling and grammar errors. This is why papers which are rushed into completion often contain a lot of errors. Make sure that you allot enough time for the perfection of your paper.
2. Don't rely on programmed spell-check or grammar-check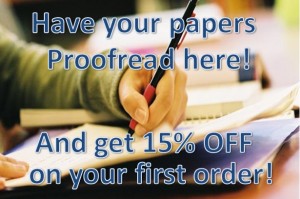 While things like spell-check and grammar-check on word processing programs like MS Word and Open Office Writer make proofreading our work "easier", these methods are also often unreliable. They're unable to pick up context and jargon—two things which are crucial to your thesis. Also, spell and grammar check operate on identifying one specific error and correcting all errors like it—if there is a similar "error" in a different paragraph or sentence, it isn't able to pick it up separately and will apply the same automated correction regardless of context. Never trust your program to proofread and auto-correct your mistakes: this could result in catastrophic changes throughout your entire thesis.
Instead, read the whole thing yourself and highlight the parts which have errors. Save this as a separate file and then go about reading the paper again, this time correcting the errors. Once you've saved the edited file, compare and contrast the two versions to see if you've left anything out.
[WpProQuiz 189]
3. When in doubt, check
When writing your thesis, there may be a lot of words with tricky spelling. Again, you won't be able to check all these things using spell-check for various reasons: perhaps the registered dictionary your program uses isn't updated or the word is jargon not listed in ordinary dictionaries or the word involved is the name of a specific institution. Because of this, it's important to always check your references. When in doubt about something, it's best to see if something is correct or not. Don't rely on your memory or leave these things up to chance. A difference in spelling can change what your sentence means (e.g. complement, compliment; desert, dessert). Spell-check won't be able to detect discrepancies in homonyms either because it's built only to highlight words that aren't registered in its data base—not words which don't make sense in a certain sentence.
 4. Get feedback from other people
This is a very good step to take to be able to find out whether or not your paper is understandable. You're able to see whether the internal logic you've applied to the paper's organization translates to a third party. This is also an excellent way to proceed if English (or the medium of instruction) isn't your first language—then you're able to identify errors in figures of speech or special cases in grammar which you wouldn't ordinarily have been able to identify (e.g. "It was made the color blue by the application of the chemical" might seem correct but it should be "It turned the color blue upon application of the chemical").
In this section, we were able to discuss a couple of dos and don'ts when it comes to proofreading your final thesis. This is the final step that you're going to take to be able to write the best thesis that you can write. We were also able to discuss the differences and interrelatedness of proofreading, editing and trimming.
[WpProQuiz 190]
We've reached the penultimate lesson in this class—next up, we'll be looking at our conclusion and reviewing the different points which we tackled throughout the duration of this module on Thesis Writing. Keep reading and you'll have completed this informative course!
Looking for an exceptional company to do some custom writing for you? Look no further than ProfEssays.com! You simply place an order with the writing instructions you have been given, and before you know it, your essay or term paper, completely finished and unique, will be completed and sent back to you. At ProfEssays.com, we have over 500 highly educated, professional writers standing by waiting to help you with any writing needs you may have! We understand students have plenty on their plates, which is why we love to help them out. Let us do the work for you, so you have time to do what you want to do!