Lesson 2: The Coverage of This Class

In this first part of our class, we discuss the coverage of this class.
 Objectives:
To outline the scope and limitations of this class
To provide the student with an accurate idea of what this class entails
To enumerate this class's goals
This class has been made especially to cater to students who are currently writing or are about to write their thesis. These lessons are clear and concise, brief but well-informed.
A lot of other online thesis writing guides have a tendency to give vague tips which leave the student's questions unanswered. In this class, you'll find an in-depth answer for almost everything—we'll discuss most of the challenges which you'll encounter in the thesis writing process: from organizing your ideas to choosing a topic to writing your Review of Related Literature to discussing your results.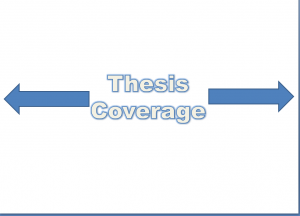 This class will also be touching on a couple of post-writing topics such as editing, formatting and proofreading. With something as important as your thesis on the line, this class doesn't cut any corners: we'll be talking about even the smallest details which may make the difference between your thesis being great and your thesis being mediocre. For example, this class will touch on even the most neglected parts of the thesis paper such as the Table of Contents and the Abstract. In the same line of thought, we're also going to be discussing how to plan for your thesis.
Because a thesis is a big body of work, it's always good to start early. This module will be devoting a section to the pre-writing stage of thesis work as well—we'll talk about the best things to do before it's time actually work on your thesis as well as when the the best time is to start doing these things. We'll discuss writing thesis statements, what to do with your gathered date and how to make sure that your thesis is well-informed, cohesive and relevant to your field of studies.  Furthermore, we'll be talking about the different skills that you'll need to write an excellent thesis.
This module consists of twenty or so short lessons which you can read over a period of time or—if you're about to begin your thesis—which you can consult for the duration of your thesis. Every lesson is formatted in a way that's easy to understand and which is written in a format that maximizes your time. Furthermore, the tips we're going to be taking up here are all practical and can be applied directly to the thesis writing process.
More than anything, this class aims to help equip you for the rigors of thesis writing. We ensure that you leave our class well-informed and ready to face up to the challenges of your final step into your future! Because this class is online, you'll have access at your fingertips: there's no need to dig out a library book or to print out a copy, you just log on and it's there. This class is extremely accessible; this is key when writing a thesis which takes up a lot of time and effort.
Next up we'll be moving into our lesson proper. Now that we have a general idea of what this course is going to involve, it's time for us to dive into the actual course. First we'll be discussing the different things which we'll need to consider when choosing our thesis topic.


Looking for an exceptional company to do some custom writing for you? Look no further than ProfEssays.com! You simply place an order with the writing instructions you have been given, and before you know it, your essay or term paper, completely finished and unique, will be completed and sent back to you. At ProfEssays.com, we have over 500 highly educated, professional writers standing by waiting to help you with any writing needs you may have! We understand students have plenty on their plates, which is why we love to help them out. Let us do the work for you, so you have time to do what you want to do!