Lesson 16: Acknowledgements

In this first part of our class, we'll discuss how to write the acknowledgements part of your thesis.
Objectives:
To determine what your acknowledgements should include.
To determine why this is important to your thesis.
In this lesson, we'll be discussing the importance of the acknowledgements part of your thesis. We'll also be discussing what it should include. Furthermore, we'll be briefly discussing a few pointers on how to go about writing your acknowledgements.
The acknowledgements portion of your thesis is important because it allows you say thank you to the people who've helped you out. Much in the same way that you cite your sources when writing a paper, it's important to mention the people who contributed in one way or another to your paper because it showcases your credibility as a researcher. It's also a sign of respect toward your professors and your school.
In this section of your thesis you should include everyone who helped you with your study—the people who you need  to include are your thesis mentor, your different teachers who helped you with the study and information (if any), your thesis mates (if applicable) and your confederates/participants (usually in the case of Psychology lab experiments). You may also include the names of any institutions (e.g. libraries, institutions, labs or hospitals which agreed to allow you access to their archives) which helped you out—it's also good to mention the specific names of people who allowed you access to the information; this will come in handy for future researchers who may want or need to contact the same establishments.
[WpProQuiz 181]
Reference Page Sample ( Click the image to enlarge)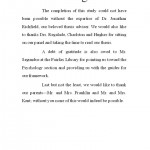 As an optional addition to this section, you may also mention people who contributed to your education as this is the last big project you'll go through in this level of education. You can mention your parents or guardians as well as other inspirational or motivational people who you credit with supporting you through this endeavor.
While there's no real limit as to the number of people who you can mention, this part usually merits two to three paragraphs or a quarter of a page, at the most. You may also opt to include short messages to the people who helped you out (e.g. "Thank you to Dr. Barq—I never could've done this without you.") so long as you don't overdo it.  It's also important to make sure that these messages don't contain any explicit, vulgar or inappropriate text; keep in mind that this is still part of your thesis and is an academic requirement.
It's also best to state all of the names of the people and institutions you thank in full, with their appropriate titles (e.g. "A huge thanks goes out to Dr. McDermot, who helped us with the licensure of our chemicals.").
In conclusion, we can say that the acknowledgements part of your thesis is a sign of deference to the people who helped you finish your study. We were able to take up who you should include in this section and how you should write this part so that it's able to express your full gratitude without sounding unofficial or inappropriate for the academic setting.
[WpProQuiz 182]
Next we'll be taking a look at how to list down our references. We'll be looking at which references you need to cite, how to cite them and general rules which apply across all formats.
Looking for an exceptional company to do some custom writing for you? Look no further than ProfEssays.com! You simply place an order with the writing instructions you have been given, and before you know it, your essay or term paper, completely finished and unique, will be completed and sent back to you. At ProfEssays.com, we have over 500 highly educated, professional writers standing by waiting to help you with any writing needs you may have! We understand students have plenty on their plates, which is why we love to help them out. Let us do the work for you, so you have time to do what you want to do!