Lesson 1: The Importance of a Thesis

In this first part of our class, we discuss the nature and importance of a thesis.
A thesis paper is in the case of most degree and diploma courses, a pre-requisite to graduation or attainment of the course's credits. The term thesis was derived from the greek word θέσις which means to propose something or to put something out there. Colloquially, the term thesis is used to refer to the investigative or purposive, intensive paper which a student submits as his or her final body of work before attaining his or her undergraduate or masteral degree. When one is writing a thesis for his or her doctorate degree, we call the work a dissertation.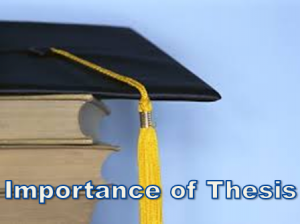 A thesis paper is usually required of students before they graduate because it is the best way for formal educational institutions to evaluate how whether or not they have successfully been able to absorb the knowledge imparted to them by the institution. Moreover, a thesis is considered a the culmination of all a student's work within the institution—it doesn't just showcase how well the student has learned his/her lessons but also how well the student can apply these lessons to matters in his/her field of study. The successful submission of a thesis also allows the cycle of learning to come full-circle: the student enters the institution hungry for knowledge and once he/she has been given knowledge, he/she in turn contributes something the school's collective pool of information.
While they may differ slightly in topic, procedure, format or intent, thesis writing is equally important across all boards—regardless of whether you're proposing a new mathematical theory or writing a literary novel or developing a chemical to help the treatment of Cancer. How you write your thesis is crucial to attaining professional success and to contributing something significant to your field of study. A thesis is usually reviewed by a panel of professors or professionals: in some ways, it serves as the initiation of a student into the world of his or her teachers. Because your paper is going to be reviewed by people who are experts in the field which you want to enter, it's key that you are able to write your thesis in a way that is convincing and well-informed. You have to be able to communicate what you mean to your panel. A thesis has to be informative but understandable, well-researched but also well-curated: you have to be mindful of the things which you include in your paper and the things which you leave out.
Furthermore, a thesis is usually what employers look into when hiring fresh graduates—what was your thesis on? Why did you choose this topic? Mastery of your study of choice usually indicates good work performance. Doing well on your thesis could make the difference between having the career of your dreams and having to settle for something else. It's because of this that this class exists: now that we know how important thesis writing is, it's time that we find out how to best prepare for it.
In this class we'll be taking an in-depth, easy-to-understand look into the different steps we need to take to write the best thesis we're capable of. Keep reading to find out more about the coverage of this class and what other information you'll need to be properly equipped to take that leap into your future!


Looking for an exceptional company to do some custom writing for you? Look no further than ProfEssays.com! You simply place an order with the writing instructions you have been given, and before you know it, your essay or term paper, completely finished and unique, will be completed and sent back to you. At ProfEssays.com, we have over 500 highly educated, professional writers standing by waiting to help you with any writing needs you may have! We understand students have plenty on their plates, which is why we love to help them out. Let us do the work for you, so you have time to do what you want to do!