Universities Teach Climate Change Through the Arts

A new class at the University of Oregon in Eugene, Oregon has revolutionized the way that climate change is being taught and prepared for. Instead of the scientific, documentary type of take on the issue which was popularized by Al Gore's The Inconvenient Truth, this class pioneered by Professor Stephanie LeMenager takes a more artistic, humane approach—the class discusses climate change and global warming (rising oceans, displaced populations, political conflict) through the eye of speculative fiction, photography, essays, films, poetry and art. More than focusing on what caused the problem or how it affects statistical data, the class aims to engage students by emphasizing its effects on their individual lives, something that is definitely more relatable than population figures. It also allows a complete imagining of the dangers that climate change (which is, ultimately, upon us) may bring and how to prepare for them. Professor LeMenager says that looking at spec-fic (or as people are now calling it, cli-fi or climate-fiction) allows a fuller imagining of what might happen than just the scientific facts—she says that this isn't the time to contemplate the possible end of the world as we know it but the time to think about how to meet it.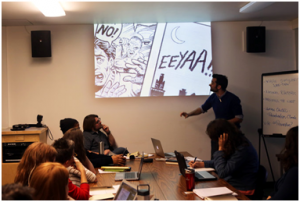 The University of Oregon has taken it upon itself to be one of the first universities to meld together seemingly separate disciplines. Professor LeMenager joined the University's faculty both under the Humanities and the (Environmental) Sciences. She says that she is glad that she can do something like this for a living—although, she admits that this is relatively easier to do in Eugene than in other cities: Eugene is a place perhaps most well-known for its acceptance of climate change as inevitable. It's one of the most environment-friendly cities in all of the United States—there are city laws to enforce the protection of environmental resources such as the forests and most motorists use their bicycles instead of cars. Using re-usable containers is also a must in Eugene: most coffee shops charge extra for disposable paper cups and even then, customers are highly discouraged from using those cups by most of the coffee shop populace (either by being told so or by being given reproachful looks). Professor LeMenager says that it might be extreme but that it's these small things that will save us a world of hell in the coming years.
Furthermore, she says that merging information given to us by science and the possible scenarios provided by fiction was no doubt, the most logical way to meet the issue of global warming. She says that she's lucky because the boom of cli-fi in the past few years with books like The Wind Up Girl by Paolo Bacigalupi, The Carbon Diaries 2015 by Saci Lloyd, Odds Against Tomorrow by Nathaniel Rich and Flight Behavior by Barbara Kingsolver. Professor LeMenager says that the extremely astounding thing is that despite their recent publication dates, these books have been allowed onto the to-read lists of Universities—something which she was worried would not be approved when beginning her planning for the course. She also adds that she isn't the only one who is making an effort to educate people about the state of the environment differently than it has been done before.
The University of Wisconsin in Milwaukee also recently began a similar but broader course called The Political Ecology of Imagination. This class uses novels like Margaret Atwood's The Year of the Flood and Oryx & Crake as well as numerous essays by Susan Sontag to enrich the students' understanding of the importance of taking care of the environment. Nathaniel Rich and Ian McEwan are both supporters of the said course. Mr. Rich says that he's glad something like this is getting traction although he is rather surprised that it's all happening this late—these developments make him both happy and anxious about how seriously global warming is being taken.
The plan for now is to begin expansion of these courses—Professor LeMenager encourages all Colleges and Universities to come up with similar courses: of course, she says, each course must adapt to its student population and location. However, she stresses that these classes are best taught intimately, with a few students per class rather than in a symposium set up where the students are simply given handouts or fliers. The key to environmental education—or any kind of education for that matter—is making it deeply personal.
Looking for an exceptional company to do some custom writing for you? Look no further than ProfEssays.com! You simply place an order with the writing instructions you have been given, and before you know it, your essay or term paper, completely finished and unique, will be completed and sent back to you. At ProfEssays.com, we have over 500 highly educated, professional writers standing by waiting to help you with any writing needs you may have! We understand students have plenty on their plates, which is why we love to help them out. Let us do the work for you, so you have time to do what you want to do!