Top State Secondary Schools Implement Lottery System

In a recent study conducted by the Department of Education, it was found that the best state secondary schools have raised their selectivity (and are continuing to raise their selectivity) for new admissions—meaning students aged 10 or 11, just entering secondary education. It has been found that this year's National Offer Day (the day on which parents find out which school their children have been accepted to for the coming school year in September) is going to be the most stressful one for parents yet. The aforementioned  study also revealed that most students end up going to their second, third or fourth choice for secondary school because the top schools are extremely selective, so much so that 10 to 12 students are vying for the spot.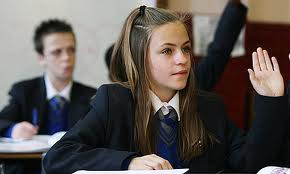 For example, at the Tiffin School, Kingston upon Thames, more than 1,863 students were in the running for admissions but the school only offered 160 slots. Whereas the Harris City Academy Crystal Palace in south London had even more shocking numbers to show with 2,016 applicants competing for a mere 180 slots. These numbers have increased the competition across all socioeconomic backgrounds so much so that some parents have resorted to renting flats within city districts to up their chances of being accepted to schools which give top priority to residential district residents, changing their children's religion as a means of gaining priority in Catholic grammar schools and lying about their socioeconomic standing on forms for top state schools which give priority to students from lower-income families.
In an effort to eliminate bias, a lot of the top schools have taken on a new lottery-style system where students are chosen "blindly" or based on academic performance alone, without consideration to the student's socioeconomic background, place of residence and/or religion.
Janette Walls, senior editor of the The Good Schools Guide says that this new system aims to discourage both students and parents from fibbing on their application forms or worrying about the things that are superfluous and will encourage them to instead focus on doing well academically, which is what matters the most.
John Constable, head of the John Langley Grammar School said that the rushed "over-preparation" of students and parents for these screening procedures have been very problematic for both applying students and for the screening committees—test scores and applications have become a misnomer: lots of students getting good scores as a result of excessive tutoring may fair well but in truth, don't have the capacity to maintain that performance without the extra help. He says they are looking for students who are truly in the top 30 percent of their classes, not just in terms of scores but also in terms of work ethic. He adds that they will be looking at the students' long-term performance as opposed to just the entrance exam numbers. He says that the new lottery system will allow them to properly evaluate how students perform by eliminating extraneous variables (e.g. score spike due to short-term tutoring).
Looking for an exceptional company to do some custom writing for you? Look no further than ProfEssays.com! You simply place an order with the writing instructions you have been given, and before you know it, your essay or term paper, completely finished and unique, will be completed and sent back to you. At ProfEssays.com, we have over 500 highly educated, professional writers standing by waiting to help you with any writing needs you may have! We understand students have plenty on their plates, which is why we love to help them out. Let us do the work for you, so you have time to do what you want to do!