The Education Sector Works to "Uplift Working Class Students"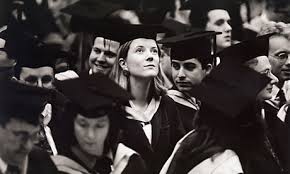 Peter Brandt, the head of policy at the Social Mobility and Child Poverty commission said that in order for working class students to succeed, they have to learn how to "lift their standards" and "act more middle class". He clarifies his somewhat controversial statement in a blog post on the commission's website where he says that most of the bright working class children don't apply to top schools and universities because they are worried about not fitting in. He says that one of his greatest fears is that students from working class backgrounds hold themselves back: to succeed, he says, they must strengthen their spirits and learn how to eat, dress and conduct personal relationships in a way that is appropriate for situations of success. He says that it is only by learning to be casual and comfortable in situations like a good restaurant or a play at the theater that working class students will be able to lift their standards for living and become successful professionals.
Last year, Sir John Major, the former head of the Conservative Party said that he was shocked that the country is still run by people from the upper-middle class who have been educated in private school. He says that by now, with all the effort that has been put into improving state school education, more leaders should be coming from working class, state-educated backgrounds. Because of this, leaders are set to assume that something else (aside from the educational system) is keeping bright, working class students from succeeding.
Michael Gove, the Education Secretary argues that the problem is still an educational system issue: he says that state schools should set the bar so high that their procedures and standards become indistinguishable from those of private institutions. He says that more than addressing issues of class and asking students to adapt to a certain way of living, they should be adjusting the system to provide a venue in which working class students can get more comfortable—because there is no other choice.
Opposing this Mr. Brandt says that the problem with the educational system is that it does not take the students' emotional needs into account. He says that officials are placing too high a premium on the idea of the "education", they completely ignore how working class students might feel about putting themselves in alien situations which make them feel like outsiders. Furthermore, he says that while grades are definitely important, those marks cannot be achieved especially for those from lower-income backgrounds if they don't find a way to get comfortable with living outside the lower class standards of living. He goes onto say that whatever the educational system tries to do for these working class students as a means of "exposing them to middle class living" won't work because it will feel contrived—much like government project housing, seeing a play under the funding of the government will still be something considered "lower class behavior". He says that the only way for the students to inculcate middle class standards into their lives without feeling alien is to go out and do it themselves. He urges students from lower-income backgrounds to go out and see plays, eat at good restaurants and invest in quality clothing. What the education sector can do he says is to provide an orientation course where the students can openly ask questions about the environmental factors which make them feel ill at ease in middle-class settings—for example, the proper way to act in certain situation or the proper way to dress for a fine-dining restaurant. Students should be able to feel open about these things, he says—but they should also make an effort to try and get used to alien environments. While he says that he understands the Department of Education's focus on the GSCE results is a step in the right direction, he fears they might be ignoring some of the other things which matter—things that cannot be quantified by an exam score.
Mr. Brandt is himself, a middle-class man who worked his way up in life, having completed his schooling first at Aylesbury Grammar School in New Port and then in Cambridge University. He says that he is by no means suggesting that this issue is a simple one or one which can be dealt with immediately: he is simply asking that it not be ignored.
Looking for an exceptional company to do some custom writing for you? Look no further than ProfEssays.com! You simply place an order with the writing instructions you have been given, and before you know it, your essay or term paper, completely finished and unique, will be completed and sent back to you. At ProfEssays.com, we have over 500 highly educated, professional writers standing by waiting to help you with any writing needs you may have! We understand students have plenty on their plates, which is why we love to help them out. Let us do the work for you, so you have time to do what you want to do!