Students Don't Play Sports For the Competition

A study recently conducted throughout England shows that most students across the UK. don't play sports for competition—of the 1,000-student demographic (all 16 year-olds) interviewed for the report, less than 20% said that winning was important to them. 64% said that they were more focused on having fun than they were concerned with the outcome of the game score-wise.62% said that they could take pride in winning but that they would not obsess over it or make it the main motivation for playing sports.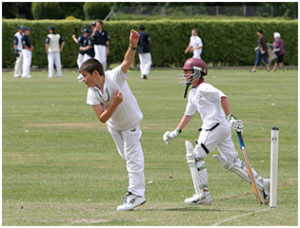 This report was commissioned and conducted by the MCC together with Chance to Shine, the UK's main cricketing charity that focuses mainly on sports education and sports scholarships promoted in most state schools throughout England. One of the study's main findings also includes what students enjoy the most about sports—the top runners mentioned were team work, being with friends and exercise.
The study also showed that a lot of parents are more excited for the competitive aspect of sports than their kids who are playing—97% of parents admitted to attending games because they wanted to know the results and watch someone win.
Likewise, most kids (71%) admitted that they would be relieved if their parents would stop attending games as this put extra pressure on them to succeed. Most of the students also mentioned that their parents usually only attended their games if they were competitive in nature—games held for fun or in friendly competition are usually ignored; 39% of the interviewed students brought this up. Only 22% of the parents interviewed admitted to this behavior. When asked about why they don't like to see sports in a competitive light, the students said that they were afraid of failing—especially with their parents present.
Wasim Khan, the chief executive of Chance to Shine says that this survey calls for those involved in teaching sports to revamp the way that ground rules and examples for young student athletes are laid down. He says that while he himself is guilty of the general competitiveness or pushiness that the survey showed most parents possess, he also sees the importance of having fun when competing in sports—he says that it is this exact motivation which fuels scholarships and varsity leagues.
Chance to Shine and MCC are now trying to develop new programs that will cater to the need to highlight fun in sports as well as show students that competition can be fun. Mr. Khan goes onto say that there seems to be a misconception that competition equates to the absence of fair play or having a good time. This is something that their new programs want to correct: their new programs aim to promote fair competitiveness which also builds camaraderie between players.
Derek Brewer, the Chief Executive Officer of the MCC also says they are using this new program to promote The Spirit of Cricket in the hopes of reaching a compromise between competitiveness and the fun teamwork that children love—he goes onto say that one shouldn't mean the absence of the other, especially not when it comes to sports. He also says that losing is just as important as winning because it teaches kids a lot of life lessons—however, learning those lessons hinges on whether or not one cares about winning the game. They want to put the life and swing back into school sports.
Looking for an exceptional company to do some custom writing for you? Look no further than ProfEssays.com! You simply place an order with the writing instructions you have been given, and before you know it, your essay or term paper, completely finished and unique, will be completed and sent back to you. At ProfEssays.com, we have over 500 highly educated, professional writers standing by waiting to help you with any writing needs you may have! We understand students have plenty on their plates, which is why we love to help them out. Let us do the work for you, so you have time to do what you want to do!