Stanford University Makes Moves to Support Environmental Progress

Recently, Stanford University has made its mark as the first major university to take an active part in supporting environmental progress. Yesterday, Stanford announced that it was divesting $18 billion worth of stocks from different coal mining companies owned by both alumni and neutral investors, making them the first educational giant to make a huge move to eliminate fossil fuel support in the United States.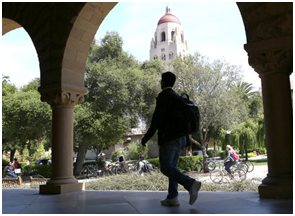 The Board of Trustees decided on the move in accordance with internal guidelines that state that the Board of Trustees has the right to consider whether or not corporate policies and investments cause social damage. Since coal and fossil fuel mining and consumption is the foremost pollutant of the environment and the primary cause of climate change, Stanford reevaluated its investment portfolio and eliminated all companies and organizations whose main business was coal mining from their list of investors. There were more than 100 companies removed from Stanford's list of investors.
As for questions about whether or not the University will suffer financially from the move, Stanford's associate vice president for communications, Lisa Lapin says that the coal investments were only a small fraction of Stanford's endowment—especially since it is a privately funded organization, a lot of their finances come from other investors, alumni and from the fees that the University makes from tuition and other corporate dealings. However, she does not deny that $18 billion is still a lot of money that they'll be giving up; she says that this is well worth helping the environment and trying to undo the damage done by the excessive consumption of fossil fuels.
The move was made as a response to a student movement which has been encouraging the divestment. The movement is currently active in more than 300 universities and colleges throughout the nation. The Stanford division of this movement is appropriately called Fossil Free Stanford. There have been protests throughout Stanford and after keeping mum about the issue for months, this is the university's $18 billion response.
While there have been other universities which made this move first, none of them were of the same national and prestigious stature as Stanford. This move carries weight that is more metaphorical than it is financial—whereas the part of their budget which they'll be losing is small compared to the entirety of Stanford's endowment, the statement they're making for the environmental movement in education is huge.
With a university like Stanford making this move, they'll be pressuring other major universities with national power to do the same. The watch for change continues as news hits Harvard, Yale, Columbia, Princeton and other forerunners in American education.
Yari Greaney, 20 and an organizer of Fossil Free Stanford says that she is very proud of her university for stepping into a controversial position which cost it so much money. She says that this put her faith in her school and in the belief that leadership is a difficult but almost always worthwhile endeavor. Other environmental groups have also been celebrating Stanford's bold move. Maura Cowley, the executive director of Energy Action Coalition has called the decision a huge, huge victory for both the environment and for education.
Deborah DeCotis, head of the board of alumni, faculty and staff which helped decide on the moves that Stanford was to take, says that they are continuing the review of their investments—the improvement and evaluation of not just the monetary but also social and environmental state of Stanford's investments, stocks and funds continues. Ms. DeCotis says that the move toward a better education and a better environment is a journey: the divestment of $18 billion was only the first step forward.
Looking for an exceptional company to do some custom writing for you? Look no further than ProfEssays.com! You simply place an order with the writing instructions you have been given, and before you know it, your essay or term paper, completely finished and unique, will be completed and sent back to you. At ProfEssays.com, we have over 500 highly educated, professional writers standing by waiting to help you with any writing needs you may have! We understand students have plenty on their plates, which is why we love to help them out. Let us do the work for you, so you have time to do what you want to do!