Schools to Implement Pre-school Testing in 2016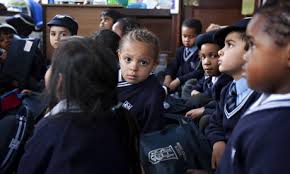 Starting 2016, schools nation-wide will begin entry-level tests for four and five-year olds. This test allows schools to have a "baseline check" which will provide them with adequate information about the student's learning patterns and abilities. The next half of the test will be conducted upon leaving primary school during which a unique statistic will be set up for them that the primary school can forward to the middle school (or in the case of K-8 schools, high schools) which they'll be attending. This'll allow the educational system to monitor and track the students' abilities across the board—from primary school to secondary school, right until they reach university. The education officials also say that this will allow them to create an accurate measure for the grade targets to be implemented in school.
A couple of elite primary schools will be allowed an exemption from the tests if they're confident that they can reach the 85% floor target at the end of primary school in 2023, when the next test will be conducted. This 85% target is ways above the current floor target of 65% which currently only 10% of primary schools all over England are able to achieve. Schools which don't take the test but fail to meet their targets in the later years will be tried for quality and may possibly be demoted in status.
Russell Hobby, who heads the National Association of Head Teachers encourages schools everywhere to participate in the baseline tests. He says that while he knows that the decision to begin testing so early on in one's educational exposure is controversial, he also believes that it's for the best. It not only helps them tailor-fit their curriculum to the students' need, it takes the pressure off of the schools to over-achieve—something which may force the teachers into making rash decisions, thus compromising the students' education.
Mr. Hobby goes on to say that he understands why educators are concerned: no doubt, it is going to be challenging and the first run is by no means going to be a walk in the park. Since attending a conference with the DfE last year, Mr. Hobby confirms that a lot of the details are still in the works; while there is still time before the due date, he expresses his hopes that the DfE is doing all it can to ensure that the test goes well. He also notes that overall, he is pleased because this issue of being able to gather information at the crucial age of 4-6 years old has long been ignored by the professionals of early education. He's glad that this is finally getting traction and hopes that, despite the controversy and the plan's birthing pains, this will mean great things for teachers and students in the long run.
Neil Leitch, chief executive of Pre-School Learning Alliance said that he and his colleagues have serious concerns about the implementation of the baseline tests. Mr. Leitch goes on to say that this test is a reflection of the educational official's misunderstanding of what education should be like. He says that this "schoolification" of the learning process is exactly what discourages students from learning. Mr. Leitch concludes that the test is a reflection of the disrespect of most educators for the playfulness and freedom to explore which are characteristic of childhood. PSLA is one of the top charity-funded pre-schools in England.
David Laws, the minister of schools, says that in addition to having the test implemented, schools which will participate are going to be required to publish a paper documenting all their findings and all the significant things which happened (will happen, for now) in the years between. They'll also be publishing these studies in regular intervals, documenting the progress of their students even after university—they'll need to provide proof of acceptances into esteemed employment, apprenticeships and/or the receiving of awards.
In response to Mr. Leitch and other critics of the new test, Mr. Laws says that the new system will be fastidious. Its utmost fidelity will be to the students' success and to the quality of education. Mr. Laws says they will ensure that underachieving and coasting schools will either be improved or removed.
Looking for an exceptional company to do some custom writing for you? Look no further than ProfEssays.com! You simply place an order with the writing instructions you have been given, and before you know it, your essay or term paper, completely finished and unique, will be completed and sent back to you. At ProfEssays.com, we have over 500 highly educated, professional writers standing by waiting to help you with any writing needs you may have! We understand students have plenty on their plates, which is why we love to help them out. Let us do the work for you, so you have time to do what you want to do!