School Throws Dance Party for Straight A Students

The Eastern Middle School, in Silver Springs, Maryland recently garnered a lot of public attention when it decided to throw a party for its Straight A students—complete with free pizza, dancing and a hired DJ. The party started at the beginning of the last period, meaning the Straight A students were able to have one day without their last period.
Students who either garnered Straight Bs or Cs as well as students who had Bs and Cs mixed in with their A-grades were invited to the party as well, but were allowed access to the shindig only after class when free pizza was no longer being served.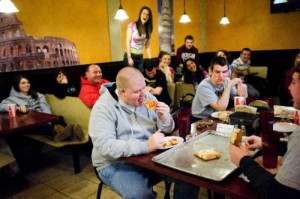 The middle school says that this is their way of motivating the students: they say it's crucial to reward those who deserve recognition. However, students with failing grades or marks lower than a C were excluded from the party entirely—306 of the school's 865 students didn't attend the academic dance bonanza which the school held. Its official event name was "The Academic Achievement Celebration".
There were some critics re: this celebration. Parents of some of the students excluded from the party complained that the school holding such an exclusive party made their kids feel left out. Barbara Marinak, an associate professor who studies motivation and learning cautions the school's teachers and administration that throwing events like this could possibly create a caste system that encourages bullying.
The school administration countered this by arguing the numbers: most of the student population was able to attend. Furthermore, they say that this is not the last party they will be throwing for their achievers and that every grading period is a chance to start anew and achieve academic excellence. The school's PTSA president, Chris Rutledge said that the party was fun for the students and that the process of education is always two-fold—you have to get the kids to work hard and reward those that do. He adds that he feels the party added a fun thing to strive for the students who may not have done as well during the last grading period.
The school's principal, Casey Crouse adds that the party fulfilled its main objective which was to reward their hardworking pupils—not to exclude those who didn't perform so well, but to give them something to strive harder for.
Crouse also stresses that this kind of reward is not exclusive to Straight A students. She puts emphasis on the fact that at The Eastern Middle School they reward all academic achievements—the scale of the reward is always in accordance with the achievement's merit. In the case of Straight A students, they definitely think they deserved one day to let loose. Last week, they gave students with an improved academic standing a snack and certificates during break time at the canteen. Crouse says that the only way to really motivate kids is to reward them with something they enjoy—not just medals or certificates but celebrations and moments to remember.
Looking for an exceptional company to do some custom writing for you? Look no further than ProfEssays.com! You simply place an order with the writing instructions you have been given, and before you know it, your essay or term paper, completely finished and unique, will be completed and sent back to you. At ProfEssays.com, we have over 500 highly educated, professional writers standing by waiting to help you with any writing needs you may have! We understand students have plenty on their plates, which is why we love to help them out. Let us do the work for you, so you have time to do what you want to do!