Russel Brand & Dizzee Rascal To Be Taught As Part of English Curriculum

In an effort to make English classes more relatable and "new", Russel Brand and Dizzee Rascal are going to be added to the A-Level curriculum throughout England. Announced this month, the new curriculum will study delivery, technique and syntax for pop culture throughout England. Lessons learned about the work of the comedian and rapper are going to be asked on the top exams from here on in. Brand and Dizzee Rascal are going to be discussed alongside William Shakespeare, Charlotte Bronte and William Blake.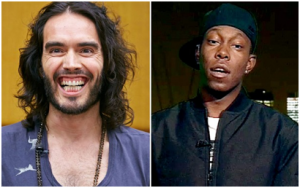 The OCR said that this change to the curriculum will help update the English A-levels. They say that this is going to help English students become more interested in their native language. The more modern content will help them become willing to study and analyze English through the lens of the 21st century. This radical overhaul of the English curriculum is what the OCR believes will set the English students of 2015 and beyond from other students elsewhere in the world.
The study material includes excerpts of Russel Brand's appearance before the House of Commons, where he cracks jokes with the MPs and delivers speeches about drug addiction. Furthermore, students will be made to study and analyze London-born Dizzee Rascal's News Night interview where he was asked to talk about what it meant to "feel British". Also going to be added to the curriculum is journalist Caitlin Moran's Twitter feed, speeches made by the artist Grayson Perry and newspaper columns written by The Secret Footballer.
The OCR is creating this class in tandem with the English and Media Centre. A representative says that this is going to be the most diverse A-level program, yet. The OCR and the English and Media Centre say that this new A-level is going to work in the interest of making a curriculum that is relevant, valuable and distinctive. Furthermore, they claim that the updated A-levels will provide firm grounding for the rigors of University and will allow students to have knowledge on the nuances of English that are practical.
This may well be true as the same bodies involved in the overhaul of the A-levels are being consulted by most major English universities for specifications and consultations on their exams and requirements.
While making major updates to the curriculum, the OCR and the English and Media Centre have also kept a lot of the classics of English literature such as George Orwell and Oscar Wilde. They will also be adhering to the traditional English qualifications of having to discuss six substantial texts, including at least three major works of prose, poetry or drama.  Other updated additions which take on a heavier tone than Russel Brand and Dizzee Rascal's body of work are the screening of the movie Twelve Years A Slave and Jez Butterworth's award-winning play, Jerusalem.
Chris McGovern, a former head teacher and chairman of the Campaign for Real Education, says that this new program is simply the continuation of the drive educators have had to make education more accessible and trendy that has been ongoing for the last twenty years everywhere else in the world. His main concern with the program is how it will affect results and the global competitiveness of English students—will the students in Singapore, China and South Korea who recently topped classes be studying comedians and rappers? Should they be?
Barbara Bleiman, the co-director of the English and Media Centre addresses Mr. McGovern's concerns by saying that their organization, which primarily provides training for teachers wants to achieve more than just inspiring and educating students, they would also like the curriculum to help inspire teachers to do their best to make classes fun and interesting to teach. They further stress that this more diverse curriculum allows for more activities and modern-day insights to create a more natural atmosphere between students and teachers. Ms. Bleiman further states that they are looking forward to seeing the exploration of a wide variety of styles, methodologies and genres.
Looking for an exceptional company to do some custom writing for you? Look no further than ProfEssays.com! You simply place an order with the writing instructions you have been given, and before you know it, your essay or term paper, completely finished and unique, will be completed and sent back to you. At ProfEssays.com, we have over 500 highly educated, professional writers standing by waiting to help you with any writing needs you may have! We understand students have plenty on their plates, which is why we love to help them out. Let us do the work for you, so you have time to do what you want to do!