Revolutionary New Learning App Released by the Museum of Modern Art
This week, the Museum of Modern Art (MoMA) released possibly its most progressive and interesting app yet. The Biophilia app is downloadable for free and aims to teach and inspire kids through cinema, philosophy and modern music—most specifically, Bjork's music (whose album the program and app were named after). The program is called the Biophilia Learning Program and is part of MoMA's learning collection. What makes it unique is that it teaches kids directly through the different mediums of art previously described. For example, one of the science lessons is taught primarily by listening to a song called "Virus", the lyrics, melody and rhythm of which are used to describe the relationship between a virus and a cell.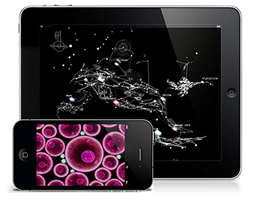 The experimental education program aims to teach kids how to develop their creativity through exploration. The app also has special features which reach out to kids who have special needs—the lessons are quicker and use more Special Education (SPED) learning techniques like alternating between topics and utilizing interesting visual aids. While it seems non-academic and informal, the meat of the lessons is the same (if not better and more varied) than typical learning settings. The curriculum was developed specifically for kids aged 8 to 15 years old—Paola Antonelli, MoMA's Senior Curator of Architecture and Design says that they're surprised with the response from the avant-garde learning module. Kids from all over Europe have downloaded the app since its release this month. Most commonly, kids using the app are from Oslo, Paris, Sao Paulo, Reykavik and Los Angeles.
Ms. Antonelli also says that what they hope to do with this app is to show kids that learning doesn't just mean you have to know theories or that you have to be extremely cerebral about knowledge. The people at the Museum of Modern Art made sure to specifically choose songs, movies and clips that are experimental and which show people that trying new things or playing around with whatever is being learned—science, literature, history, math—encourages growth, both on a personal and academic level. She says that what they really want to do is to draw kids away from classroom settings and make them excited about acquiring new knowledge.  While Bjork is one of the leading figures in the development for the app, the program was developed over a long period of time by different cinematographers, digital artists, musicians and even fashion designers. Paola Antonelli stresses that the app is the brain child of creative people who themselves have had a difficult time learning and who have found that one of the best ways to get to knowledge is to experiment.
However, the app was named after a Bjork album because the singer had been looking to release that LP as an app on which her listeners could do fun and interesting things. MoMA was able to take this idea to a new level, partnering with the Nordic Council for funding, logistics and web development.
In a world where the internet and gadgets are vastly demonized as education's "enemy", users say that this app completely shatters those contentions. The app is fast-paced, doesn't dumb the lessons down and still manages to keep the kids interested. So far the app has been released in over 15 countries and its developers are looking to expand its reach significantly throughout the next year. Whereas most MOOCs still utilize the classroom template with regard to implementing online education, this revolutionary new learning app looks to create a platform for online learning which is entirely its own thing. This means great things both for education, the online learning format and for how certain subjects (e.g. Biology and Math) are viewed by kids and adolescents everywhere.
Looking for an exceptional company to do some custom writing for you? Look no further than ProfEssays.com! You simply place an order with the writing instructions you have been given, and before you know it, your essay or term paper, completely finished and unique, will be completed and sent back to you. At ProfEssays.com, we have over 500 highly educated, professional writers standing by waiting to help you with any writing needs you may have! We understand students have plenty on their plates, which is why we love to help them out. Let us do the work for you, so you have time to do what you want to do!