President Obama Hosts White House Science Fair for Talented Young Scientists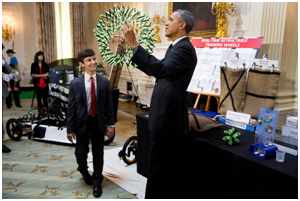 President Barrack Obama told the press the other day that he was glad that the White House Science Fair, now in its fourth year, was getting so much traction. After a meeting with the Seattle Seahawks the week before, the President told the press that the White House Science Fair stemmed from a belief that young, brilliant scientists, engineers and robot-builders need to be given as much credit as athletes, actors, performers and musicians. President Obama says that this event is one of his favorites that are hosted at the White House every year because it allows him to tip the balance in favor of those whose contribution to society is extremely important and also overwhelmingly underrated.
The exhibit ran from the Red Room through the Blue Room and into the State Dining Room. The kids in the exhibit were from schools from the seven top areas for STEM education in the United States—these are Allentown, Pa., Chicago, Philadelphia, Research Triangle Park, N.C., San Francisco and Wichita, Kansas. These seven areas are also going to begin mentoring programs which aim to foster relations between students and employees at companies like Cisco and Chevron. There are currently more than 200 companies in the roster.
Among the projects showcased at the Science Fair were a concussion-preventing helmet developed by a high school student after she dropped her cell phone and a catapult developed for self-athlete practice by a boy in junior high which engaged the President in a five-minute game of catch. Of all the young scientists present there, a few that stood out were a team of girl scouts who designed a bridge that could withstand flooding and an adolescent boy who looked dapper in a suit and had numerous pending patents for his other science projects and inventions.
This year's White House Science Fair also presented an enormous opportunity for the STEM program and for all aspiring scientists, inventors and engineers—the President took the event as a chance to announce the $35 million competition that aims to train 100,000 STEM teachers and to bring quality STEM education to more than 18,000 students from underprivileged backgrounds. In keeping with the theme of uplifting STEM minorities, this year's guest of honor was Kari Byron of the Discovery Channel program Myth Busters. Mr. Obama said that she represents the future of women in the STEM world: someone who is competent, relevant and constantly pushing the envelope with regard to science, knowledge and what is and isn't possible. He also cited the fact that men outnumber women by half in the STEM world to date: this means that only half of the science team is being used to its full force. The President stresses that this has to be changed.
This truth was exemplified by the fact that the youngest scientist at the Science Fair was a 6-year-old girl who'd competed as part of more than 30 teams and represented more than 30 states. Furthermore, the team which this young scientist represented won national STEM competitions nationwide with research on cancer and influenza. Other students present were also on teams which came up with inventions that reduce the need for rare earth minerals in magnets and a robotic vehicle to rescue people from dangerous ocean waters. The President hopes that next year's science fair will continue the tradition of the convention outdoing itself—he hopes that this lights a beacon of hope for young scientists from schools everywhere to keep raising the bar with regard to their education and practice.
Looking for an exceptional company to do some custom writing for you? Look no further than ProfEssays.com! You simply place an order with the writing instructions you have been given, and before you know it, your essay or term paper, completely finished and unique, will be completed and sent back to you. At ProfEssays.com, we have over 500 highly educated, professional writers standing by waiting to help you with any writing needs you may have! We understand students have plenty on their plates, which is why we love to help them out. Let us do the work for you, so you have time to do what you want to do!