Prepare for College? Learn to Read First!
One in five British school-leavers has troubles with reading, while some of them are functionally illiterate, the recent report warns.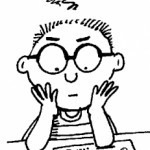 Neglecting the traditional classroom methods in favour of fashioned child-led sessions has reaped its bitter crop: at least one in five school-leavers now struggles to read and write. Such deplorable results may have been caused by the overall pedagogical phobia to point out at schoolchildren's mistakes over concerns of 'crushing creativity' or 'undermining confidence', the report suggests.
While typical to the 1960s and 1970s, this approach is now 'neither stimulating nor challenging' and continues to impair children's reading skills in spite of frequent official attempts to reform the teaching methods, according to the Centre for Policy Studies.
The report, commissioned by Mayor of London
Boris Johnson, shows that more than a third of capital's state primaries graduates at 11 still have difficulties with reading, while one in five teenagers leave secondary school unable to read or write with confidence.
The similar study, conducted by Sheffield University experts, discovered that 17 per cent of 16 to 19-year-olds across the country are functionally illiterate, which means they can understand only the simplest text.

'This is less than the functional literacy needed to partake fully in employment, family life and citizenship and to enjoy reading for its own sake,' the authors said.
Today's report warns that 'progressive' education theories still dominate in the majority of schools, ruining the prospects of thousands of children.
But there's even more to it. When entering the college, school-leavers with poor basic academic skills encounter even more problems than they did at school. This often makes them patrons of the Web Paper Mills.
"Intended to provide only the quality custom papers, we have received a few complaints of such students who are just unable to explain properly the material of their research to the professor when turning in their papers. They get caught instantly due to their poor academic performance, no matter how high the quality of their essay is", said Axel Blackmar, ProfEssays.com QA Manager.
Unlike other European countries, in the UK children are allowed to write in 'street' slang – and teachers often fail to rectify them, once again due to fears this would stifle their 'self-expression'.
'The child-led approach is frequently neither stimulating nor challenging. Very young children simply haven't got the tools or the knowledge to benefit from it or to make sensible choices,' the report said.
The report also highlighted a few examples of schools scoring high in providing the quality education. However, they succeed in this due to quite the opposite trend: shunning the 'DIY' approach while encouraging stricter sand more structured teaching techniques.
Besides, the low literacy levels are not in any way related to immigration, the report said, pointing out that immigrant children are often among those most capable of fast and successful studying.
More curious education news to come with ProfEssays.com!
Looking for an exceptional company to do some custom writing for you? Look no further than ProfEssays.com! You simply place an order with the writing instructions you have been given, and before you know it, your essay or term paper, completely finished and unique, will be completed and sent back to you. At ProfEssays.com, we have over 500 highly educated, professional writers standing by waiting to help you with any writing needs you may have! We understand students have plenty on their plates, which is why we love to help them out. Let us do the work for you, so you have time to do what you want to do!