Philadelphia Education Officials Consider Using Universal Enrollment System

Philadelphia (Philly) has one of the most diverse educational communities in the United States—while this has its own number of advantages, it also means that there are multiple forms, deadlines and fees that parents and students alike have to process before they can begin the enrollment process. Some of the bewildering choices which Philly parents and students have to ponder on include neighborhood schools, charter schools, private schools, Catholic schools, science-specialized schools and design-specialized schools.
While the easiest option would be to enroll in neighborhood schools, surveys show that most students in Philadelphia opt to go to specialized-enrollment schools because of the non-par education that a lot of the neighborhood schools offer.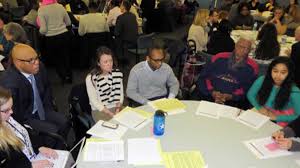 Philly also has one of the biggest populations of enrolled students. This leads to a lot of red tape during the enrollment period and subsequently, to a significant number of students not getting into the school that they would like. Lori Shorr, the city's chief education officer says that this system only caters to parents who have the time, connections and resources to spend on the tedious processes. She also notes that a lot of the specialized applications require parents to appear in person—a huge inconvenience to low-income families, especially those without cars. To address this, they are considering adapting the new and quite popular Universal Enrollment (UE) system.
The UE system has recently been adopted city-wide in Washington, Newark, Denver and New Orleans. This new system is almost completely online and eliminates the need for multiple forms and decreases the requirement for manpower. The UE system receives applications, evaluates them and then picks a match-school for the student in question based on previous grades, residential districts and the students' top 3 choices.
Certain officials who are opposed to Philadelphia moving to the UE system argue that while it reduces cost, it also reduces choice—it limits their options. Christine Carlson, a parent whose daughter is going to enroll in sixth grade this coming August says that the system sounds terrific but the thought of a computer deciding where her daughter should go makes her nervous.
Denver officials urge Philadelphia to make the change: it's made the enrollment process a breeze. Furthermore, they reject any claims of the system limiting choice as there is the option of trying for a second match. She also adds that 92% of the Denver student population got into one of their top three school picks.
David Hardy, founder of the Boys' Latin charter school in Philadelphia says that the problem isn't just the system—it's also the number of schools to which the students want to apply. He says that what the officials should really work on is expanding the number of good schools within the city—and everything will follow.
Karen Lynch, Philadelphia's district director of enrollment says that the discussion has just begun: while they are most definitely interested in this option, they are still in listening and learning mode and won't be making any final decisions soon.
Looking for an exceptional company to do some custom writing for you? Look no further than ProfEssays.com! You simply place an order with the writing instructions you have been given, and before you know it, your essay or term paper, completely finished and unique, will be completed and sent back to you. At ProfEssays.com, we have over 500 highly educated, professional writers standing by waiting to help you with any writing needs you may have! We understand students have plenty on their plates, which is why we love to help them out. Let us do the work for you, so you have time to do what you want to do!