Oregon State University Reaches Out to Foreign Students

Oregon State University is one of the first American Universities to openly talk about the importance of foreign students in the academic setting—their foreign-exchange program called Into Oregon State reaches out to students from different universities worldwide and gives them the opportunity to apply to the school. Administrators at Oregon State say that they're very proud of this development because it allows them to attain a diverse student population.
This is not without its socioeconomic perks—foreign students have been shown to almost always pay full-price for their tuition. Also, as they aren't eligible for state financial aid, the money is often paid up-front as opposed to in government credit.
The Into Oregon State is becoming increasingly attractive to foreign students because the Into Oregon State program allows foreign admission students to enter directly into their sophomore year of college.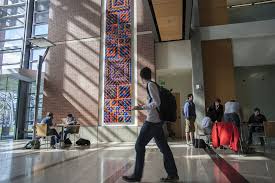 While it is the main lure of the program, this has presented big problems for the academic performance of these students, due mainly to cultural differences and the language barrier. Because the foreign admission students are so suddenly thrust into the world of the University, they are often unable to cope with the academic pace.
Although the test scores of foreign admission students are often exemplary, the problem seems to be the difficulty in understanding certain cultural terms used in lectures—idioms, for instance—as well as the difference in the "personal space" of the western institution.
Yuqi Zhang, a student from China says that having a class discussion as opposed to a lecture where one is told what to learn is very alien to her—one of the reasons why she has difficulty comprehending what is being asked of her in most of her classes. Mae Jin Lee, another student—this time from South Korea—explains that her main dilemma is the looseness of American education: in South Korea she says that classes are closely structured and students have set study times, set times to do what they want whereas in American education "student is free, school is free, everything is free".
According to the teachers who were asked about the study, a big problem for them when grading foreign students (especially those who do not come from English-speaking backgrounds) was how to explain plagiarism to them. They've learned that in a lot of eastern universities (especially when English is not the medium of instruction), the schools focus more on teaching the students how to construct English sentences by asking them to copy sentences verbatim from their sources. This becomes a problem especially because a requisite of American colleges is that one knows how to write papers free of plagiarism.
To be able to address this issue, the organizers of the Into Oregon State program have come up with an orientation program which aims to properly orient and take care of their foreign admission students. This unit of the program is composed of a 12-person care team who regularly meets with foreign students and offers workshops and seminars on things which encompass but also extend beyond academics: notions of personal space, dating etiquette, drinking and driving laws, body language, standards of interaction with faculty, peers and the police as well as western attitudes toward mental health.
More recently, certain private companies have stepped up to the plate and offered their help via sending proposals for academic preparation workshops and inculcation bootcamps to help foreign admission students adjust. Among these companies are Kaplan, Into, Study Group and Navitas. The university aims to read through these proposals and come up with a solid addition to their program in the coming years.
They also plan to delegate foreign language interpreters to the classes with foreign admission students to help both the students and the professors grasp the lessons.
The Into Oregon State program also aims to expand. Dr. Randhawa, the Oregon State provost says that they soon plan to partner up with different universities so that the program can be two-way: students from Oregon can also get the opportunity to study abroad. Dr. Randhawa says that a big part of education is to be able to understand different cultures and get a good grasp of the world. This, he says, is more important in the long-haul than any other academic subjects or disciplines that their students learn in school.
Looking for an exceptional company to do some custom writing for you? Look no further than ProfEssays.com! You simply place an order with the writing instructions you have been given, and before you know it, your essay or term paper, completely finished and unique, will be completed and sent back to you. At ProfEssays.com, we have over 500 highly educated, professional writers standing by waiting to help you with any writing needs you may have! We understand students have plenty on their plates, which is why we love to help them out. Let us do the work for you, so you have time to do what you want to do!