Nick Clegg Says "You Can Still Afford To Go To University"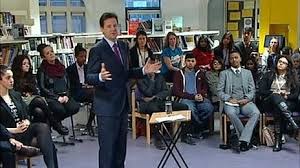 Deputy Prime Minister Nick Clegg, is perhaps most known for being unable to fulfill his party's (Liberal Democratic) promise to scrap tuition fees. He publicly apologized for this on many occasions (a couple of which ended up as spoofs on YouTube)—the U-turn on the policy was more a funding problem than anything. To make up for this, Mr. Clegg has taken it upon himself to make sure that students never have to pay upfront for any of their educational fees. Furthermore, he has taken it upon himself to make sure that the students know this: in a question and answer program held at the Bishop Challoner Catholic Collegiate School in East London, he told students not to let the myth that tuition fees are too high for them to afford deter them from gaining higher education.
"You can still afford to go to University," he stresses. He goes onto say that as deputy prime minister he has made sure that the University educational policies benefit the students. In addition to not having to pay for any fees up front, students are only obliged to pay their student loans once they are employed and are able to attain a salary of at least 21,000 pounds. He stresses that should the student be unable to attain that salary after a certain period of time, the loan is eventually written off. They've also increased the number of grants available to students from lower income households.
An incentive has also been given by the government to universities that are able to attain a high freshman admission rate and are able to use government funding. Mr. Clegg says that the school administrators were initially shocked when they implemented this—he says it's an indication of what people expect from the government and from the education officials, which didn't seem like much. Mr. Clegg says that it's time to turn that around.
True enough; statistics for tertiary education have been looking up since Mr. Clegg has been in office. In the few months of 2014, 21% of 18-year-olds from disadvantaged backgrounds have applied to University. This is a huge number as compared to the 18% for all of 2011 and 11% for the entire calendar year of 2004.
Finally, Mr. Clegg addresses the parents—he says that they can still have that graduation photo framed on their mantles: the first step is to be open-minded and positive about the situation. He tells them to go and consider their options, with the numerous grants and loans now available to the general public. He also stresses that it's important not to discourage their children from pursuing an undergraduate degree by telling them right off the bat that they can't afford it: it isn't true. The deputy prime minister stresses that there are now numerous ways of getting a college degree—now, more than ever there are myriads of options for families from every income bracket. He begs that this generation remain vigilant in the pursuit of knowledge.
Looking for an exceptional company to do some custom writing for you? Look no further than ProfEssays.com! You simply place an order with the writing instructions you have been given, and before you know it, your essay or term paper, completely finished and unique, will be completed and sent back to you. At ProfEssays.com, we have over 500 highly educated, professional writers standing by waiting to help you with any writing needs you may have! We understand students have plenty on their plates, which is why we love to help them out. Let us do the work for you, so you have time to do what you want to do!