New Way to Learn English as a Second Language Surfaces

Students from Brazil and the rest of Southern America have found a new way to learn English—a new online English as a Second Language (ESL) program sponsored by FCB Brazil and the CNA language school network utilizes video calling, hooking up each student with a retired Senior citizen from Chicago. The program allows for students to simultaneously learn, while providing a living for the elderly in America. Vanessa Valenca, the program coordinator of the ESL program says that the main goal of the program was to help students become fluent and she truly feels this is the way to do it—by engaging in the video calls, students are able to get a real grasp of how the language should be spoken, along with context, usefulness and an in-depth, firsthand background on idioms: something that they wouldn't get to do if they were to learn from a phrasebook.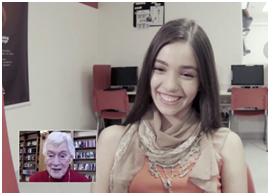 A touching YouTube video documenting these encounters also shows us that the students have gone beyond simply interacting with their designated Senior Citizens to learn English—they have formed real-life relationships with their elderly teachers, their conversations revolving around everything from family, love and friendship to books and movies. The students say that they've really learned to look forward to their lessons because they're able to talk with their teachers of whom they've grown especially fond. In the short YouTube documentary, some of these touching encounters were caught on film. The footage comes from the archived recordings which FCB and the CNA keep so as to ensure that the teachers are able to track and evaluate the students' progress.
Max Geraldo, FCB Brazil's executive director says that this program is especially close to his heart because they don't just equip students with the skills and opportunities brought about by being fluent in English, they also teach the kids empathy for the elderly—they're developing better people, not just better students. He also says that he is very happy that they're able to provide companionship and bring joy to the elderly community in the United States. Joanna Monteiro, the creative director at FCB Brazil also says that the YouTube documentary made her tear up upon watching it: it was really something to know that they were able to bring happiness and contentment to both sides by giving young people the ability to reach new heights and simultaneously giving the Senior citizens a sense of purpose and a mode of employment in their old age. Furthermore, Ms. Monteiro says that the simplicity of the idea is one thing she loves about the program: they're simply connecting people.
The pilot project was implemented at the CNA school in Liberdade, Brazil and the Windsor Park Retirement Community in Chicago, Illinois. Plans to expand the program are in the works. However, directors of the program stress that it's important to them that the program stays real, close-knit and manageable. Plans for expansion and growth will be slowly executed and well-thought-out. Program director, Ms. Valenca says that the question they're asking themselves as they plan for the future is simple: how do we keep it human?
Looking for an exceptional company to do some custom writing for you? Look no further than ProfEssays.com! You simply place an order with the writing instructions you have been given, and before you know it, your essay or term paper, completely finished and unique, will be completed and sent back to you. At ProfEssays.com, we have over 500 highly educated, professional writers standing by waiting to help you with any writing needs you may have! We understand students have plenty on their plates, which is why we love to help them out. Let us do the work for you, so you have time to do what you want to do!