New Autism-Friendly Classrooms Put Into Action

Autism Spectrum Disorder (commonly called autism or ASD), a condition which affects one's social functioning and usually in one way or another compounds one's ability to learn, affects more than 700,000 students across the nation (and millions, worldwide). In time for World Autism Day on the 2nd of April, the non-profit organization Humans Not Robots have launched the world's first Autism-Friendly classroom which aims to help extend quality education to children who have autism.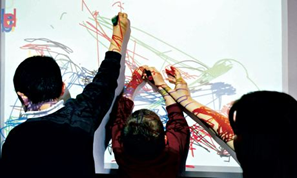 The classrooms, which have been auctioned off to different schools are both literally and metaphysically designed to help kids with autism learn. One characteristic of ASD is an extremely short attention span. In the brochure which comes with the classrooms, the members of Humans Not Robots have included a couple of tips and tricks for the educators who are going to make use of the classrooms to help get the message across to kids with autism, despite their shorter attention spans. These include introducing lessons in short, fun intervals and alternating between different subjects throughout the day (e.g. 30 minutes for Science in the morning followed by 30 minutes of English—to be repeated again later in the day). They also suggest that awards be given to students at shorter intervals—it would be best, for example to reward kids on a weekly basis rather than a quarterly or semestral basis so that they don't forget that they always have to study well.
As for the physical layout of the classrooms, they hope to increase learning via using natural daylight, limiting background noise while also installing fun features which will encourage the kids with autism to participate in their lessons. These fun features include a fun wall where students can draw and experiment with shapes and colors.
The classrooms and learning programs which Humans Not Robots developed was also in part put into action by the National Autistic Society and the Autism Education Trust. Together, they developed the SPELL education framework which was developed especially for kids with autism. The framework concentrates on creating a safe and secure environment for kids with ASD—the factors which play into this environment are empathy, low agitation, regular reinforcement and displays of kindness; they're also working closely with the students' parents—the studies have shown that for any educational treatment to work, the program must be linked to the kids' home environment. The main goal of the SPELL framework is to help kids with ASD feel secure: ASD in itself is not a learning disability and most of the learning difficulties come from an unstable environment and/or a distracted state of mind.
The organization Woodfer's World also contributed to the classrooms and their implementation by giving out guides from their Ambitious About Autism program which gives teachers guidelines to follow to reduce (if not completely annihilate) bullying of kids with autism. Studies have shown that 70% of kids with ASD go to regular schools and that 40% of them are bullied.
Humans Not Robots along with their partners will, in an effort to promote these classrooms further, be giving a presentation on World Autism Day which features the room, how it can be used as well as a thorough explanation of the SPELL framework and the anti-bullying campaign. In conjunction with this, the World Autism Day website has also launched a free 100 Day Kit which aims to help parents whose kids have ASD deal with their diagnosis and provide a good, nurturing environment for their children.
Looking for an exceptional company to do some custom writing for you? Look no further than ProfEssays.com! You simply place an order with the writing instructions you have been given, and before you know it, your essay or term paper, completely finished and unique, will be completed and sent back to you. At ProfEssays.com, we have over 500 highly educated, professional writers standing by waiting to help you with any writing needs you may have! We understand students have plenty on their plates, which is why we love to help them out. Let us do the work for you, so you have time to do what you want to do!