Inner City Chicago High School Celebrates Its First College Graduation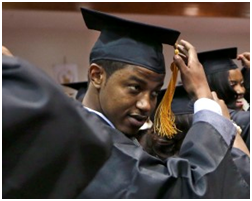 Urban Prep in inner-city Chicago is a charter high school that caters specifically to young men from disadvantaged childhoods. A huge part of their population consists of young, African American men who have been victims of tragedy and were at one point or another, a part of gang life. Most of these young men had no money—for example, Jamie Boldian, one student only had $17.91 to his name back in the year when he started at Urban Prep, 2010. Beginning in 2006 and beginning operations in 2010, the Urban Prep school decided to dedicate itself to helping these young men from Chicago's inner-city neighborhoods turn their lives around and succeed—in a promise that binds the school to student, the exchange is simple: if they finished their classes at Urban Prep, stayed disciplined and left the gang life behind, then they would get into college. And surely enough—today, four years later, the Urban Prep school has reaped sweet victory: all of the members of their 2010 pilot class graduated from college last week.
Tim King, the founder of the Urban Prep school was brought to tears as he recently witnessed Kirshaun Branch, a former gang member who had left the Urban Prep school before coming back once he'd witnessed a tragedy, accept his bachelor's degree from Frisk University. Mr. Branch is the first alumnus of the school to receive his bachelor's degree. Kirshaun Branch grew up on the south side of Chicago: impoverished, underachieving in school and hot-tempered. With a long history of leaving school and getting into fights, things were not looking up for Kirshaun Branch. That is, until he was brought to his senses by the tragic death of a friend who was beaten to death in a gang fight. After this tragedy, he pleaded with the officials of Urban Prep to let him in: he had gotten dead serious and was set on procuring for himself a future that was very, very different from his past. At the end of that year, Kirshaun Branch became the president of the Student Government Association.
Mr. Branch, the school's first college graduate and diploma holder, says that even when he got into college, uncertainty was always looming over him—while his academic situation had changed, his financial one had not. He was always worrying about money. He had a short fuse; he says that a lot of the time it was difficult for him to succeed because he hadn't been raised to believe that this is what would happen to him. For as long as he could remember, he'd been told that he was doomed for failure: and a lot of the time, that seemed true. Kirshaun Branch says that he owes everything to his Urban Prep family. Long after he'd left the institution, they'd been there for him—fronting cash when he needed it, making sure they always kept in touch. Kirshaun is moved to tears as he talks about graduation and what a bachelor's degree in Psychology would mean for him and his family: finally getting out of the Chicago south side, getting a job, finally having the means to live the kind of life that they deserve. He says that coming from Urban Prep was the first time that he'd ever had people who wanted him to succeed. The day before his graduation, Kirshaun had gotten a very emotional phone call from a good friend, congratulating him: the phone call was made from the Cook County Jail. Mr. Branch wipes his eyes as he thinks about it, saying he knows and will never forget how lucky he is to still be alive and to have gotten out of the gang life before it was too late.
The next step for Kirshaun Branch is to give back: he's now working as a fellow at Urban Prep, mentoring freshmen at the school which now has three branches.
Another member of Urban Prep's pilot college graduate batch is Robert Henderson, who went to college at Lake Forest College—one of Chicago's most prestigious schools. He also graduated last week with a degree in History and American Studies. Like his former classmate Kirshaun Branch, the world hadn't been kind to Robert Henderson—his mother was run over by a car when he was 17 years old. He is the youngest of six children, all of who were raised by their grandmother and all of whom didn't go to college. Mr. Henderson is the first in his immediate family to attain a degree. He recalls that the hardest thing about college—especially one as prestigious as Lake Forest College—was the fact that he didn't have the same privileges that his classmates did. He couldn't rely on his parents to come up with field trip money or to front cash to buy required materials. He had to work for all of his cash: he worked more than three jobs at a time—assistant librarian, security dispatcher, campus mail clerk, cashier. It was tough, he says but he wasn't going down without a fight.
Graduating a member of Alpha Phi Omega, a member of the school's much-feared rugby team and a member of the charity league at Forest lake College, the future is bright for Robert Henderson. He is moving to South Carolina to join City Year, a national service group that is part of the AmeriCorps program.
Tim King says that these are stories that need to be heard—and he's extremely proud that these young men have proven that you can do whatever you want with the right mind-set and dedication.
Looking for an exceptional company to do some custom writing for you? Look no further than ProfEssays.com! You simply place an order with the writing instructions you have been given, and before you know it, your essay or term paper, completely finished and unique, will be completed and sent back to you. At ProfEssays.com, we have over 500 highly educated, professional writers standing by waiting to help you with any writing needs you may have! We understand students have plenty on their plates, which is why we love to help them out. Let us do the work for you, so you have time to do what you want to do!