Homeless Teenager Graduates Valedictorian, Going to College

Griffin Furlong from Jacksonville, Florida has been named valedictorian of the 2014 class at the First Coast High School. While this might be an ordinary feat for most people, the same cannot be said for Griffin Furlong—he's undergone strife that most teenagers haven't.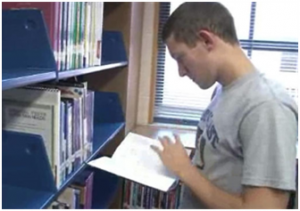 The newly named valedictorian lost his mother to cancer as a child and soon thereafter, Griffin, his father and his brother had to live in a homeless shelter as they were left almost penniless from all the cancer treatments. They lived this way for two years. CBS 10 News reports that homelessness was one of the factors which encouraged Griffin to work so hard at not just staying in school but doing well in school. Throughout the years, financial security at the Furlong home fluctuated. They moved into a new home after the shelter, but even then food was scarce and money was always a problem: a few weeks before graduation, the family went homeless again. Griffin tells WFTV9 that a part of him wanted to quit at that point—he feels that no one his age (or any age, for that matter) should have to go through that ordeal.
There has been no news yet of word from Griffin's father and brother. However, after they lost their home, Griffin had to live at his girlfriend's house for two weeks before moving in with his aunt and uncle. Startlingly, the young man's grades didn't slip a fraction: he managed to maintain his 4.67 CGPA throughout the entire ordeal of moving from house-to-house throughout the turbulent weeks leading up to graduation. On June 4th, Griffin will don his cap and gown and graduate from the First Coast High School at the top of his game. When interviewed by CBS 10, Griffin said that he had no option but to succeed—he knew what was important to him and he wouldn't let anything take it away from him: his grades are his future; he says that he is doing this for himself, for his mom and for the rest of his family—he goes on to say that this is the only way to make sense of everything that they've been through.
The challenges seemed far from over for the formerly homeless teenager—Griffin Furlong plans to attend Florida State University and pursue a degree in Civil Engineering. However, he cannot afford the pricey tuition fee and has had no luck with financial aid yet. In the past 7 days, using the crowd funding resource GoFundMe, Griffin's woes have come to an end. When he began his campaign, he set a target of $20,000 for his tuition fee, mentioning in his pitch that he hoped not to have to go into debt to attain his college degree. Today, a week before graduation Griffin's funds raised has far exceeded that number at $28,268.00. The young man says on his page that he is filled with relief, gratitude and excitement to finally be graduating and to have the means to pursue a college degree. He says thank you to everyone who has supported him and looks forward to the end of his long-standing feud with poverty.
Looking for an exceptional company to do some custom writing for you? Look no further than ProfEssays.com! You simply place an order with the writing instructions you have been given, and before you know it, your essay or term paper, completely finished and unique, will be completed and sent back to you. At ProfEssays.com, we have over 500 highly educated, professional writers standing by waiting to help you with any writing needs you may have! We understand students have plenty on their plates, which is why we love to help them out. Let us do the work for you, so you have time to do what you want to do!