Harvard Aims for Zero-Debt Education

Harvard University's generous bursary for lower-income students has given them one of the highest application rates for this coming fall. This benefit system for lower-income students is part of Harvard's long-term goal of being able to give students a zero-debt education.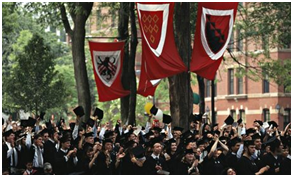 Among the top schools following in Harvard's lead are Yale, Massachusetts Institution of Technology (MIT), Oxford and Princeton. Helping them achieve this goal is the collaboration between the US-UK Fulbright scholarship body and Sutton Trust, a charity that aims to open up different opportunities for students across the UK and the US. Their programs are targeted toward the middle and lower classes. This summer, 175 students from the UK will be going on internships to Yale and MIT.
Gemma Collins, a freshman at Harvard said that Harvard's policies have made picking a school a no-brainer. Ms. Collins received a number of acceptance letters—including one from Cambridge University—all of which she rejected for the lure of Harvard's zero-debt goal. Despite the fact that Ms. Collins was from the UK, all things weighed, travelling to the United States to obtain a fully funded Ivy League education was still worth all the costs of moving countries. Anthony Flynn, 16 and one of the top of his class at his high school in Motherwell, is one of many bright UK students who have decided to study in the US for a college degree. He was also accepted into Oxford, however, despite his scholarship his parents—his father is a lorry driver and his mother is a post sorter for the Royal mail—would not be able to cover his living expenses whereas studying at Harvard would cover his living allowance for food and board. This way, the only thing that they'll need to pay for is the plane ticket and the application fees. Another such case is Chloe Barnedd, 17, who is looking to study medicine—neither of her parents went to university, so she will be the first in her family to go. The schools which she is thinking of going include Yale, Harvard and the University of Chicago. The trip to university will only be Ms. Barnedd's second trip out of the country—the first by plane.
While the initial impulse of UK parents was not to allow their children to fly 3,000 miles (4,800 km) over the sea to get a college education, the trust programme also contained a letter to the parents explaining the benefits of flying to the US for university. This primarily being the fact that unlike UK universities, they don't come with the 9000-pound tuition price tag—secondary schools are now also actively endorsing this project in the interest of having their students get a quality education for a much lower price. Marco Marcelline, 16, received a lot of support in his vying for a full scholarship at Harvard—something which he was able to attain. His mother, who had been reluctant to support him because she would prefer that he stay with her in London so that he would be able to come home every Sunday and eat pasta, said that after reading all the benefits on the Harvard programme it was difficult to argue otherwise: they were offering her son opportunities that he could not attain by staying in the UK, at a price that would not mean squat if her were to study in London.
In one of his speeches earlier this year, Universities Minister David Willetts urged more students to apply to these available programs. While he was criticized for being anti-UK or for supporting the loss of UK students from English universities, he simply said that his fidelity was not to the universities or the establishments but to the students—meaning he would point them in any which direction that they will be better off.
Looking for an exceptional company to do some custom writing for you? Look no further than ProfEssays.com! You simply place an order with the writing instructions you have been given, and before you know it, your essay or term paper, completely finished and unique, will be completed and sent back to you. At ProfEssays.com, we have over 500 highly educated, professional writers standing by waiting to help you with any writing needs you may have! We understand students have plenty on their plates, which is why we love to help them out. Let us do the work for you, so you have time to do what you want to do!