From a Teach-In to the DREAM!
The Melting Pot's unending immigraniada gained a new spin as illegal immigrants campaign for their education.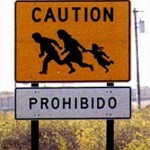 Barred from citizenship and, consequently, access to education students immigrants seek help in the DC. Several student immigrant advocacy groups in California, Colorado and Massachusetts set up a makeshift school in Washington on Wednesday similar to one of those teach-ins of the 1960's to draw the government's attention to their citizenship problems.
The DREAM University, as they call it, is posed as an alternative to traditional schools with its informal classes and volunteer professors from all over the country. Classes are totally free, but they don't give students any credits though. More meetings are to come in the following weeks, students say.
Representing one of the classes, 27 students in white DREAM University T-shirts gathered at Lafayette Park, right opposite the White House.
The main goal of DREAM University is to grant all immigrant students access to classes of 20 in Civil Rights, History, Science, Music and other disciplines that are taught in the nearby Georgetown and American Universities. Campaigners emphasize on the similar mobilizing role the teach-ins played in the 60's public opposition to the Vietnam War.

DREAM University will also act as a permanent public forum called on to pass the federal DREAM Act, which stands for Development, Relief and Education for Alien Minors. It is aimed at substantial facilitation of the naturalization procedure for immigrants who attend college or bear arms
Sen. Dick Durbin, the main sponsor of the bill, said on Tuesday it was "very unlikely" they would pass the DREAM Act in Congress before the fall elections.
The idea for the school came up as the Massachusetts-based Student Immigrant Movement group held a 19-day vigil near the Massachusetts Statehouse protesting against the immigrants restriction measures the local authorities were about to pass.
That vigil did bring the failure of the amendment and gained vast support from the state campaigners.
The immigrants' impending campaign in the capital is likely to cause social unrest as protests of conservatively-minded citizens are heard more frequently.
The situation is very provoking and very typical at the same time. "We absolutely support the campaigners as some of our contractors used to be illegal immigrants and were unable to get a good education. Still they managed to get their citizenships and their habit for hard work has made them one of our best writers, in fact, the most called-for among customers!", said Steven Brubeck, ProfEssays.com, HR Manager.
Well, isn't that ironical? The hard-working "wetbacks" and other "aliens" employ at custom essay writing services so that properly American students ordered their research papers from their undereducated counterparts. And how come that the result they get is often of high quality? So should we be so prejudiced to immigrants who truly wish to make their life and the lives of other people better but can't do so at their homeland?
Meanwhile, groups of students in Denver and Los Angeles are also going to attend Dream University. Massachusetts is still the leading vocal supporter of the campaign, with 10 students sent to Washington so far.
Keep your hand on the pulse of educational life with ProfEssays.com!
Looking for an exceptional company to do some custom writing for you? Look no further than ProfEssays.com! You simply place an order with the writing instructions you have been given, and before you know it, your essay or term paper, completely finished and unique, will be completed and sent back to you. At ProfEssays.com, we have over 500 highly educated, professional writers standing by waiting to help you with any writing needs you may have! We understand students have plenty on their plates, which is why we love to help them out. Let us do the work for you, so you have time to do what you want to do!