English Taught Differently at the Leeds School

Georgiana Sale, the headteacher at the City of Leeds School has been the subject of a lot of opinions regarding a misquote in an article where she was reported to have said that her school would be giving all of its students the English as a Second Language (ESL) program: including those who had English as their first language.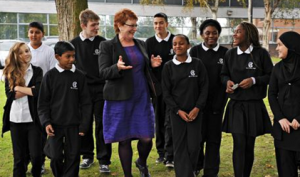 The shocking thing, says Ms. Sale is the violence of the reaction to this misquote. Her phone was ringing off the hook, with critics on the other end berating her for spending British money on educating foreigners. Ms. Sale says that she scoffs at most of the criticism which has been directed toward her—most commonly, she's been told that she should be sacked for accepting a good number of foreign kids into the school (quite far-fetched from the original issue at hand). She goes onto say that in one instance she was told by a parent to just send the kids away. She says that this is not going to happen because more than anything, she believes in equal opportunities for everyone. She says that all of her school children are like family to her and she will not be turning any of them—British-born or otherwise—away.
The City of Leeds School is unique in that the city of Leeds is one of the biggest melting pots in Britain so that its small population of just-over 300 is peppered with immigrant kids who speak around 50 languages between them. Ms. Sales says that people who have been criticizing her because of what she said about focusing on the school's ESL program definitely did not evaluate the context of what she said; the policy she was talking about was and is applicable to the school's needs—not necessarily to anyone else's.
Ms. Sale goes on to clarify the misquoted statement: she did not say that all of the students would be taught in the ESL manner. She said that they would be separating English classes depending on the students' skill levels in order to boost both their proficiency and their scores. What she said to the newspapers was that for the students who were having difficulty with English—regardless of whether or not they were British-born—will be put in a class where they're taught the basics of the language. She says that this seems much more fair than assuming that all children born in Britain must know how to properly speak the language. Kids who are more advanced on the other hand, will be put in a class to develop their writing skills, grammar proficiency and their vocabularies.
The City of Leeds School has been evaluated by Ofsted as needing improvement—something which Georgiana Sale readily admits: the school recently applied for Academy status because they want the improvement and they need the government's financial help. She says that she isn't quite sure what people are angry at her for. One of the most frequent complaints of people about schools is the shoebox one-size-fits-all type of education and now that she's gone and tried to tailor-fit one of the most important subjects in the curriculum, she is criticized for it simply because a lot of the students in question are foreign.
Finally, Ms. Sale calls on all of the parents, students and education officials to be more open-minded and to think about the context of the things they read as well as their attitudes toward other people. Although she knows that she has done her best (she was hailed by Ofsted as a woman with "boundless energy"), she says that she can't help but feel terribly sad about the way that her statements have been misconstrued: she'd thought that people would be less xenophobic in the 21st century. Misunderstandings and all kinds of criticism aside, Georgiana Sale says that she knows she is first and foremost, an educator and that she and all her 300 + students stand united in their plea for academy status and for education which caters to everyone—no matter where they were born.
Looking for an exceptional company to do some custom writing for you? Look no further than ProfEssays.com! You simply place an order with the writing instructions you have been given, and before you know it, your essay or term paper, completely finished and unique, will be completed and sent back to you. At ProfEssays.com, we have over 500 highly educated, professional writers standing by waiting to help you with any writing needs you may have! We understand students have plenty on their plates, which is why we love to help them out. Let us do the work for you, so you have time to do what you want to do!