Education Secretary Wants Tests for 4-year-olds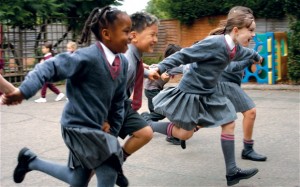 Education secretary Michael Gove says that the best way to test students' progress is to test them first when they come into pre-school—at 4 or 5 years old and again when they are 11 years old and about to exit primary school. He suggests that this be done by all public schools throughout the nation. He said that this would also allow the government to see how schools were doing with disadvantaged children. He insists that two points of reference are needed to track change; the earlier the better.
However, the National Union of Teachers fears that this may be too much, too soon for the children. They emphasize that this may put unnecessary stress on the children which may cause a discrepancy in the results of their tests—or even worse, affect the kids' progress.
Mr. Grove refutes these possibilities, saying that the Performance Indicators in Primary Schools (PIPS) tests were already being used in private schools and independent institutions throughout the nation. He thinks that this, in fact, may be one of the key factors in establishing quality education. He also addresses the concerns on stress, saying that the test is made for children and that anyone in primary school can do simple tasks and perform accordingly without necessarily yet understanding the pressures of a test, as one would when one is older.
He goes on to say that doing this will also benefit the teachers in that they can, very early on, adjust their standards and methods of teaching accordingly. He says that this method will provide them with the information they need to formulate not just their curriculum, but also the calendar over which that curriculum is spread. He says that this proposed testing may be the closest to advanced social justice that the public school system has come in the past decade—it ensures that everyone's needs are met. He also says that he's worked with top teachers and heads of schools for the past few years and so far, they've done well and his proposal has received a wide welcome.
Christine Blower, the general secretary of the National Union of Teachers pleads with Secretary Grove—there are other methods of providing specialized, holistic education such as talking to the child's parents or observing their behavior in school. She goes on to ask for him to trust the teachers as they've been doing this for years. She also makes an example of Finland, which has one of the highest literacy rates in the world: their children aren't tested until they're 7 years old.
Shadow education secretary Tristam Hunt said that Labour would look very closely at these proposals before making a decision. He says that he is leaning towards Grove's suggestion, if only because there are too many children entering primary school when they aren't ready. Labour has yet to make a final decision—although they assure both parties concerned that whatever will be done will be done in the interest of the children.
Looking for an exceptional company to do some custom writing for you? Look no further than ProfEssays.com! You simply place an order with the writing instructions you have been given, and before you know it, your essay or term paper, completely finished and unique, will be completed and sent back to you. At ProfEssays.com, we have over 500 highly educated, professional writers standing by waiting to help you with any writing needs you may have! We understand students have plenty on their plates, which is why we love to help them out. Let us do the work for you, so you have time to do what you want to do!