Coding Taught At Kindergarten

Since December last year, more than 20,000 schools have begun teaching their kids computer coding—beginning in Kindergarten and going on to most high schools. More than 30 school districts, including New York and Chicago have agreed to add coding and programming courses at as early a grade level as possible this coming fall. Code.org, a website which supplies free curriculum says that their activity has recently reached an all-time high with everyone—form seven-year olds to 12th graders looking for material to supplement their school lessons.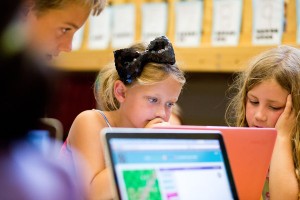 Some schools have opted for after-school events, instead of directly adding the course work to the curriculum. For example, in Mill Valley, California a grade school has come up with an after-school events coding program that doesn't just cater to the kids but to their parents as well. The class currently contains 90 kids and 70 parents who spend a few hours after school everyday to huddle over their computers and learn about the logic of computer programming. This is a stark change from the past decade where, before the outburst of apps, smart phones and social media computer science was treated as an add-on like Shop class or Home Economics.
Seven-year-old Jordan Lisle is taking the said classes at Mill Valley's Strawberry Point Elementary School with his entire family; his mother, Wendy Lisle said that they all decided to sign up because they were afraid that Jordan might be missing something important—they also wanted him to feel supported throughout this entire endeavor.
Elliot Soloway, a professor at the University of Michigan says that the spread of coding education is definitely a good thing: with kids learning how to code earlier in life, it'll be much easier for them in the long-run. He also says that this could be a real shot at discovering technology that is both smart and eco-friendly. He also says that this early exposure may be incredibly inspiring for those who want to pursue careers in computer science: much in the same way that frog dissection may inspire young, aspiring biologists.
These lessons are also funded by very deep pockets. Code.org, for example, has received $10 million from Bill Gates and Mark Zuckerberg alone. They have recently been paying high school teachers to sign up and train with them to be able to teach a unique coding curriculum that uses a more evolved version of coding language—the kind used in Angry Birds and Plants vs Zombies which will allow kids to get more direct results than traditional coding language. Chicago's public school system hopes to have this curriculum up at 187 schools throughout the district whereas New York has signed up 60 teachers from 40 high schools for the course—to help supplement their upcoming curriculum for fall.
There are also other coding classes and organizations that are aimed precisely at kids. These feature simpler programs and simpler instructions than their more academic, advanced counterparts. One such organization is CodeKids, which also operates in the Mill Valley area. Karen Meezan, the PTA president for the district and a former tech-industry executive, has taken the opportunity to help organize the distribution of more CodeKids programs throughout the area. She says that it really helps the kids figure out what they want and consider the fact that coding isn't just a means to an end, but also something that the kids are passionate about—as one might have been passionate about the electric guitar back in the 40s.
Among the parents attending the after-school programs is Scott Wong, the director of engineering at Twitter. His sons, 7-year-old Taeden and 5-year-old Sai are both enrolled in the program. He says he's very glad about their early enthusiasm toward coding and that these programs are very helpful for both parents and children.
Looking for an exceptional company to do some custom writing for you? Look no further than ProfEssays.com! You simply place an order with the writing instructions you have been given, and before you know it, your essay or term paper, completely finished and unique, will be completed and sent back to you. At ProfEssays.com, we have over 500 highly educated, professional writers standing by waiting to help you with any writing needs you may have! We understand students have plenty on their plates, which is why we love to help them out. Let us do the work for you, so you have time to do what you want to do!