Cambridge Implements Quality, Not Quota System

Cambridge University's admissions rate has dropped significantly this year—especially in terms of students who were admitted. The rate of admissions has dropped to 60% and of that number, the number of students from state schools is down to 61% from the usual 63%. Cambridge, which is usually known for its high state school admissions rate has recently begun to implement a quota system. Recently, the university spent £4 million on a reach out program wherein they scouted different state schools for exemplary students who are gifted, talented and are from disadvantaged households. Whether this has impacted the lowering of the rate of student admissions, university representatives have yet to say—although they deny a quota system with regard to stopping admissions at a certain rate, they do implement a quality system.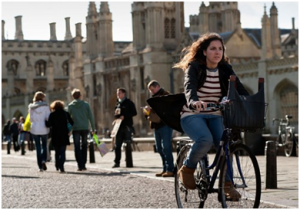 As a rule, all universities are supposed to find ways—mostly by setting a minimum quotient to be met and implementing different programs—to help encourage students to apply for university despite 2012's £9,000 implementation of tuition. Mike Sewell, Cambridge's director for admissions says that the "new" system was just a way of reiterating something which Cambridge has implemented from the very beginning. He stresses that Cambridge University has been and always will be an incredibly selective institution and has always had a quota with regard to the grades and qualifications of their students, if not in the quantity of students admitted: therefore, the drop in the rate of admissions may have been due to the quality of the applications and not necessarily a general change in the atmosphere of Cambridge's admissions department.
In fact, Professor Les Ebdon, who has been a staple adviser to numerous other institutions over the years and who is currently the head of the Office of Fair Access, stresses that up until this year, Cambridge had a rising admission rate. He says that Cambridge not admitting as many students falls below that increase curve but is still in keeping with the norm of UK universities for admissions and keeps the encouragement factor intact. He says that despite their quota system (which is more concerned with a bottom line than a ceiling against which admissions end) and the fact that Cambridge University can be very stringent with applications, they are definitely one of the fairest institutions when it comes to admitting students.
Mr. Sewell adds to this conversation, assuring the students, their parents and advisers that all of the applications were looked at both holistically as well as on academics alone. This data was also run past an evaluation which considered the major they were applying for and how well they would do, should they be admitted. Furthermore, he says that their targets are well within both their own and national standards—in fact, they are above their 2011 admissions rate which is surprising given the fact that 2011 was part of the pre-£9,000 tuition era. Lastly, he says that the fluctuations in Cambridge University's admissions rates are testament only to the fact that they value the quality of their admissions over getting a good reputation for admitting a lot of students who eventually drop out or don't make it—their commitment is to education, not to quotas or meeting targets set to justify tuition fees. At Cambridge, Mr. Sewell says, all students are accepted for their hard-earned qualifications and based on their own merit.
The number of applications to Cambridge University hit an all-time high this year, with 16,185 people applying and only 3,371 being accepted. The number of state school students admitted was 61%, whereas those from independent and private establishments was 38.6%—higher than the previous year's rate which was 37.6%. Cambridge assures the public: these numbers are significant but random and most definitely not outside the set norm.
Looking for an exceptional company to do some custom writing for you? Look no further than ProfEssays.com! You simply place an order with the writing instructions you have been given, and before you know it, your essay or term paper, completely finished and unique, will be completed and sent back to you. At ProfEssays.com, we have over 500 highly educated, professional writers standing by waiting to help you with any writing needs you may have! We understand students have plenty on their plates, which is why we love to help them out. Let us do the work for you, so you have time to do what you want to do!