Arizona State University Teams Up With Starbucks to Spread Education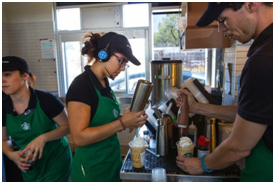 Through a rather odd partnership with Arizona State University, Starbucks will be offering a free online college education which results in the earning of a bachelor's degree to all of its 135,000 employees across America. This program will be available to all employees who work at least 20 hours a week and who have the grades and test scores to be able to get into Arizona State. For baristas who have at least two years of college credit, the company will pay full tuition. For those who have less than two years' worth, only part of the cost will be covered—however, this coverage is significant as it doesn't disqualify them from availing of government and university aid, meaning they can still probably attain a mostly full scholarship.
The real clincher? Starbucks isn't requiring their employees to stay after they've gotten their college diploma.
Jamie P. Merisotis, the president and chief executive officer of the Lumina Foundation (an organization that focuses mostly on education) says. Most companies that give some kind of educational benefit operate on a reimbursement policy or they have a non-separability clause for their employees, requiring that they stay at least four years. But now they're offering an online university education that is going to be opening up doors for their employees—and they're allowing them to walk through those doors.
Howard D. Schultz, the company's chairman and chief executive says that they know that once they get their degrees, their employees will leave for better-paying jobs. And that's okay—he says the point is to raise education rates, to empower good employees and to lower attrition. He says that benefits like this increase performance as well as attract and retain the right people: four years is still something.
Starbucks has become known for its odd behavior over the decades: doing things like providing health care insurance even for part-timers and giving its employees stock options. Despite or perhaps because of its employee-centered policies, Starbucks stock has sky-rocketed, closing at $74.69 last Friday.
Michael M. Crow, the president of Arizona State, is scheduled to join Mr. Schultz and Mr. Duncan next Monday to officially begin the opening of the program in a Starbucks assembly in Manhattan. Arizona State University has one of (if not the ) largest online degree programs in the United States with 11,000 students and 40 undergraduate majors to choose from. Theirs is also one of the most highly regarded diplomas because it is virtually identical to a degree gained offline. Mr. Crow says that Arizona State is prepared for a major surge in online enrollment—this program is special because employees who decide to take advantage of the education benefit will also get free academic advising and help with the processing of their paperwork. Tuition for Arizona State's online undergraduate course is usually $500 per credit and it takes 120 credits to earn a bachelor's degree.
Just as Mr. Schultz predicted, Starbucks employees are all a-buzz with excitement for the new program. Abraham G. Cervantes, 24, a part-time barista at Starbucks who also works as a musician at a studio and supports his mother and siblings in the San Pedro district of Los Angeles, says that the whole thing sounds too good to be true: and he's all ears. Abraham's passion is classical music—discovering Chopin, Bach and Beethoven while he was at Community College was one of the highlights of his life. He wants to eventually become a Professor of music and for so long, he thought that his dream was something which would have to be postponed indefinitely. He has high hopes for the program as he fits into the criteria which they require. Mr. Cervantes has his fingers crossed.
Tammie R. Lopez, 22, recently dropped out of college to help her dad earn a living for their family. When the recession hit in 2009, Tammie's dad lost her job and they were on the verge of losing their home—so she stopped schooling and started working at Starbucks, her second job. A recent study showed that like Tammie and Abraham, 70 percent of employees at Starbucks want a college degree and were performing well at school but didn't have the resources to continue.
Mr. Schultz says that he's very eager to help young people who are willing to learn but don't have the money for an education. He himself grew up in public housing in Brooklyn and was the first of his family to go to college—an athletic scholarship for baseball saw him through college at Northern Michigan University. Mr. Schultz and Mr. Crow met a few years ago at Arizona State when they were working with the charity foundation, Markle. Mr. Crow says that inflation and extreme capitalism has hollowed out the middle-class, driving more people into desperation. He insists that unless more people become educated, there is no stopping this social wreck.
Looking for an exceptional company to do some custom writing for you? Look no further than ProfEssays.com! You simply place an order with the writing instructions you have been given, and before you know it, your essay or term paper, completely finished and unique, will be completed and sent back to you. At ProfEssays.com, we have over 500 highly educated, professional writers standing by waiting to help you with any writing needs you may have! We understand students have plenty on their plates, which is why we love to help them out. Let us do the work for you, so you have time to do what you want to do!