America: No Longer the World's Education Leader!
It's been expected and now it's finally happened. The College Board reported last Thursday on the growing gap between the United States and other countries in terms of their college graduation rates.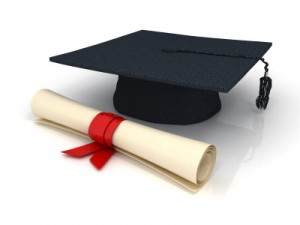 Together with the overall degradation of American high school education written earlier about, this threatens to undermine the nation's economic competitiveness.
The United States used to be the world's number one by its college graduates from 25 to 34 years. Now it ranks only 12th among 36 developed nations.
"The growing education deficit is no less a threat to our nation's long-term well-being than the current fiscal crisis," Gaston Caperton, the President of the College Board, warned at a meeting of education leaders and policy makers on Capitol Hill. He also released a report which recommended to "think P-16 and improve education from preschool through higher [one]" in order to increase the completion rates.
"We led the world in the 1980s, but we didn't build from there," said William Kirwan, chancellor of the University System of Maryland, who hosted the Washington discussion along with Mr. Caperton.  "If you look at people 60 and over, about 39 – 40 percent have college degrees, and if you look at young people, too, about 39 – 40 percent have college degrees. Meanwhile, other countries have passed us by."
While public and media attention was mostly paid to college accession rates in recent decades, college graduation rates are relatively new item on the national agenda. Everything started a year ago when President Obama announced his American Graduation Initiative that urged for five million more college graduates by 2020.
This month, after chairing the National Governors Association, Gov. Joe Manchin III of West Virginia spoke on his similar initiative.
While policy makers are still uncertain on how to exactly improve the college graduation rates, underfunding is believed to be the core of the problem. Many sponsors, funds and philanthropic organizations have declared on their intentions to help.

In April, Melinda Gates spoke before the American Association of Community Colleges convention and called for community college heads to boost college completion, promising that the Bill and Melinda Gates Foundation would contribute up to $110 million to fund their initiatives.
Canada currently holds the first place of the world's educational attainment rating, with 56 percent of its young adults holding at least associate's degrees in 2007, compared with only 40 percent of those in the United States. In 2010, the US positions improved slightly, though the overall situation is still difficult.
While almost 70 percent of the US high school graduates enroll in community colleges and 57 percent go to the bachelor's degree program, fewer than 25 percent of them manage to graduate after all. Many drop out for multiple reasons, predominantly for their tuition debts.
The problem is even worse for low-income students and minorities: only 30 percent of African-Americans, and less than 20 percent of Latinos succeed in getting at least the associate's degree. Whereas students from the highest income families are almost eight times as likely as those from the lowest income families to earn a bachelor's degree by age 24.
"It's crystal clear most students drop out of colleges not for the poor progress, but for their inability to pay. However we keep on hullabalooing about students default their loans instead of following our partners' experience. Rise and shine: investing in schooling is investing in our future!", – Matthew Barney, ProfEssays.com economic expert and a former TA said.
Main US competitors have quite the contrary approach to higher education, with a far greater share of state financing in the education budget. Consequently, the higher education costs tangibly cheaper there. In the UK, for instance, the annual tuition fee for studying in the high-end university like Oxford is slightly more than $5,000. France and Germany fund their universities at the state level, with huge subsidies, incentives and grants given to students, including the foreign ones.
Higher education in India and China is free, with these countries scoring increasingly high in economic performance lately. Many speculate that if not for the brain drain and poor living conditions in there, the US would have ranked far behind in its college graduation rates.
The College Board's recommendations include an all-embracing approach that concerns K-12 education, calling for more state-financed programs at all levels, dropout prevention and alignment with international curricular standards. College costs were also mentioned, with recommendations for more need-based financial aid and subsidies.
Will they succeed in it – the time can only tell.
Keep up with the trendiest education news with ProfEssays.com!
Looking for an exceptional company to do some custom writing for you? Look no further than ProfEssays.com! You simply place an order with the writing instructions you have been given, and before you know it, your essay or term paper, completely finished and unique, will be completed and sent back to you. At ProfEssays.com, we have over 500 highly educated, professional writers standing by waiting to help you with any writing needs you may have! We understand students have plenty on their plates, which is why we love to help them out. Let us do the work for you, so you have time to do what you want to do!