All-Digital Curriculum Pushed Throughout the Nation

Education officials have begun work on the completely digital curriculum which they will be implementing in the next few years. Replacing the need for written textbooks, worksheets and printed study guides, the digital curriculum promises to change the face of classroom learning throughout the nation. Because this new system will run on renewable resources, this limits the need for environmentally-taxing materials and limits the consumption of paper.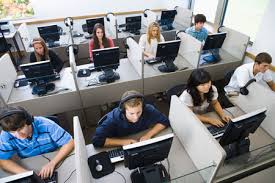 The Obama administration has set aside a hefty sum to be able to implement high-speed internet in more than 15,000 schools all over the country. Last Friday it was announced that $400 million worth of corporate commitments have been made by software companies Adobe and Prezi which will be donating their software and materials to the program. Most schools have already begun buying laptops and tablets for their students to use.
Other software companies are also joining in, developing educational materials for other grade levels which haven't yet been tapped by the Obama project. Amplify, another leading software company has also gotten in on the project. They will be distributing a digital English arts curriculum for different middle schools this year. The digital education project offered by Amplify includes reading material, interactive games and writing activities along with an app which allows the teachers to track students' performance as well as give feedback directly to the students.
Joel Klein, New York's former chancellor for public schools and current chief executive officer of Amplify said last week that this program which costs $45 a year per student is special because of its interactive quality—he stresses that these aren't just "souped-up PDFs" but are programs made especially to match the middle school curriculum.
McGraw-Hill, a company best known for its textbooks has announced a partnership with Study Sync, a company which develops online curriculum tools. StudySync's programs have been distributed in over 22,00 schools nationwide. McGraw-Hill's partnership with StudySync produces materials which are priced at a third of Amplify's programs.
Scholastic, Inc. the children's book publishers (perhaps most famed for bringing Harry Potter to the United States) have also been improving their digital program called Read 180 which helps students with reading difficulties and disabilities. Thus far, Read 180 is being distributed in more than 44,000 classrooms. They've also announced the development of a new digital program in the works, this time for a more generalized audience called Codex. This, like Amplify's program is going to be targeted toward middle schools. So far, 4,300 classrooms are using the first version of Codex.
Although more expensive, Mr. Klein of Amplify says that their digital curriculum has been extensively labored over and is probably the most up-to-date of available digital programs. For example, students don't just learn vocabulary words—they learn to use them properly in a social media context. They aim to teach students how to use social media for proper communication: one of the exercises include properly utilizing vocabulary words as hashtags on Twitter—when is it appropriate to turn a word into a hashtag? When is it not? The software also include fun games and videos which help the students feel more involved in the curriculum. Certain discussions on books and plays include intense scenes from their movie adaptations. Also, for example the unit on Edgar Allan Poe includes a fun game where clues are given to try and solve the author's mysterious murder. They've invested more than $100 million in the education arts project to date.
However, despite the eagerness and enthusiasm of publishers and educators to go digital, the digital education programs have had a tough roll-out because of (ironically) students' proficiency with digital media. For example, last year the Los Angeles Unified School District spent $1 billion to give all of their students an iPad loaded with digital programs from Pearson: in less than a few months, students had overridden the system to access non-school related websites and programs. Because of this, Amplify's own program, which was set to launch shortly after Pearson's, had to postpone its launch in the interest of tightening their tablet's security.
The teachers' trust in Amplify has been divided—Mr. Klein had a controversial term as the public schools chancellor and the head of development, Mr. Murdoch was entangled in the phone-hacking scandal which rippled through the nation last year. Some teachers say that the technology is so well-developed that judgment for the past failures of both officials can be put aside whereas others say that this company is merely a means to monopolize more of the market. Other educators say that who makes the material is irrelevant—various platforms from various companies can be used in the interest of furthering learning via technology.
Looking for an exceptional company to do some custom writing for you? Look no further than ProfEssays.com! You simply place an order with the writing instructions you have been given, and before you know it, your essay or term paper, completely finished and unique, will be completed and sent back to you. At ProfEssays.com, we have over 500 highly educated, professional writers standing by waiting to help you with any writing needs you may have! We understand students have plenty on their plates, which is why we love to help them out. Let us do the work for you, so you have time to do what you want to do!